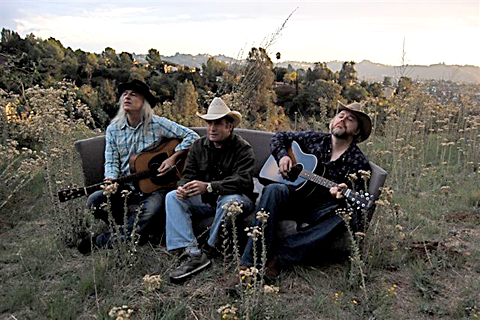 I See Hawks in L.A. have released five critically acclaimed albums since they began writing songs in their Echo Park living rooms 11 years ago. The band's sound layers electricity and Southern California psychedelia over acoustic guitars and rich vocal harmonies.

Meanwhile, fans have always treasured the Hawks' acoustic shows, where Rob Waller's rich voice, the band's subtle guitar arrangements, and the dark, literate lyrics take the spotlight. A three-year one-mic acoustic series hosted by the band at Cole's bar in downtown LA, and memorable acoustic shows all over the US with Ray Wylie Hubbard, Chris Hillman and Dave Alvin have honed the Hawks' sound.

So in 2012, 'The End Of The World' according to the Mayan calendar, I See Hawks In L.A. will finally release that acoustic album, recorded live in a circle at Marc Doten's Echo Park studio with lovely German microphones.

It's been a long and colorful journey for LA's best-known alt-country band. Countless whiskey-fueled shows from Santa Monica to downtown to the high desert with Mike Stinson, Randy Weeks, Tony Gilkyson and dozens of other artists spawned a now-thriving roots country scene amidst the palm trees and yuccas. Four I See Hawks In L.A. releases notched #1 on the Freeform American Roots (FAR) Chart, and several have hit the Euro Americana Top 10. Dave Alvin has cited the Hawks as "one of California's unique treasures".

Treks to Europe and U.K. and repeated tours through most of the 50 states have created a solid following scattered across the globe. "We thrive in the margins," the Hawks always say. "New Kind Of Lonely" could be the recording to push them into prominence.

On every track, shimmering textures of Martins and Gibsons and upright bass, with touches of dobro and some beautiful fiddle from Gabe Witcher, embellish haunted themes. Death and loss, in very personal terms, weave into almost every song. LA Americana's favorite sister, fiddler-songwriter Amy Farris, is mourned lyrically; the sorrow waiting at the end of every long and joyous marriage is explored in the bittersweet "Your Love Is Going To Kill Me (Someday)".

In reaching back to pre-electric traditions, the Hawks seem to have tapped into the mortality that looms in the work of Hank Williams, Stanley Brothers, and Carter Family, far from the feel-good suburbiana of today's Nashville songwriting. Dark times do need some kind of acknowledgement. I See Hawks In L.A. have taken this on.

But much of the music is rocking and uplifting. "Big Old Hypodermic Needle", a black humored two beat about two best friends overdosing, is perfect for a barn dance. "Hunger Mountain Breakdown", in which the singer plans a dramatic ridgetop suicide, is driven by Cliff Wagner's kickass bluegrass banjo and Gabe Witcher's virtuoso fiddling. "The Spirit Of Death" is hard charging Cajun rock. "I Fell In Love With the Grateful Dead", a compendium of the three bandmates' Dead show experiences over four decades, ventures into jam band territory, with lots of notes expended on guitar and bass.

I See Hawks In L.A. will launch "New Kind of Lonely" with, appropriately enough, an acoustic show at McCabe's, followed by an electric version of the new tunes at Pappy & Harriet's in the high desert. Over the summer they will hit the road to places new and familiar.

I'm Kingfisher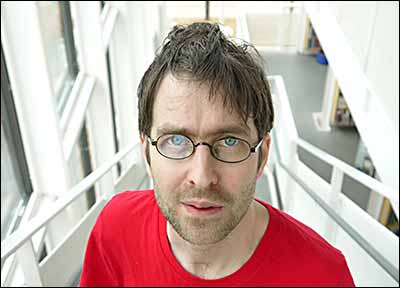 "I wanted to give this album time, and time came to be a big part of it. 'Transit' is my 6th solo album and my 1st truly stripped down one. While I've been collecting the songs for this album, I've seen people both depart and arrive. Events and plans that ended and became something else, a feeling and a movement that fascinates me a lot."
One of Sweden's best kept secrets, singer songwriter I'm Kingfisher is set to return with his 3rd album "Transit", which is due for release on April 13th, 2018, on vinyl, CD and digitally via the newly started Stockholm based label Fading Trails Recordings. "Transit" follows to acclaimed records, "Arctic" and "Avian", which received rave reviews in his native Sweden, as well as from international publications, such as Uncut, and on "Transit" we find I'm Kingfisher at his most stripped down and intimate yet. The 1st single "What Good Would Loving Do Me Now" was picked up by US radio KEXP as their 'Song Of The Day'.
Behind the I'm Kingfisher moniker is Swedish musician Thomas Jonsson, who's been honing his craft since the early 2000's, first recording under his given name before turning into the Kingfisher in 2010, and touring around the world, with over 600 shows under his belt. "Transit" was initially recorded by Jonsson on his own, recording both vocals and guitar simultaneously in full takes, with long time producer Carl Edlom, before having some of Sweden's finest musicians adding their touches to it with Christian Kjellvander, Martin Hederos, Helena Arlock and Klabbe Hörngren being among the guests.
iamthemorning
iamthemorning is a neo-classical vocal indie band from Russia. Full band consists of piano, vocals, guitar, bass, drums and string quartet and sounds like prog-rock, with arrangements influenced by Russian Classical Music heritage and various ethnic motifs.
The sound may vary, as the band can play both acoustic sets (grand piano, vocals, string quartet) - and then it turns to fragile neo-classical (thought, rather gloomy) collective, and prog-rockish sets when fragility of neo-classical concept is being empowered by sophisticated rhythm section and jazzy guitar. All instrumentalists in the band have higher classical education and are studying in St Petersburg Conservatory.
Apart from the masterful piano that you can rarely meet in contemporary music at all, one of the most remarkable parts of the music is reedy soulful voice of vocalist Marana. Her singing, together ingratiating and detached, may seem even dolorous from time to time, but still full of soothing intonations.
iamthemorning combine non-typical but rather easily perceived vocal melodies of progressive rock with a distinctly classical musical approach when it comes to the arrangements, creating music that fell between the orchestrated meditations of Philip Glass, powerful rhythms of Porcupine Tree and Tool and the abstract poetics of Maynard James Keenan.
www.iamthemorning.com

www.facebook.com/iamthemorningband
Ian Foster
Canadian writer Thomas King wrote that the truth about stories is that they're all that we are. This is what one should be thinking when they listen to the songs on Ian Foster's "Room in the City."

Influenced by some of the greats (Leonard Cohen, Bob Dylan, Bruce Springsteen), as well as some of the new contenders for that title (Josh Ritter, Matthew Good), Ian's music is amongst the best of the new singer-songwriters currently making a name for themselves. A finalist for the International Songwriting Competition and 5-time MusicNL nominee (including SOCAN Songwriter of the Year for his song "Troubadours"), Ian has been touring in his home country of Canada for years. But the root of it all is the song. His new album, the follow-up to 2006's "Through the Wires," finds Ian singing songs about dark nights in bright places, long drives and longer conversations, all set amidst musical backdrops peppered with guitars, strings, piano, and a variety of other, less common sounds—marimba, glockenspiel and xylophone, just to name a few. The characters that inhabit the record make their way into and out of cities, taking their stories with them.

The songs on "Room in the City" are inspired by experiences at home and on the road, with many of the songs written in various Canadian cities. His music has been featured on radio and tv stations throughout Canada and in Europe.
Ian McFeron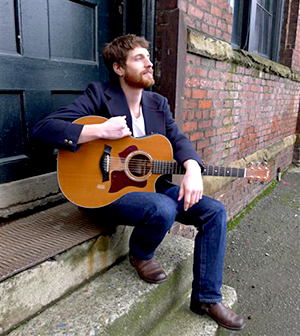 Ian McFeron, whose writing has been compared to Bob Dylan, Ryan Adams and John Lennon, started out in Seattle where his debut album was picked up by a major commercial radio station. Early hometown success drew McFeron into a full-time recording and touring career, and he spent the next decade performing in the US and Europe, growing a loyal national audience and attracting media attention stretching across the Atlantic.

McFeron has shared the stage with international and national artists such as Patty Griffin, Nanci Griffith, Shawn Mullins, Brandi Carlile, Mike Doughty, Amos Lee, Sister Hazel, Hayes Carll and Missy Higgins.

McFeron's 7nth album "Time Will Take You" was recorded in Nashville at Studio G! with guitarist and producer Doug Lancio (Grammy nominated producer for Patty Griffin). Lancio drew together a star-studded cast of Nashville musicians for the project, including members from Ryan Adams' band The Cardinals as well as Patty Griffin's and John Hiatt's touring bands.

McFeron continues to travel and perform an average of 200 shows a year in the United States and Europe, inspiring listeners with skillfully crafted songs, honest narratives, and a wry sense of humor.

Ida&Louise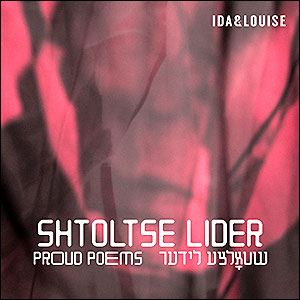 A hundred years ago, the Yiddish Culture was blooming, and there was a great movement of women poets who were driven by powerful, artistic visions. In the years after World War 2 their works were forgotten, but thanks to feminist groups in the 1980's, the works were rediscovered and translated into English. A new generation of readers could now enjoy the poetry around the world. In "Shtoltse Lider" ("Proud Poems"), the duo Ida&Louise gives new life to this treasure of poetry. The duo has interpreted poems by 5 of the yiddish writers, by composing new music to the lyrics.
"We want to build a bridge between a hidden cultural heritage and innovative female artists from the past and the future. Between languages and cultures, poetry and music", says Ida&Louise. In their compositional work, Ida&Louise has found their inspiration deep within the lyrics, and their ambition is to create a close and moving connection between music and lyrics. On this album, the duo adds voice harmonies, glockenspiel, whispering and cello to their own, symbiotic sound, as well as an old recording by the poet Rokhl Korn, reciting her own poem. The poems can be read in Yiddish and English in the booklet of the CD.
Imagined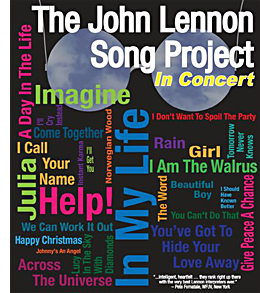 Rex Fowler and Tom Dean emerged as prominent folk-rock artists in the 70's. Rex's band, Aztec Two Step, burst upon the scene with their self-titled debut album on Elektra Records in 1972. This, and their three subsequent albums on RCA Records, were staples of college and progressive FM radio and helped usher the music of the 60's into the 70's and beyond.

Tom Dean and Alana MacDonald's band Devonsquare was signed by Ahmet Ertegun, the legendary chairman of Atlantic Records, after hearing Dean's "Walking On Ice" from their self-released album of the same name. Devonsquare went on to record another CD for Atlantic titled "Bye Bye Route 66", which spawned several critically acclaimed singles including "If You Could See Me Now", featuring Alana's powerful vocal performance.

Collectively they have toured worldwide, been reviewed in Rolling Stone, performed on David Letterman and shared stages with such musical luminaries as Bruce Springsteen, Bonnie Raitt and The Band, and continue to distinguish themselves as esteemed song-writers, performers and recording artists in the venerated genre of folk-rock music.

Along with several prominent studio musicians, Rex and Tom have teamed up in this labor of love to celebrate the genius and artistry of John Lennon. As a gift to John for his 70th birthday on October 9, 2010, they have re-imagined exquisite acoustic renditions of Lennon's legendary Beatles songs. Besides a smattering of tasteful percussion, Rex and Tom's distinctive acoustic guitar and vocal stylings and the beautiful voice of Alana MacDonald, featured instrumentation include cello, violin, mandolin, mandola, bass, slide guitar, accordion and chromatic harmonica.

Happy Birthday John!
Incendio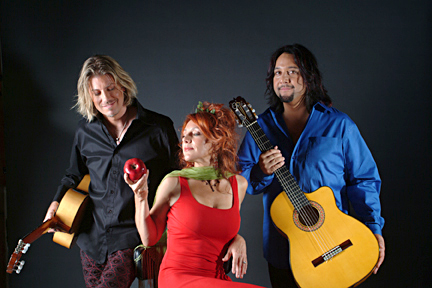 How does a music band make ends meet these days?

The last 10 years have seen the total decimation of the "old" industry system. Record companies, along with the promotional and technical firms that support them, have downsized dramatically or disappeared altogether. Self-motivated musicians have taken their future into their hands and moved forward with bold steps.

Such is the case with the latin guitar world fusion group Incendio. This Los Angeles-based group started in 1999, and came of age during the last gasp of the old record industry paradigm. Faced with the prospect of being an instrumental music-driven band in an age of increasingly bleak pop-driven market (where one-shot youngsters are heralded as geniuses, then sadly discarded in six months), Incendio has persevered and even thrived, taking instrumental Spanish guitar music to new and uncharted artistic levels.

The group has had seven international CD releases. The most recent, the guitar trio CD "Vihuela", came out on their own Incendio Music label in late 2009. They additionally have a live DVD, "Dia Y Noche", which has received critical acclaim for its sonic quality and uncompromising focus on "just the music". It was the Who's legendary Pete Townsend who said in 2003, "bands in the future must be able to play well live – that's the only music market that there will be". Incendio has taken that to heart, embracing the do-it-yourself ethos of indie rock and punk by self-booking and touring over 170 dates a year across the United States.

But it is the music they present at these shows upon which they have built their reputation. Sweeping, romantic playing is usually the heart and soul of live Spanish guitar performance. But the diverse backgrounds of the musicians in Incendio mean that, in addition to that romantic and passionate playing of their instruments, their concerts balance rock-style enthusiasm and energy with a tremendous technical and improvisational sophistication. Thus, Incendio achieves the difficult task of appealing to both a general audience who enjoy the melodies, as well as that more difficult audience: other musicians, who have come to respect the group's vision and work ethic as much as their fretwork wizardry and occasionally complex arrangements.

The group's CD's also feature a unique compositional and performance slant. Echoes of their predecessors like Strunz and Farah, Jesse Cook, and the acoustic side of Al Di Meola are obvious. But the group has explored jazz, Celtic, middle-eastern and electronica throughout their career, putting their own stamp on their self-produced music. They subtly bring influences as diverse as Weather Report, Jimi Hendrix, XTC, Paco de Lucia, Buddha Bar and Joni Mitchell to bear on their musical tapestry. Thus, their music is a true "fusion" and sounds like little else in the genre. And thus, as they have moved through new age, through electronica, through every subheading, the band's sound and enthusiasm has continued to evolve – no two Incendio CD's sound exactly the same.

Since their music defies easy characterization, the behemoth of terrestrial radio in big markets like LA has not embraced them – but they seem to have worked well without it, thank you very much. It is the smaller radio markets, college radio, satellite, internet, where the burgeoning support for the band has grown exponentially over the last five years. And press reaction around the country has been similar – "who are these guys, they're great, why haven't I heard of them". The band takes it in stride – it's a long haul game, and this determined band seems to be comfortable with taking cities and states by storm, one location at a time.

Incendio's richly textured music is rooted in myriad sources: Carbé's flamenco and classical guitar training as well as her Sicilian ancestry, Durand's Peruvian heritage, Stubblefield's European travels and musical collaborations with Kuwaiti oud maestro Waleed Hamad, not to mention Durand's penchant for rock-style dramatics and Stubblefield's lightning-fingered jazz-fusion mastery. Carbé's deceptively graceful bass and guitar playing grounds Durand and Stubblefield's dazzling twin-guitar attack, resulting in adrenalizing sonic explorations that take on greater dimension when they call longtime friends like percussionist Bryan Brock and drummer Nicole Falzone.

The evidence of the strength of live show can be seen and heard in the "Dia Y Noche" CD and DVD release. Available as of December 2005 on their own Incendio Music label, it literally shows day and night aspects of Incendio in action. While the nighttime footage was filmed in an elegant concert hall, the daytime scenes capture the electric intensity of an Incendio performance as they play at the eclectic Strawberry Music Festival in Yosemite, California. The footage of Durand and Stubblefield's tightly interlocked guitar solos — almost like spiraling shredding contests — with Carbé propelling the floor-pounding rhythms, all three rocking from the gut, leaves no doubt that this is a band that is, first and foremost, about performance. Crowd scenes reflect the thrilled surprise of audiences experiencing Incendio for the first time. It's that immediate visceral response from listeners upon which Incendio has painstakingly built a reputation over the past six years.

"We're definitely a niche market," Stubblefield allows. "But it's a niche market that, when a lot of people hear it, they say, 'I like that.' We'll play a street festival and sell 200 CDs in a couple of hours. The radio won't touch it but people who walk by and hear us think it's great. That's been crucial to our success, and we've just slowly built on it."

Word of mouth has been crucial and delightfully kind to Incendio. Carbé recalls how a concert booker was turned on to the band by her guitar-fixated teenager: "This 14-year-old boy watches us on Vista LA and he's into Hendrix, he's into Coltrane, and he said to his mom, 'You need to hire these guys.' So she looked us up because of her son." Incendio was subsequently booked for a high-profile university concert series.

"We always have had great word of mouth," Durand adds with gratified pride. "It's just approaching that tipping point. If we play for a thousand people, we won't get 800 people coming up and giving us a perfunctory pat on the back, saying, 'You guys are really good.' We'll get 50 people coming up saying, 'We will follow you into hell."
www.incendioband.com

www.myspace.com/incendioband

Indigo Girls

Grammy-winning folk-rock duo Indigo Girls will release their 14th studio album, 'Beauty Queen Sister', October 4th, 2011. The new album is a stunning 13-song collection featuring the signature storytelling that fans have grown to love, touching on modern-world worries and romanticizing the simplicity of days gone by. Recorded in Nashville, the duo reunited with producer Peter Collins, with whom the Indigo Girls worked on 1992's 'Rites Of Passage' and 1994's 'Swamp Ophelia'. 'Beauty Queen Sister' will be the 4th album released on their own IG Recordings through Vanguard Records.

The record's stellar guest musicians are essential to shaping the sound throughout 'Beauty Queen Sister', according to Amy Ray and Emily Saliers. "Many of our players are top-notch Nashville talent — You just don't get any better than that", Saliers says. Noting the dynamic drumming style of Brady Blade and the smooth bass grooves of Frank Swart and Viktor Krauss, Saliers adds that the high-energy ensemble of featured artists played a key role in carrying out the "organic approach we wanted to take on this album".

"War Rugs", a song about the 2011 Egyptian revolution, features guest vocals from singer-songwriter Lucy Wainwright Roche, while the love song "We Get To Feel It All" features honey-tinged backup vocals by The Shadowboxers (an Atlanta-based band). On the subdued yet sultry "Share The Moon", Jim Brock provides rumbling percussion, while Carol Issacs lends her delicate piano sounds to "Birthday Song". "Damo" owes its sprightly Celtic sound to Eamonn de Barra's whistles and flute and to the full-throated backing vocals of Irish singer-songwriter Damien Dempsey. The spellbinding slow-burner "Yoke", centerpieced by hauntingly urgent strings from violinist Luke Bulla, makes for a masterful closing track.

The Indigo Girls' constant touring, as well as staunch dedication to a number of social and environmental causes, has earned them a fervidly devoted following over the years. So many artists who launched their careers in the late 80's have slipped from our collective memory, yet the Indigo Girls continue to sing night after night to multi-generational audiences who flock to their shows and give themselves over to the power of their music.
www.indigogirls.com

www.vanguardrecords.com/publicity

inLOve


Once upon a time acclaimed Swedish singer-songwriter Lo Kivikas gave a CD to drummer Bosse Skoglund and asked him if he wanted to play with her. He went home, listened and was deeply touched by the authenticity. Bosse Skoglund read the lyrics and heard the music in itself, called Lo Kivikas and said, "Come on, let's record!".

Lo Kivikas already had harmonica player and guitarist Roland Nilsson. Now a bass player was needed. Bosse Skoglund knew exactly who he would call. Hans Larsson, of course. Hans Larsson said 'yes' right away. Many music meetings later, in Bosse Skoglund's living room, inLOve's soundstage began to emerge.
www.facebook.com/inLOve

www.gazell.net/inLOve

Inouwee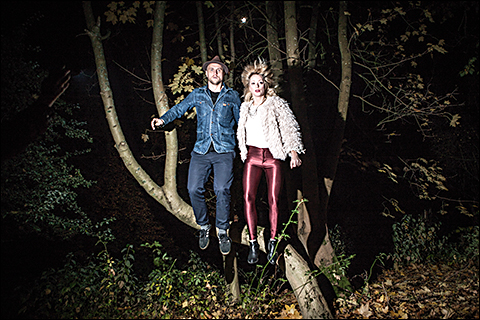 Danish duo Inouwee are set to release their album "Rawhide" on March 4th, 2016. Inouwee are Kaare Hansen and Signe Marike, and the founding of the duo happened in the winter of 2009, beginning with Kaare's burning desire to create new music that would reflect his own passion for musical integrity and intimacy. His search led him to Signe who instantly became his musical counterpart in creating something more than they would have been able to do on their own, and this was the beginning of Inouwee. The new album is a series of 9 immediate tracks. The album lyrics talk of life, death, love, loss, hopes and ambitions. Signe's soft and honest vocal, combined with heavy beats and Kaare's melodic guitar and keyboard, both creating a genre somewhere in between trip-hop, indie pop and electro and delivers a pure nordic excellence in sound.
http://inouwee.tumblr.com

https://facebook.com/inouwee