Critically acclaimed singer-composer-actor Naama Kates will soon release her 3rd album, "Souled", on December 30th, 2014. On the new album, Kates reunites with award-winning producer Cyrus Melchor, who also produced her first album, "The Unexamined Life". The new album, "Souled", is an ethereal reflection on life, love and longing in Los Angeles. The thoughtful lyrics showcase Kates' sultry voice and genre-bending arrangements. "Souled" was recorded at Mount Cyanide Studio in Atwater Village and at engineer Scott Fraser's studio in Mount Washington, in Los Angeles. Her 1st single off the album, the hip-hop infused "Waves", has already been hand-selected by the taste makers at Los Angeles-based radio station, KCRW, and is playing on the Garth Trinidad Show.

"Souled" finds Melchor incorporating more electronic elements into Kates' continually evolving sound. Her smoky vocal styling's draw comparisons to Fiona Apple, Cat Power, Norah Jones, Regina Spektor and Tori Amos, and yet her sound remains uniquely her own. The subject matter on the album was inspired by everyday life – from frustrations with the City of Los Angeles' Parking Violations Bureau to the political upheaval in the Ukraine, to Kates' search for her missing cat (who is safely back home). Additional collaborators on "Souled" include Joseph Harvey on cello, guitarist GE Stinson, Danny Levin on horns, drummer Rich West, and engineer Scott Fraser.

With several indie films and TV appearances notched on her belt, Kates continues to be active on the screen as well. Her film "Chloe", originally titled "The 10 Commandments Of Chloe", is set to be released in 2015. The undeniably autobiographical film, which stars Kates, is about a young musician who is new to Nashville, and features songs from Kates' "The Unexamined Life". The film, directed by Princeton Holt, swept up 9 awards on the festival circuit and at jury competitions, including several for 'Best Lead Actress' and 'Best Narrative Feature'. That attention led to the film getting picked up for distribution by a bi-coastal production company. "Chloe" is currently undergoing revisions before a wider release.
Nancy Cassidy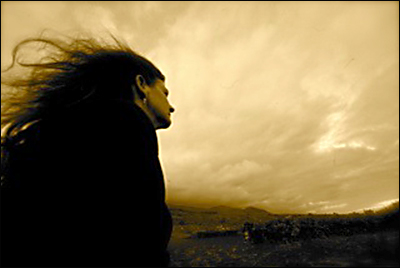 Nancy Cassidy achieved platinum sales with her recordings for young families entitled "KidsSongs", and is now releasing her latest album, "Memphis".

"Memphis" follows closely on her 2012 album, "Song Of Joy", and is written for everybody with a heart, young and old. "Memphis" pulls you in like the Mississippi heading south. Every twist and turn of the currents is here: soft gentle rocking on the water channels like "Back Water Blue", all the way to the churning, fast changing, heart pounding moments like "Broken Wing Blues".

Nancy's voice has never been more sultry and moving. "Memphis" reveals the voice of a woman happy and clear about who she is and eager to invite you in to catch up. Straight from her heart as always, sung with the clarity and feel of a woman who's sure of what she's saying, Nancy brings us songs that are passionate, strong, at times rockin' and shaking you by the belt and then soothing and gentle as the river rolling through the grasslands... and all the heart stations in between.

"Memphis" offers up the heart and soul of Nancy Cassidy, the woman we've grown to love and listen to, but now at a new spot on her map. It's a powerfully beautiful place, full of soul healing calm and body quaking rhythms... a trip you don't want to miss!

Even after 12 albums and 2 million sales, Nancy Cassidy is still exploring and every album has its surprises. But, just as importantly, when it's time to head back to the heart, she can still bring it home.
Naomi Sommers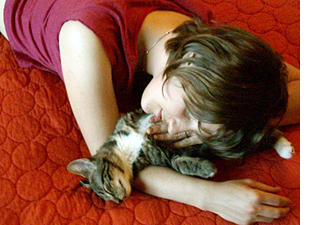 With roots in bluegrass, blues, jazz, traditional folk, and old-time country, singer-songwriter Naomi Sommers is emerging as an exciting voice on the music scene. She grew up in a New England home full of music and instruments, performing since middle school with her parents and brother in the Sommers Rosenthal Family Band. Naomi's recording career started at age 5 when she sang her first harmony parts on an album of bluegrass music for children. Over the years she has sung and played flute, banjo, piano, and guitar on more than 15 records released on her father Phil's independent American Melody label, and has lent vocal and flute tracks to numerous recordings by other artists. In addition to the folk and bluegrass music she picked up at home, Naomi performed in orchestras and wind ensembles as a classically trained flutist, sang jazz with her brother Daniel Rosenthal's quartets since high school, and joined the gospel choir during college.

After studying literature and music at the University of Connecticut, Naomi devoted herself full-time to writing and performing. She moved to Boston in 2001 to begin a solo career. She played at favorite local venues including Club Passim, where she endeared herself to music fans and fellow musicians alike, and began lasting collaborations. She toured throughout the U.S. with songwriter Noam Weinstein as the duo Broken Dreams, and later followed some of the same routes as a Gray Sky Girl with Lisa Bastoni. In 2004, Naomi traveled to Texas to participate as a finalist in Kerrville Folk Festival's New Folk Songwriting Competition.

More recently, Naomi was invited to be part of an upcoming PBS documentary, "On The Record," hosted by Sir George Martin and narrated by Kevin Spacey. She traveled to the home of Jean Ritchie to play a few songs with the influential folk singer and songwriter on film for the series.

In July 2008, Naomi performed one of her songs at the GRAMMY Foundation's Starry Night Fundraiser in honor of Sir George Martin (producer of the Beatles and many others). At the event in Los Angeles, she shared the stage with Jeff Beck, Burt Bacharach, Chris Body, Tom Jones, Jimmie Webb and others.

Since 2002, Naomi has put out three albums on American Melody. Two of these were solo albums, featuring original songs with eclectic backup by her family and other outstanding musicians. In 2006, she released a mesmerizing album of traditional and original "old-time country slowgrass" with the Gray Sky Girls.

Now, in early 2009, Naomi has just released an album recorded in Nashville, produced by the acclaimed musician/producer Jim Rooney (John Prine, Iris Dement, Nanci Griffith, Bonnie Raitt). Jim's enthusiasm over Naomi's songs and her voice prompted him to end a hiatus from the music business to make this record. The album was engineered by David Fergusson (Johnny Cash/Rick Rubin) and features a backup band of some of Nashville's finest musicians. Naomi's trusted family and friends traveled from New England to play on the record as well. She is thrilled to present the resulting collection of songs, the culmination of years of devotion to the craft of songwriting and to the merging of traditional and contemporary styles in American music.
www.naomisommers.com

www.myspace.com/naomisommers
Nathan Holscher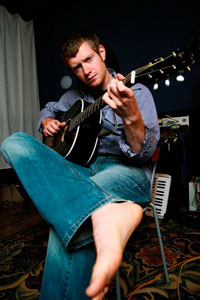 Nathan sounds like what would happen if Dire Straits lost an arm wrestling match to Lyle Lovett. His music is steeped in the feelings of landscapes he has rambled across in the Midwest and Southwest. Chasing trout in small streams or the muse in a dingy bar, Nathan's songs somehow reflect both compassion and restlessness.
At 25, his few adult years have been spent crafting songs and doing the work that matters to him - protecting the rivers and streams that he grew up on. His music is set apart by the strength of his lyrics, which stand tall even without his tranceful guitar playing. He brings a sense of confidence to a live show that can make time and space fade away, leaving only the song and the listener.
Just out is his brilliant new album,
"Even The Hills".
Nathalie Nahai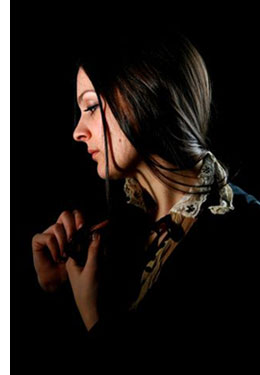 Born in London, Nathalie Nahai has been developing her musical talent all her life. Having been classically trained in violin and self-taught on guitar, she writes her own music and has been performing in the UK and US for the past three years, both solo and with her band.
Whilst studying at Central Saint Martins College of Art and Design (London), she travelled to the States to record her debut album with multi-platinum Grammy award winning producer Don McCollister. It was released in 2006 on her label, Fuzzy Muskrat Records (FMR), and received critical acclaim both in local and national press.
In 2007 she performed to packed houses in her first UK tour, and returned to the US to record her much-anticipated second album, "Fortune Teller", which is due for release in June. Earlier this year, Nathalie entered the 2012 Talent Competition for a chance to perform at the handover of the Olympic Torch in August. Through massive public voting and support she has made it through to the final in April, an event which will be televised on ITV and broadcast over the internet.

Nathan McEuen
Nathan McEuen grew up in and around the Rocky Mountains, Surrounded by incredible music and talented musicians. At an early age He started performing with his father, John McEuen (Nitty Gritty Dirt Band), and brother, Jonathan McEuen (Hanna-McEuen). Undoubtedly, the family has powerfully shaped his musical inclinations and style, but his influences and pursuits span much farther. As a singer/songwriter, he constructs universal, nostalgic melodies and lyrics. His study and mastery of several instruments, including guitar, piano, drums, and bass, allow him great compositional range.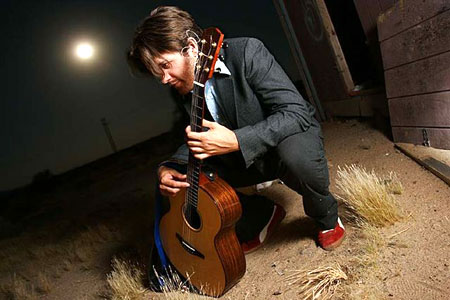 Three years ago, Nathan moved to California to continue pursuing his music career. In that time he has created his first solo record "Grand Design," performed on the Tonight Show with Jay Leno, opened for David Crosby and Gram Nash, Dave Mason, Kenny Loggins, Nitty Gritty Dirt Band, performed with Kevin Nealon (SNL), worked with Paul Willams, Willie Nelson, started his own record company called "Lint Records," and has played over 500 shows.
Watching and learning from the best, Nathan used those experiences to hone in his craft of songwriting, performance, and collaborating. Feeding off of all that energy Nathan decided to start his own record. With the producing help of his brother Jonathan, they formed a concept for the album – a nostalgic sound with a hip spin… "Future-retro-folk-rock." They started in spring of 2004 and a year-and-a-half later finished creating: Nathan McEuen's "Grand Design."
Grand Design features 11 original songs, some of which came about through collaborations with singer songwriters David James Holster (John Denver, NGDB, Starship), and Crosby Loggins. The album features many talented musicians including: Mario Calire (Wallflowers, Ozomatli), Randy Tico, Jonathan McEuen, Jimmy Calire (America), Phil Salazar, John McEuen (NGDB), and Jesse Siebenberg (Supertramp).
Grand Design was released in November 2005. Since then Nathan has been on the road promoting his new record and is continuing to build a large following.
Currently on tour with :
Nathan McEuen and his Enormous Ego Band. Featuring: Nathan McEuen (guitar, vocal), Paul Cartwright (fiddle, mandolin, vocal), Chuck Hailes (upright bass, vocal). They play a wide variety of musical genres… From Folk to Bluegrass, Rock to Country. There are only 12 notes in music and they do a good job at showing them off.
This group will not disappoint!

Navarra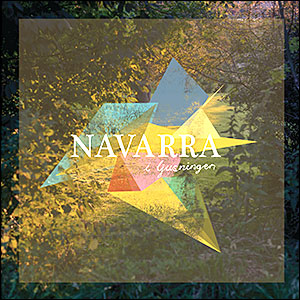 Navarra is folk music with a nerve of city pulse and a longing for morning light. It's energy laden folk groove and a gentle comfort on a rainy day. They are known as innovators of their genre and as a fiery live act, creating an almost magical atmosphere between band and audience. "I Ljusningen" ("At Dawn") is the band's 3rd and much awaited album. It gives us folk music with Navarra's unmistakable energy and joyous interplay but there are also songs that really stretch the concept of folk music.
A sister from Somalia, music from the deep forests of Värmland, telephone salesmen and a longing great as the moon all have a natural place when Navarra's music takes shape. Lyrics with a deep and personal imagery are given color and form in accurate compositions. Arvid Kästel's groovy folk music piano and Erika Risinger's virtuoso violin playing rest firmly on a creative and confident drum play by Carl Johan Groth. Sofia Kunze's warm voice naturally weaves into the whole with nerve and expressiveness. At dawn, just as the sun breaks through the veil of night, we find Navarra's magical World.
Ned Doheny


A native of Beverly Hills, Ned Doheny took his first musical strides as a songwriter. His tune "On & On" was recorded by Dave Mason & Mama Cass Elliott in 1971, while the Average White Band included "A Love Of Your Own", written with their lead vocalist Hamish Stuart, on their 1976 album, "Soul Searching". Another tune, "Whatcha Gonna Do For Me, written with Stuart, was covered by Chaka Kahn in 1981. The first artist signed by Asylum Records, Doheny released his eponymous titled debut album in 1973. His second album, "Hard Candy", released by Arista Records three years later, was produced by Steve Croper and featured such guests as Tower Of Power, Tom Scott, Jim Horn, Glenn Frey, Don Henley, Linda Ronstadt and John David Souther. Although it included Doheny's version of "A Love Of Your Own", the album failed to sell and Arista dropped his contract. Doheny's third album, "Prone", was limited to a Japan-only release in 1979.

Although he was unable to break through commercially in the United States, Ned Doheny later found a welcoming audience after turning his focus to Japan in the late '80s. The host of a popular radio show, 'Postcards From Hollywood', on FM Yokohama, from April 1990 until September 1993, Doheny gained speed upon releasing "Life After Romance", his first album in nearly a decade, in late 1988. An album of classic tunes performed on solo guitar, named after Doheny's radio show, released three years later, was followed by the equally impressive, "Love Like Ours", later that year, and "Between Two Worlds" in 1993.

Though often categorized as 'West Coast' because of his Los Angeles roots and association with other west coast artists, Doheny's music defies exact categorization, being variously described as pop, funk, jazz and AOR. He's been compared to Steely Dan and the Eagles among others.

In addition to original CD releases in Japan, both 'Hard Candy' and 'Prone' have been reissued as LP-replica CDs. And all 3 albums, are currently available in digital download online.

Doheny's first album in 15 years, 'The Darkness Beyond The Fire', will be released in 2009.
www.myspace.com/neddohenymusic
The Neighborhood Bullys
The Neighborhood Bullys stormed the Los Angeles club scene in 2006. Unleashing infectious melodies played with fevered skill and smartly irreverent lyrics sung with epidemic energy, the quartet quickly conquered unsuspecting audiences and critics. It's obvious that the Bullys are the embodiment of authentic rock and roll, right in line with predecessors including Rolling Stones, Ramones, and New York Dolls. But they sweeten the pot with the new-wave bounce of The Knack, the glam-rock crunch of Slade, the proto-power-pop of Raspberries, the party-metal of Kiss, and the lean, mean R&B/pub-rock blast of Dr Feelgood.

Encountering the Bullys' talent and enthusiasm, Mike Chapman - legendary producer of Sweet, Suzie Quatro and Blondie - was inspired to capture it in the studio. The result is the band's potent, rollicking debut album: the provocatively-titled "What?" – to be released in early 2010 on Rankoutsider Records.

The lynchpin of the Bullys is Davey Meshell - a Brooklyn-spawned, LA-raised singer, bass player and songwriter who has played with such esteemed musicians as Shelby Lynne, Peter Case, Etta James, Bobby Womack, John Lee Hooker, Chambers Brothers, Buddy Guy, and Buddy Miles. Meshell belies his goateed regular-guy look with the passion and moan of a vintage soul shouter. Although he was the central focus of the band from the start, other members came and went until the line-up solidified with guitarists Tex Mosley and Michael Hayes, and drummer Joey Galvan.

Mosley, originally from Philadelphia, got his start in New York City as a member of the punk-rock outfit Pure Hell, sharing bills and rehearsal space with The New York Dolls. Hays, born in Mississippi and reborn in L.A., is a guitar prodigy whose stinging licks mark him as a phenomenon-in-the-making. Drummer Joey Galvan joined the Bullys after a notable stint in the ensemble The Bastard Sons of Johnny Cash.

Getting star producer Mike Chapman to oversee your first album is quite a feat, but it happened for the Bullys in a very straightforward fashion. According to Meshell, the notorious Los Angeles music-business maven Kim Fowley wanted to manage the Bullys. Although that relationship was never consummated, Fowley gave Meshell some good advice.

"Kim said that the best way to get to work with your favorite producer was to send a letter and a demo of your best stuff," recalled Meshell. "Nobody can top Mike Chapman in my book, so we sent him a demo of our song 'I'm Bored, Let's Fight,' and he actually responded. He told me that he listened to it twelve times in a row. Then, he said he'd produce our whole record."


It turned out to be an ideal marriage of artists and producer. "We had already club-tested the material in L.A. for months," Meshell said. "Mike showed up, flying in from his home in Connecticut, and we recorded all of the basic tracks in three days. He mixed it and mastered it in his home studio, and now the album's gonna get out there on Rankoutsider."

"What?" ranges from the insanely catchy "Spin It," to the sexy pulse of "Lead With Your Lips," the hammerhead slam-bam of "Let Me Be Me," and the rafter-rattling near-gospel fervor of "Alive." And you can dance to it!

On top of their explosive sound, the Bullys' songs are blessed with lyrics that are cynical, brutally honest, pointed and peppered with witty rhymes. As Meshell put it, "We don't preach, or tell anyone what to do. We're just writing about how we all live, day to day."
With an upcoming tour of the West Coast and Southwestern United States and a second album in progress tentatively titled "Lost and Jealous", The Neighborhood Bullys are poised to break out beyond regional renown. "We spend a lot of time around each other," Meshell said. "Sometimes we love each other - sometimes we want to kill one another. It can be like a battle every minute in the studio and every night on stage. But we're all there because we believe in what we're doing. What can I say? Whether it's melodious and harmonious or bare-bones and straight from the garage, we all love loud rock 'n' roll."
Needless to say, watch out for The Neighborhood Bullys!
www.myspace.com/bullys

www.sonicbids.com/theneighborhoodbullys

Neila Dar
Neila Dar is an indie music project led by singer Jasmine Tommaso and guitarist Lorenzo Grassi. It kicked off in 2014 with the release of the single "Son Of The Stars".
Based in Los Angeles CA, this project is formed by an eclectic ensemble of musicians from all over the world (Italy, Colombia and the US) living and playing in Los Angeles.
In 2015 the first EP "Some People Question Reality" was released. It was produced by Sage, aka Saverio Principini, and recorded at Speakeasy Studios.
Bandleaders Jasmine and Lorenzo began their musical journey in the city of stars by playing weekly as jazz musicians. While gigging around town, they began developing an original sound and writing new songs. Very soon, they had all the music for their 1st full length original album.
They completed the record in December of 2016, featuring Camilo Melo on drums, Joe Bagg on organ, Lorenzo Grassi on guitar and Jasmine Tommaso on vocals. The album was named after the single that started the whole adventure, "Son Of The Stars".
It's a collection of 11 tunes that were inspired by some of southern California's most evocative landscapes, the Pacific Ocean, the urban cosmos of greater Los Angeles, and the vast wilderness of the high desert.
Neila Dar's sound brings unity to the complexity of reality, using music as a medium to describe it in the simplest way. The soothing textures, enchanting vocals, and captivating grooves give birth to a sound they call vintage avantgarde, where the known and the unpredictable sit together in consonance.

Nelson Wright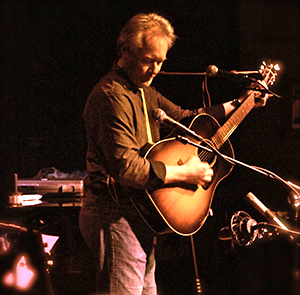 Nelson Wright came of age in rural New York, where American roots music got under his skin and spurred his playing, writing, and gigging. Inspiration came from earlier generations of folk musicians - players like Dave Van Ronk, Mississippi John Hurt, Rev Gary Davis and the young Bob Dylan - who haunted the Greenwich Village coffeehouses just downstate.

Years passed. Roots rock bands, bluegrass bands, no bands, all came and went. Nelson's solo career started in 2012 with the release of "Still Burning", an album of ten original songs that looked back to his folk music days and elicited great reviews ("..it's poetic, it's melodic, it's timeless", wrote Jean-Jacques Corrio in Le Cri du Coyote, France).

Nelson lives in Seattle, and can be found gigging in the Seattle and Boston areas.

"Orphans & Relics" is an album that captures 9 different corners of American music in 9 tracks. Country blues, rockabilly, traditional jazz, folk revival, electric blues and more - they're all used to frame Nelson's vivid storytelling and melodic craftsmanship. The result is a true Americana album.

The album was recorded on 2 inch analog tape at Prairie Sun Studios in Sonoma County, CA. Nelson and producer Michael Thomas Connolly created a sound that is vintage, alive, and organic - Michael dubbed it dirty Americana. But, whatever it may be called, there's no mistaking the intentionality and passion that jumps out of every track.

Never Give All The Heart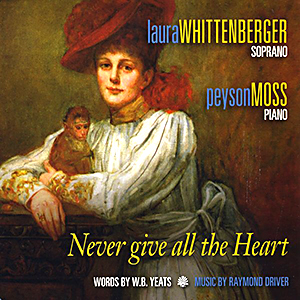 "Never Give All The Heart" is a celebration of WB Yeats in words and music, a collection of 24 musical compositions set to selected love poems by WB Yeats that evoke the sense of love and longing Yeats imparted through his words. Soprano Laura Whittenberger has performed throughout the US as a singer of a variety of musical styles. She frequently travels from her native Baltimore for theatrical and concert performances. This project has been particularly special because of her love for early 20th century poetry. Peyson Moss is an pianist, organist, and accompanist. He earned his master's degree in vocal accompanying from the Peabody Conservatory in Baltimore in 2015. Arranger Max Maples is a professional composer, teacher, and drummer based in New York City. Raymond Driver is an illustrator and cartoonist in the Washington DC area. After 38 years in illustration, this CD fulfills a lifelong ambition to compose music. Creating music set to the poetry of WB Yeats has been a labor of love.

The New Madrids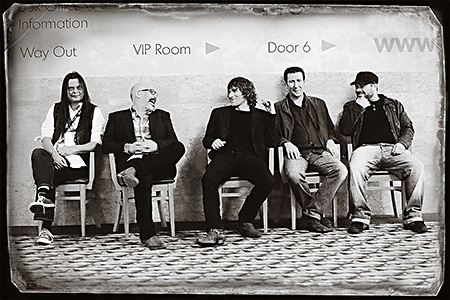 The New Madrids were formed in 2010 by the four remaining members of americana stalwarts $outhpaw and the lead singer-founder of rock and blues degenerates The Revivals.

$outhpaw had rumbled to the end of the line after five years of touring the UK from the Orkney Islands to The Borderline in London, a televised show for the BBC, trips abroad to NXNE in Toronto and festivals in Norway where they met and played alongside several Austin legends such as Rick Broussard, Brennen Leigh, Jesse Dayton, Hayes Carll and Nanci Griffith among many others.

Like any band who lived as they played, there were casualties along the way including the odd hotel room, a dog that got too close to the tour bus, many broken hearts, even more broken laws and a couple of divorces, and so it was with both regret and relief that $outhpaw played their last show on New Years Eve 2009 in their home town of Perth.

The Revivals had their very own rock'n'roll pedigree – a bit younger than their local country rock peers they had also been gigging up and down the UK for several years, enjoyed two stints at SXSW, radio appearances and much prominence on the local and national scene. Eventually those enemies of rock'n'roll youth – mortgages, bald spots and bad choices – brought the curtain down on one of the most exciting bands of that time and place.

Fate wouldn't wait around for long though and a matter of months after both bands called it a day phones started ringing, meetings were arranged, beers were drunk and records listened to, The Band, Whiskeytown, Drive by Truckers, Black Crowes, The Byrds, AC/DC, etc. All of these influences combined with a defiant Celtic soul and The New Madrids were born.

Nichole Wagner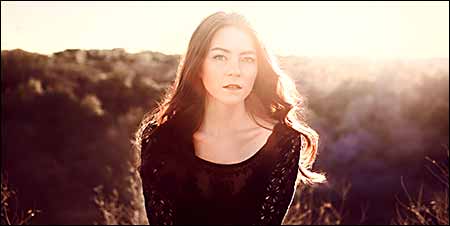 Emerging americana folk artist Nichole Wagner is set to release her full length debut, "And The Sky Caught Fire", on August 24th, 2018. For this album, the Austin based singer songwriter delivers emotionally intense lyrics spiked with hard truths bookended by her soulfully broad, raspy tinged vocals and thoughtful arrangements.
"This is unashamedly a relationship record, and all of the songs on it are very honest, though I may have slightly shifted a few very specific details, just to keep from hurting anyone unnecessarily", confesses the straight shooting Wagner, who not coincidentally grew up obsessing over every heart tangled note of Fleetwood Mac's "Rumours".
Produced, engineered, mixed, and mastered by Justin Douglas, the album was recorded at Austin's King Electric Studio and features 9 original tracks written or co-written by Wagner along with one heartbreaking cover of Warren Zevon's "Reconsider Me". Wagner enlisted several of her americana contemporaries to lend a musical hand, including lead guitarist Will Sexton, Rod Picott and Terry Klein on vocals, Jan Flemming, keys, Grant Himmler, bass and Chris Hausler, drums.
Album opener "Winner Take All" pulses with dreamy guitar licks and the palpable tensions of love coming undone. The blues hued "Dynamite", one of the two songs she co-wrote with fellow Austin songwriter Terry Klein exhibits matter of fact conviction.
"Yellow Butterfly" is a gorgeous, folk laden track with ethereal piano compositions that was written right after the loss of legendary Tom Petty, while "Rules Of Baseball" uses America's favorite pastime and its long and arduous season as a metaphor for the demise of a relationship.
Haunting and sparse, "The Last Time" addresses the finality of love having given up the ghost or perhaps having never even been in the room at all. "This Kind of Love" is a poprocker retelling of a break up that took the better part of two years, condensed into three minutes. As arresting as those songs are, it's "Fires of Pompeii" featuring Picott on vocals that simmers with the album's longest slow burn.
Current and new fans will get a chance to see Wagner perform songs from "And The Sky Caught Fire" this summer and fall. She'll tour extensively throughout Texas and the Southeast. Stay tuned for tour announcements and updates.
Nick 13

Nick 13 will release his long-awaited solo album July 12th, 2011, on Sugar Hill Records.


Nick's self-titled debut was produced in Los Angeles and Nashville by Greg Leisz and James Intveld, with mixing duties handled by Jim Scott (Wilco, Tom Petty, Dixie Chicks). Nick 13 crafts storytelling Americana songs of heartbreak, experience and passion, driven by his haunting and distinctive voice and acoustic guitar.

Nick 13 is best known as the singer, songwriter, guitarist and founder of the band Tiger Army. His solo work recalls the vintage American sounds of honky-tonk and classic California country from the middle of the last century with a modern twist. He's already performed at Stagecoach, Hootenanny and South By Southwest.

"Nick 13 has the timbre of Chris Isaak, the tone of a young Lyle Lovett, with some Elvis and Ricky Nelson mixed in", wrote The Press Enterprise. CMT declared his music to be "drenched in hillbilly electric guitar and coolness".

Nick's debut album for Sugar Hill Records features acoustic and electric guitar, standup bass, pedal steel, fiddle and much more from a wide pedigree of players who connected with 13's genuine passion, understanding and knowledge of the history of the music and forward-thinking vision for the future. Some of the folks on the album include Lloyd Green, Sara Watkins, Josh Grange, Eddie Perez and Mitch Marine, in addition to the album's producers Leisz and Intveld.

Nick offered fans a brief preview of his solo work during encores at Tiger Army's 2009 "Octoberflame II" event, followed by a full unveiling on the Palomino Stage at Stagecoach last year. "Nick 13 paid earnest homage to Merle Haggard and Ray Price, both of whom followed him shortly on the same stage", wrote the Los Angeles Times.
www.nick13.com

http://publicity.sugarhillrecords.com
Nick Parker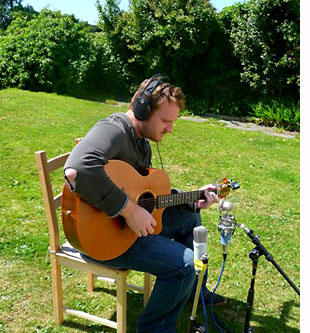 Nick Parker was 13 when he first picked up a guitar and tried to string together a few chords.
By 14 he had put down the guitar and picked up the mandolin. Not least of all because he wanted to be in his brother Ant's band and they needed a mandolin player.

Their first few gigs came and went, under the name 'The Mandolin Brothers', before they changed their name to 'Why?'.
They spent the next 10 years bouncing around on stages at hundreds of venues and festivals around the UK and Europe, reeling out their folk/rock/skiffle silliness (latterly known as friffle) to sweaty teens and twentysomethings.

In February 1998 Nick finally hung up his mandolin, chucked a new set of strings on his acoustic and started the far-more-sensible guitar band 'Tobermory'. After various false starts, a few flirtations with industry 'big' boys and the occasional mini tour on the continent, Tobermory played their last gig at the end of 2004.

Six years and hundreds of open mic nights later, Nick got fed up with being all serious. He reverted to his tongue-in-cheek, light-hearted beginnings, decided it was time to make a record, and pumped up the tyres on his tour bus.

Produced by former Tobermory band mate Luke Stidson, Nick's debut album 'The King of False Alarms' was recorded on location in a quaint little holiday cottage in Devon, England, during the exceedingly hot summer of 2010.
www.nick-parker.co.uk

www.myspace.com/nickparkeruk

Nico Chona & The Freshtones
A very special and unique blues rock sound from France, influenced by the greatest bands from the late 60's and early 70's. Lead guitarist and singer Nico Chona with the help of his longtime friends, takes you on a rock and blues journey, where the electric guitars melts with the sound of an old Chevrolet V8 engine.

In 2019 Nico Chona & The Freshtones did 33 gigs. From festivals to small clubs , they spent a lot of time on the road. A 4 week tour in 6 European countries, France, Spain, Germany, Czech Republic, Poland and Switzerland. 23 shows which have definitely pushed the band to another level. They have also played a couple of great opening shows for artists like Irish blues man Johnny Gallagher or the Australian superstar John Butler.

The first album of Nico Chona & The Freshtones has just been released on their own label, Electric George Records. it is playing on more than 130 radio stations in France, Belgium, Spain, Canada and the US.
A new EP will be released in early 2020. A 2 song, 12" single on vinyl. Recorded live without overdubs, like the album. It's not only a new record. It's also a wonderful collaboration with French artist Alain Bertrand who has painted the cover.
The excellent reactions from the audience at the shows and about the album this year, give the band more strength and plans for the future, to go touring , recording a new album, and sharing it's music with the rest of the world. See you on the road.....
www.facebook.com/nicochonaandthefreshtones
Nico Georis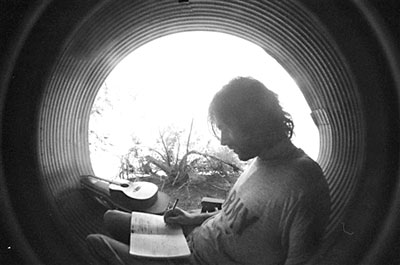 Nico Georis is visionary and poetic musician and one of the most original keyboard players of our times. His musical talents have taken him from Big Sur, to New York, Paris, Romania, and back to the San Francisco Bay area, while carrying on a legacy of California grooves. Nico is a man who is connected to nature's realm and is dedicated to musically linking listeners to the pulse of life.

Following the release of his debut home recordings "Songs From Nowhere", Nico Georis has collaborated with friends to form the band, Sky Country. Born from the lineages of 60's California surf rock culture, the great american roots of New Orleans piano, blues, roots rock, 70's Africa, impressionism, and other obscure realms, Sky Country humbly blasts into a new frontier in new California rock'n'roll. Highlights of 2012 included opening for Fishbone and rock n' roll legend, Leon Russell.

"Songs From Nowhere I & II" are Sky Country's debut home recordings, completely self produced by Nico Georis in his basement of analog relics. Sky Country's infectious tonal grooves are revealed on an arsenal of vintage keyboards, lush and fuzzy guitars, set atop a warm lo-fi rock'n'roll river bed. Stylistically "Songs From Nowhere" pays homage to the great songwriters and musical craftsmen of the past, while firmly staking its claim to a virgin frontier in new California music.

This is warm California rock'n'roll inspired by the coast and deserts of the western frontier.
www.nicoshouse.com

www.skycountrymusic.com

Nico Rivers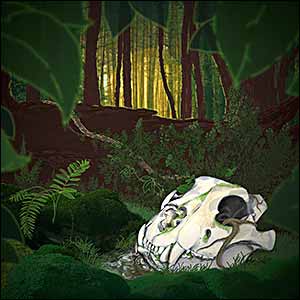 After releasing 3 self produced EPs, Nico Rivers has put together his first full length album backened by the Black Grass. Recorded in a log house, "Tiny Death" touches on themes of existence, transformation and the cyclical nature of the universe. One of the only known constants in the universe is transformation. All that exists has been and will someday be something else. "Tiny Death" is meditation on this notion.
Nico Wayne Toussaint


Deeply inspired by the music of Muddy Waters and James Cotton, Nico Wayne Toussaint started in 1992 in Minneapolis a musical quest wich has taken him all over the United States, on the way to meet his heroes, to learn from them and to play with them.

Nico has crossed paths with such legends as William Clarke, Franck Frost, Jerry Portnoy, Gary Primich. Over his different stays in Chicago, Minneapolis or Los Angeles, or while the past four years where he was living in Florida, he has played with a numerous of great artists including Luther Allison, Jimmy Johnson, James Cotton, Billy Branch, Vance Kelly, Rod Piazza, Eddy C Campbell, RJ Mischo and JP Soars.

Down the line, Nico has also toured or recorded with such blues personalities as pianist David Maxwell, guitarists Cash McCall, Neal Black or Mike Welch and guitarist-drummer Killer Ray Allison.

DixieFrog recording artist since 1998, N.W.T. has become on both national and international levels, a reference in the world of blues and harmonica. He has been able to generate, over nine albums under his name, a genuine and personal vocal style and stage presence.

With "Lonely Number", Nico Wayne Toussaint is bouncing back in a dazzling way towards a dynamic and groovy blues, at times even sticky with rock and r'n'b influences. Guy Davis, Rod Piazza, Monster Mike Welch, David Maxwell, JP Soars, Mr Boogie Woogie, Tommy Schneller invited themselves to the pagan celebration.
www.wix.com/nicowaynetoussaint/lonelynumber
Nicky Swann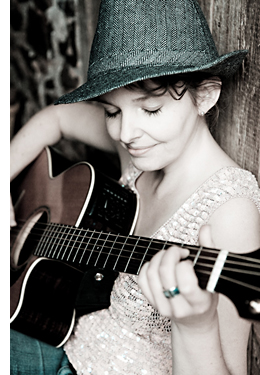 Devon born songwriter Nicky Swann is a performer with a passion. Her delivery is warm, soulful (sometimes gritty) but always spiritually tinged. She uses elements of folk, blues and country to tell her tales of love, hope and death. She lists Paul Weller, Carole King and Janis Joplin as her big three.

After splitting from her covers duo and long term guitarist in 2006, Nicky searched for a replacement, but was disappointed by those she auditioned. Determined to continue, she decided to take on the role of guitarist herself and quickly expanded her three chord repertoire and was gigging again after six months. She started to write new material and relaunched herself as a singer-songwriter.

Since then she hasn't looked back and her achievements to date include, recording with the top multi-instrumentalist Phil Beer (Show of Hands), winning the Artsbase singer-songwriter award, supporting many top UK artists including Clive Gregson, Roy Bailey and Megson, as well as American artists Corrine West and Brooks Williams. She has headlined the acoustic stage at Transition Festival, supported Show Of Hands at Chagstock, and is a regular performer at Dartmouth Music Festival. She has also performed for BBC Radio with the award winning folk singer and fiddle player Jackie Oates.

Her brand new album "Matches & Dispatches" has just been released. It is, simply put, a collection of songs about love and death. Eleven original tracks, a reworked cover of The Beatles classic "I Want To Hold Your Hand" (given new life away from its pop origins) and a new arrangement of the traditional Welsh poem "All Through the Night" ('Ar Hyd Y Nos'). The album was recorded at The Sawmills Studios in Cornwall and features performances from double bassist Rick Foot, cellist Bethany Porter, and pedal steel player Alan Cook.

She has achieved a growing, well respected reputation in such a short space of time, singing from the heart and captivating audiences with her emotionally honest delivery.
www.nickyswann.com

www.myspace.com/nickyswann
Stormin' Norman Seldin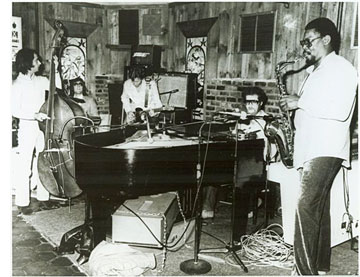 Norman Seldin is known throughout the music world, espec-ially at the Asbury Park New Jersey shore, as one of the originators of that special sound started way back in the 60's, when he was a tee-nager. Norman started formal piano lessons at three, and attended the Manhattan School of Music at age 14. At the age of 13, he became the youngest member in history of the American Federation of Musicians.

Norman began his own band, "The Naturals," and started recruiting mostly black artists in the 60's when it was not so popular. He managed, promoted and recorded them on his own labels – Selsom and Jade Records – based in Red Bank, NJ. Not old enough to drive and sign checks, his mother drove him to different concerts and shows that he was promoting for both adults and teenagers weekly.

His records were played on the R&B circuit stations from New Jersey, into Maryland, Virginia and North Carolina. Norman's early records were dominating the R&B black stations with such huge DJ names as Douglas "Jocko" Henderson, Fat Daddy, Larry Dean, Bill Johnson and Chatty Hatty. He broke in to the Virginia Beach radio market on "Top 20" stations with Gene Loving and Tom Scott.

He was a regular at the famous Broadway Recording Studio in New York when he was 15, and worked with now world famous drummer, Bernard "Pretty" Purdy. He was tutored by famed organist and pianist Richard T, and Tito Puente whenever time allowed in his busy schedule.

Norman's band changed names to "The Soul Set" which also featured future platinum recording star, the late Harry Ray, whom Norman discovered. He recorded with The Valtairs, along with Nicky Addeo, The Uniques, Tony Maples, The Shondells, Barbaroso & The Historians, and battled Bruce Springsteen's first band, "The Castiles," with Norm's own discovery, "The Motifs" whom he managed and recorded as well.

Always being a fierce competitor, both on and off stage, Norman added national attractions to perform on his shows to gain extra exposure for his own groups. He brought in "The Young Rascals" right after they opened for "The Beatles" at Shea Stadium, as well as dozens of other name attractions. Norman was the "ghost" on dozens of hit records that "went bad" and they called him in to fix the troubled spots on piano, organ and/or vocals when he was in his teens.

An unknown sax man, Clarence "Big Man" Clemons, was an addition to "The Joyful Noyze" during a racially tense time. Subsequently, Norman brought the "Big Man" into the recording studio for the first time. It was during his multi-year stint with Norman, that Bruce Springsteen came in to jam with their band. As a result, Clarence left to become an E Street Band member. Stormin' Norman continued his pace of an average of 275 nights a year for over 15 years.

Norman was on stage at The Parker House when he went down with what kills most people – an Aortic Dissection. Norman was given no chance to survive the operation, which has a 1/10 of one per cent survival rate. He was the medical miracle of 2002! Although the doctors said he would not be able to perform for at least eight months, he was back on stage in eight weeks. Prior to his heart incident, Norman spent two years in the Mississippi Delta and Louisiana. Stormin' Norman was recruited to become the head entertainer at the largest night club in the world – La Vela Beach Club in Panama City Beach, Florida. Here he played to an average of 2,000 people a night, and was known throughout the entire South for his 3-5 hour, non-stop musical performances. When he returned home to New Jersey in 1979, he had a reunion with Clarence Clemons at The Lock Stock & Barrel in Fair Haven, NJ. On dozens of evenings, Garry Tallent, Max Weinberg, Billy Ryan and others would come and sit in.

In 1980, 8 tracks with Clemons, Tallent, Weinberg, Roy Bittan, Danny Federici and Southside Johnny were recorded, but never officially released until now, on the new double-CD set 'Asbury Park - Then & Now', on Ivory International Records. There are over 40 years of old and new recordings that were painstakingly digitally re-mastered to form this unique collection of the Asbury Park sound … Doo Wop, R&B, Rock 'n Roll, New Orleans piano, etc., on a total of 46 tracks.

The newest book from Rutgers Press, 'Local Heroes – The Asbury Park Music Scene' features seven pages on Stormin' Norman Seldin. A book of his life story is currently being written for a late 2009 release. The soon to be released double-CD, 'Asbury Park - Then & Now' by Stormin' Norman & Friends, is available at www.backstreets.com as well as at www.theorchard.com which has a link to the e-music website www.emusic.com. This is truly a history lesson when it comes to the sound of Asbury Park and the Jersey Shore.

Nudie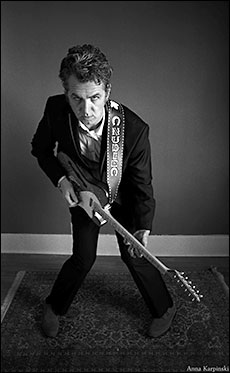 Meet Nudie. He plays his music the way Hank Williams would have liked it: Great songwriting, minimal instrumentation, a strong voice and an everyman attitude.

Born in Ontario, and before deciding to hang his hat in Prince Edward Island, Nudie had addresses in Montreal, Arizona, Toronto, Austin,Texas and New York City, soaking up the scenes and sounds of each place.

In 2005, he formed and fronted Nudie and the Turks, the name a homage to cowboy couturiers Nudie Cohn and Nathan Turk. The band first cut their teeth with a residency at the local bootleggers, then shadowed a couple of Willie Nelson tours, busking for the crowds going in, then playing after-show gigs in each city. This resulted in the band being asked to play Willie's end-of-tour party in St. John's, Newfoundland.

Nudie and the Turks built a loyal fan base, released two CD's of original songs by Nudie and performed at festivals and showcases throughout North America. In 2012, after leaving bits and pieces of the band's van on the highways of Canada and the United States, Nudie struck out on his own. His first solo release 'Remember This' is recorded in Halifax at The Echo Chamber with Charles Austin engineering and Nudie producing. Telecasters and pedal steel abound on the Bakersfield biscuit 'You Try To Be Right'. Hammond organ pulses on the title track, while mariachi style horns adorn 'If A Heart Could Tell'.

Songs from 'Remember This' were licensed for television's "Saving Hope", and Nudie's talents as a performer and emcee were highlighted in "Nudie's House Of Rock", a live concert recorded and broadcast by CBC Radio in Atlantic Canada.
The Nutopians
Following the success of the 2010 release "Imagined - The John Lennon Song Project", winner of the Independent Music Awards Vox Populi For Best Tribute CD in 2010, Tom Dean and Rex Fowler of The Nutopians have offered up another serving of classic John Lennon material that once again brings a whole new way of appreciating the melodic and lyrical beauty of these songs.

These two singer-songwriters who have had their own career successes on major labels have gone back into the studio with their 7 piece touring band The Nutopians to once again remind us of the genius and artistry of John Lennon. The Nutopians touring band formed to do 10 live performances to promote the release of "Imagined" in 2010. The success of the live show was undeniable and three years on the Nutopians are still touring in the US and have brought this stellar band into the studio for the recording of "Lennon Re-Imagined".

Because of the insistence of the Lennon Estate to remove The John Lennon Song Project as the band's name used on their first release, they turned to Yoko Ono who suggested they call themselves The Nutopians referencing Nutopia, the conceptual country created by John & Yoko
on April Fool's Day 1973.

Närmare Kanten
"Närmare Kanten" är något så ovanligt som en ny svensk musikal utgiven på skiva. Musik och sångtexter är signerade Patrick Rydman och Martin Schaub. Musikalen, som berör psykisk ohälsa, är ett beställningsverk från Stiftelsen Gyllenkroken i samarbete med Högskolan för Scen och Musik i Göteborg och Arvsfonden.

Det är en ödesmättad berättelse där dåtid skuggar nutid, om hur psykiskt lidande och tystnad får vittgående konsekvenser för huvudpersonerna och deras närmaste. En dag börjar en dramatisk familjehemlighet göra sig påmind.....

Musiken är genomkomponerad och ambitiös med rötterna i melodiös popmusik, men väjer ändå inte för svärtan i berättelsen. I huvudrollen som Jonna hör vi Karoline Dons.

Patrick Rydman och Martin Schaub har samarbetat under många år. De skriver för närvarande på ett beställningsverk för Malmö Opera som har premiär 2021.

"Närmare Kanten" är inspelad i Svenska Grammofonstudion av Hans Olsson Brookes, och är producerad av Martin som även skrivit och arrangerat för artister som Benny Andersson, Sarah Klang, Laleh, Timo Räisänen, med flera.
www.facebook.com/rooftopmusicals