With their unceremonious ejection from the EMI gravy train at the end of the 70's, it seemed that The Saints were finished. Relieved to be ditching such troublesome clients, EMI overlooked what The Saints had left them; 'Prehistoric Sounds', a criminally neglected R'n'B masterpiece - maybe the most gorgeous suicide note a band ever left. The album was as uncompromised (and therefore doomed) as most other great cult albums, but it contained the seeds of songwriting that strongly contradicted the premature demise of The Saints.

Returning in the early 80's with the tellingly entitled 'Paralytic Tonight, Dublin Tomorrow' (released on the all new French label, New Rose), Bailey buried any doubts over whose exclusive domain the band had become. Having been left in the lurch by record company and band members, The Saints were now about Bailey and whichever band members made the hallowed grade. Never looking back, Bailey turned The Saints back on, and the outpour commenced.

It was 1984 when Bailey reached a new peak, and it was called 'Ghost Ships'. In one stroke the song absolved the sins of a thousand bands lacking the ingenuity, integrity, guts and smarts to wait, watch, listen and learn. To this day, 'Ghost Ships' is a haunted, haunting affirmation of everything that Bailey has done.

Alien to complacency, Bailey pushed his own limits, and those of his band, reaching a new peak in the 90's with 'Prodigal Son'. An album redolent of his beloved Irish roots, rich in references to literature and legend and containing some of his most beautiful songs to date, 'Prodigal Son' announced the emergence of a new Bailey, more confident and with his demons held firmly in check.

Having made The Saints a minor household name, Bailey chose to soldier on as a solo artist. A series of superb albums followed at frequent intervals, including 1994's '54 Days At Sea', recorded in Scandinavia with a Bolivian folk group he first met playing at a street festival. Abounding in all the usual allusions and delivered in a voice that he now exercised like a whipped mongrel, '54 Days At Sea' felt like another watershed, another self-contained detour in a career of musical swings.

In 1997, Bailey returned to The Saints. The result was the outstanding album, 'Howling'. Bailey was back on another pilgrimage. Recorded fast, loose and with no shortage of great songs, 'Howling' is a loud, proud return to the band ethic of The Saints.

A year later, following the reinvigorated, perpetually changing band route, The Saints released the rip-roaring album 'Everybody Knows The Monkey'. Recruiting unknown, but feisty musicians, Bailey returned to the no-nonsense guitar rock he last perfected on 1982's 'Out In The Jungle'. Strained by the demands of agitation, volume, and passion, Bailey's gigantic voice is given free reign by a band of heavy-hitters. The opening track, 'What Do You Want', perfectly sums up a career that has continually crashed, burned and risen from the subsequent wreckage.

For the new millennium came a new Saints album, albeit one that paid homage to the folk that carved out the music many of us live by to this day. 'Spit The Blues Out' features eight original tracks of awesome power and divine intervention, coupled with four cover versions of classic blues songs to which Bailey's voice does ample justice. Recorded in Amsterdam, the album highlights Bailey's songwriting at its best, mixing originals and covers that reflect the grim and greedy theme park we live in today. Drinking songs, sad songs, rocking songs and fuck songs. Songs that speak to you of the world. 'Spit The Blues Out' captures the power that was injected into rock'n'roll when rock'n'roll was full of sex and danger.

In 2005, still resident in Amsterdam, The Saints released 'Nothing Is Straight In My House'. Featuring twelve new songs, hammered into shape in a three-week creative furnace, the record is a loud, noisy, passionate and demented mapping of the surreal psychotic soul of our surroundings. The songs are inspired by the fear and loathing of our times and reverberate with rock 'n' roll's primal energy.

Following swiftly came 'Imperious Delirium', recorded at Stollywood Studios in Amsterdam. Fanned by the flames of an ill wind and wanton war-mongering, the record delivers a tirade against prevailing times. It is a literal howling at the insane behavior of the outlaws who make our laws and it represents some of Bailey's most political writing. Along the way, however, love songs prevail in the shape of the wonderfully titled 'Je Fuckin T'aime'.

Which brings a common theme up to date, that being the impending release of 'King Of The Sun', a brand new collection of songs of love and dereliction by Bailey and his latest incarnation of The Saints. Recorded in Sydney and released on the Highway 125 label, the album portrays a journey home after a hundred-year war. Bailey's writing and singing have never sounded more majestic. His is the voice of a world-weary conscript who got more than he signed up for but never shirked the task. Accompanied by piano, strings and horns, (the very sound that got The Saints dropped by EMI) 'King Of The Sun' could be viewed as a beautiful swansong to a formidable campaign. Then again, don't bet on that.

Sam Levin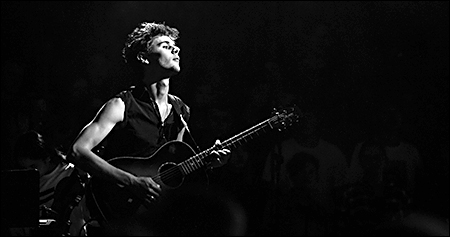 An amazingly accomplished live performer, songwriter and recording artist who released his 1st single at age 10, Sam Levin, now 17, is trying something new on his 3rd album, "A General Air Of Regret". Rather than writing songs about himself and the details of his life and relationships, or a free flow of thoughts and abstract images, Sam is looking for an elusive middle ground of ambiguity, where songs aren't about feelings, they are feelings.

The suburban New York based singer songwriter shares this multitude of those feelings via acoustic guitar, synthesizer and piano driven songs on his latest full length album "A General Air Of Regret". Its focal track, the soulful and hypnotic "Bookmark", is a compelling acoustic tune that by design, Sam says, "people can experience as it relates to them, not me. The song allows me to showcase my guitar work, and it's also a good introduction to the sometimes offbeat way I write lyrics, with dreamlike words and situations that people can attach their own feelings to. To me, 'Bookmark' embodies the feeling of being somewhere new, but where you're not alone, so it's not a scary new, it's just new. Like the experience of looking at art or trying a food for the first time".

Now emerging from his 'prodigy' stage, Sam started his career in music when he was 5 years old, pointing to a Fender Mini Strat on the wall of a local music store and declaring, "I want to do that!". He began playing piano and guitar at 5, wrote his first song at 7 and released his 1st single and video, "I Sure Hope Not", at age 10. Earning solid critical acclaim for his previous albums, "I Am" and "Frame Of Mind", he's been called 'one of the most eclectic and innovative artists in the current scene right now'. Sam's music has been described as 'modern folktronica', 'touching, ornate chamber pop' and 'smart indie rock', earning comparisons to Sufjan Stevens, Bon Iver, LCD Soundsystem and Courtney Barnett. His uniquely eclectic music fuses electronic sensibilities, acoustic experimentation and a varied background in rock, jazz and alternative music to create an unconventional and engaging sound like no other.

While Sam's last album "I Am" was about self analysis, "specific things and real details pertaining to me as a person", "A General Air Of Regret", featuring transcendent guitar, piano and electronic instrumentals amidst the 9 vocal tracks, is about feelings, whether intense or ordinary. "I don't only want to write about highs and lows, most of life happens somewhere in the middle". From the anger of the piano pounding "Psych Ward" to the loneliness of "The Only Thing", from the sweet hopefulness of "I'll See You Tomorrow", to the drama and empathy of "Robert's Graveyard", "A General Air Of Regret" introduces us to a variety of characters and evokes a wide range of emotions.
"One song might be instrumental, and the next might tell a whole story, but they are both just about feelings", he says. "As for the album title, I don't think of regret as a bad thing. Everything can't always go as we want it to, so there's always some kind of regret, even if it's just a little. And maybe regret helps us next time to do the thing we didn't do, or say the thing we wish we had said. I appreciate a general air of regret".

From the time Sam did his first open mic at age 7, he's performed on countless stages, from coffeehouses to community and art festivals and his London Open Mic Tour. In 2018, he played 7 shows in 9 days, from Philly to West Palm Beach and just completed a 2019 tour, 8 shows from Vancouver to LA, to promote "A General Air Of Regret".

Sawdust & Rust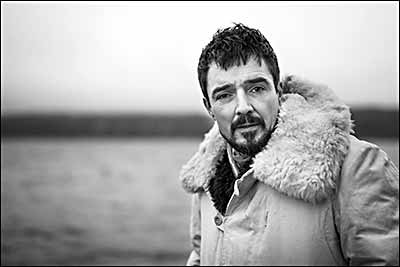 Sawdust & Rust was born after a chance meeting on Greenland in 2015 between Swedish singer songwriter Patrick Rydman and Faroese singer songwriter Benjamin Petersen, who goes under the artist name Son Of Fortune. Most of the debut album was recorded in Benjamin's studio Bunkarin, in Tórshavn, FO. Melodic and accessible, this is poetic, catchy songwriting with lots of rootsy, folky elements and a touch of good old Nordic melancholy thrown into the mix, while never forgetting the importance of a memorable chorus. Welcome to a world where creation and decay walk hand in hand. Welcome to Sawdust & Rust.

Scott Kirby
As Scott Kirby prepares to release his 8th CD, "Chasing Hemingway's Ghost", he continues to perform over 100 shows each year, across North America, as well as taking the stage at his own club in Key West, when taking a break from touring. Kirby joined friends in 2012 to open the Smokin' Tuna Saloon, a 200 seat music club best known for hosting the Key West Songwriters' Festival, the largest songwriters' festival in the world.
A creative lyricist and accomplished finger style guitarist with an expressive voice, Kirby describes himself as a direct descendent of the 70's folk rock singer songwriter movement. In fact in 2009, Kirby was lucky enough to record his 6th album with veteran session players Leland Sklar, Dean Parks and Russ Kunkel, a trio that played on many of the iconic albums of that era. Kunkel also produced Kirby's "Row Me Home" and co-wrote 4 of the songs on the CD.
In 2013 he turned to Lew London to record his 7th project, "Sol Searching". London, a superb multi instrumentalist, engineer and producer, with deep roots in the 70's with his own singing songwriting career, and as a longtime musical partner with the legendary Steve Goodman.
For Kirby's latest project, "Chasing Hemingway's Ghost", he sought out another multi talented singer songwriter, engineer and producer, Andy Thompson of Nashville. Andy and equally talented brother Matt Thompson played nearly every instrument on the recording and collaborated with Kirby on the title song and another track. "I've known Matt and Andy since 2000, and have always loved their songwriting and their musicianship, and their live shows are just phenomenal", says Kirby. "We wanted to record and write together for a while, and this year the stars lined up and we were able to do both".
Kirby's music began appearing in the rotation of Sirius XM Radio Margaritaville when his wistful ballad "Lucky Enough" struck a chord with listeners in 2005, which exposed his music to more markets around the US and Canada. He continues to receive regular airplay on the station. His "Row Me Home" CD also received widespread airplay in the UK and Europe.
Over the years Kirby has shared the stage with many of his favorite artists, Carole King, Jimmy Buffett, Mac McAnally, Livingston Taylor, Darius Rucker, Tom Rush and Peter Mayer. He and Mayer continue to tour annually with the Mayer Kirby Mayer Acoustic Group. They released their own live CD, "La Casa Cayo Hueso", in 2015.
Born and raised in New Hampshire, Scott Kirby now lives in Maine and Montana, when not on the road.
Seth Swirsky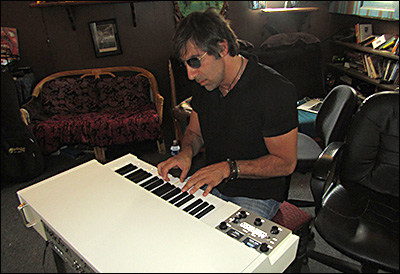 Multi award winning singer songwriter Seth Swirsky is back with his long awaited 3rd solo album. "Circles & Squares". Swirsky, one part of the highly acclaimed pop duo, The Red Button, wrote, played and produced the entire 16 song album of newly minted, mostly, under 3 minute long, pop gems.
Swirsky's 1st solo album, "Instant Pleasure", won best pop album at the 2005 Los Angeles Music Awards, with the title song being featured in Adam Sandler's largest grossing movie, "Big Daddy". His 2nd solo effort, "Watercolor Day", won best pop song, for the title track, at the 2010 Hollywood Music & Media Awards. Both albums won or came in the Top 5 of most of the major influential year end polls for best album of the year. Swirsky was named by Music Connection Magazine as one of the Hot 100 unsigned artists of the year.
A renowned pop songwriter, Swirsky has written hits for a wide array of artists including Taylor Dayne, Smokey Robinson, Michael McDonald, Al Green, Olivia Newton John, Celine Dion, Air Supply and many others.
A true renaissance man, Swirsky is a painter, a 3 time bestselling author and a filmmaker, whose movie, "Beatles Stories", from 2012, was chosen by over 20 film festivals around the world. A native New Yorker, Swirsky makes his home in Los Angeles.
www.seth.com

www.myspace.com/sethswirsky

www.facebook.com/pages/Seth-Swirsky
The Shiner Twins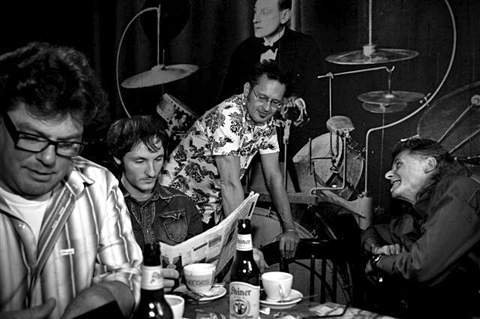 In the many reviews that appeared after the release of the Shiner Twins' second album 'Southern Belles', the band has been hailed as the hottest roots-band from the Netherlands, and some reviewers even described the band as the best roots-band in Europe, judging the album as "a milestone in the genre".

The band's unique blend of southern soul, rhythm & blues, country, traditional gospel, New Orleans funk, texmex and singer-songwriter oriented material makes them anyhow stand out in the widely varied Dutch roots- and americana-circuit. That's one of the reasons why the band was invited to play at all the important festivals in the Netherlands and Belgium in the spring and summer of 2009.

The initial roots of the Shiner Twins are located in Austin TX. When founding bandmember Jack Hustinx was living there in 2001/2002 he was asked to put together a European touring-band by Austin's legendary powerhouse-singer Malford Milligan (ex-Storyville), and so he did. After three very successful European tours and one tour in and around Malford's hometown Austin - to celebrate the release of the critically acclaimed 'Sweet Cherry Soul' album - this co-operation came to an end. Because the remaining bandmembers agreed that there was this "undefinable chemistry" every time they played together they decided to continue as a band, the Shiner Twins, with their own material, written by both Jack Hustinx and Richard van Bergen, the band's two lead-vocalists and guitarists. Richard is considered to be one of the most talented roots-guitarists in the Netherlands, probably the best slide-player in the country, heavily influenced by co-players like Bonnie Raitt, Lowell George, David Lindley and Ry Cooder.

In October 2006 the band's debut-album 'All In Store' was released, and almost instantly this CD was hailed by every magazine and website as one of the most excellent and original roots-CDs ever to come out of the Netherlands. The CD entered at a #2 position in the Euro Americana Chart and gained a lot of airplay on national radio. The name Shiner Twins was put on the map, and the band played almost continuously in the many clubs, theaters and festivals throughout the Netherlands and Belgium. This definitely contributed to the outstanding live-reputation of the band, not only through their solid musical craftsmanship and haunting vocal-harmonies, but also as being one of the most honest and intensely playing rootsbands you will ever see. All four Shiner Twins members are true, convincing and experienced roots-junkies that have been playing and recording with many different bands and artists for more than 25 years.

Two years after the release of their debut the Shiner Twins launched the eagerly awaited follow-up entitled 'Southern Belles', an even stronger mix of styles, adding more traditional southern gospel to their music, featured in 13 new intriguing Shiner Twins originals.

In their native Netherlands every rootsmusic-fan is proud that this soulful roots-combo is coming from their country, now it's up to the rest of Europe to get to know the Shiner Twins…..
www.myspace.com/shinertwins

www.youtube.com/user/shinertwins

www.youtube.com/watch?v=6s3VmPsnEZ8
Shooter Jennings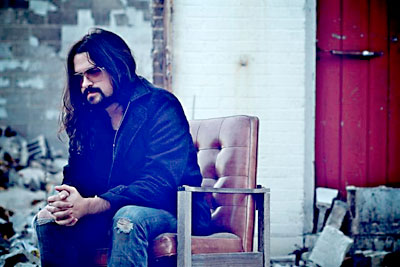 As the title suggests, 'Family Man' is Shooter Jennings' most personal and introspective album to date, focusing on his home life with Drea de Matteo and their two children, the endless temptations of life on the road, his Southern heritage and upbringing, and his unique position among today's country musicians. Shooter has worn many hats throughout his career: the selfdescribed "son of a rebel saint", the hell-raising vigilante minister at a revival of true country music, the radical prophet using rock and roll as his medium.

Now after a career where he has done everything from sharing the stage with Alice in Chains to writing songs for the Oak Ridge Boys, Shooter will finally reveal the man at the heart of it all when he releases 'Family Man'.

Recording in his recently adopted hometown of New York, producing himself for the first time, and playing with a group of extremely talented musicians he has dubbed "The Triple Crown", Shooter is more relaxed and confident on this album than ever before. Featuring renowned jazz pianist Erik Deutsch, guitarist Chris Masterson, drummer Tony Leone, bassist Jeff Hill, pedal steel player John Graboff, and rising roots music star, Eleanor Whitmore, who contributes harmony vocals, as well as playing mandolin and fiddle, The Triple Crown brings to mind such ensembles as Merle Haggard's Strangers, Bob Wills' Texas Playboys, and Buck Owens' Buckaroos, becoming an integral part of the music and adding their unique stamp to each and every note. It is his rebel DNA accompanied with his mature outlook and emotional strength of a father and a family man, which makes him one of the most exciting artists of his era.

Sid Griffin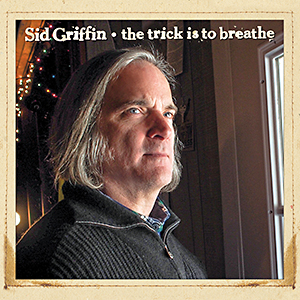 "The Trick Is To Breathe" is Sid Griffin's 1st solo album in a decade. Recorded in Nashville, TN, at the home studio of Thomm Jutz in February 2014, it was a joyous, easy and (almost) carefree session, the entire album completed in four days.

"Before Christmas I had sent some Nashville friends acoustic demos of my songs and of my new arrangement of a version of The Youngbloods' great 'Get Together'. These men and women had learned the songs off my demos and most of the songs we recorded were second takes... in fact these players are so accomplished I don't think any track was recorded in more than four takes", recalls Griffin.

After recording in the UK for most of the past two decades Sid decided to do everything differently from his last solo album, "As Certain As Sunrise". "I recorded in the USA instead of Europe, I did not engineer, co-produce, or mix the album, on a few tracks I only sang, I put myself entirely in the hands of others, I did not use any of the Coal Porters' vast musical talents, I primarily used musicians I had not met before the sessions and I enjoyed myself thoroughly. Without question it was time for a change, time to shake things up".

As promoters and venues were frequently contacting Griffin about solo shows it was obviously time for new 'Sid Solo Music'. Yet the multi-tasking Griffin, a musician first, a writer second, a broadcaster third and... oh yes, a family man on top of all that, didn't have much time to spare to record. "You can spend weeks doing an album. Both my previous solo albums were done piecemeal, that is recorded in bits here and then bits there over weeks. I needed to get an album done quickly".

"Billy Bragg told me his last album was recorded by Joe Henry in just a few days out in Pasadena, CA, and I remembered Dylan did 'Nashville Skyline' in only a few days. So I contacted some Nashville cats I knew, they recommended Thomm Jutz as a producer, he and I hit it off, Thomm picked most of the players and by the time I flew to Tennessee these folks knew my songs better than I did. Hence we started on Monday and were done by Thursday!".

Sid did play mandolin on two tracks, guitar on about six more, but the core of the band was Mark Fain from Ricky Skagg's Kentucky Thunder outfit on bass, the great virtuoso Sierra Hull on mandolin, Paul Griffiths on drums, Thomm Jutz on guitar, Justin Moses on banjo, fiddle and dobro, and gospel legend James T Brown on backing vocals. Other than Thomm Jutz and Paul Griffiths none had met Sid before the sessions began.

"The Trick Is To Breathe" announces Sid Griffin is back on the world stage as a solo artist, globe-trotting troubadour and singer-songwriter. "It's a great record, it really is, my best songs ever and you can play them with a group behind you as I did in Nashville or they can be performed by me solo. I am in a good space as the saying goes and 'The Trick Is To Breathe' is going to help keep me there. Yes, I am an American who lives in Europe, but my heart resides south of the Mason-DIxon and it shows on this album. I can't wait to tread the boards again and play these songs for the people".

Sky Country
Nico Georis is visionary and poetic musician and one of the most original keyboard players of our times. His musical talents have taken him from Big Sur, to New York, Paris, Romania, and back to the San Francisco Bay area, while carrying on a legacy of California grooves. Nico is a man who is connected to nature's realm and is dedicated to musically linking listeners to the pulse of life.

Following the release of his debut home recordings "Songs From Nowhere", Nico Georis has collaborated with friends to form the band, Sky Country. Born from the lineages of 60's California surf rock culture, the great american roots of New Orleans piano, blues, roots rock, 70's Africa, impressionism, and other obscure realms, Sky Country humbly blasts into a new frontier in new California rock'n'roll. Highlights of 2012 included opening for Fishbone and rock n' roll legend, Leon Russell.

"Songs From Nowhere I & II" are Sky Country's debut home recordings, completely self produced by Nico Georis in his basement of analog relics. Sky Country's infectious tonal grooves are revealed on an arsenal of vintage keyboards, lush and fuzzy guitars, set atop a warm lo-fi rock'n'roll river bed. Stylistically "Songs From Nowhere" pays homage to the great songwriters and musical craftsmen of the past, while firmly staking its claim to a virgin frontier in new California music.

This is warm California rock'n'roll inspired by the coast and deserts of the western frontier.
www.nicoshouse.com

www.skycountrymusic.com
Slowman

Slowman släpper nytt album på svenska den 6:e september.

Svante "Slowman" Törngren reste sig från skivbolagssoffan i Danderyd och avslutade sin musikkarriär i mitten av 80-talet, eller rättare sagt, tog en paus på 23 år. Efter många tysta år fick han åter lust till musiken. 2008 släppte han sitt första egna album, "The Best Of Slowman". Lysande recensioner inspirerade honom till att fortsätta.

Efter 4 kritikerrosade album, spelningar på klubbar och festivaler runt om i Sverige, både som soloartist och med band, har han fått en ny nytändning det senaste året. Tack vare en ny kärlek, nytt band, nytt språk (svenska) och en ny medproducent i Jörgen "Jugglo" Wall, har han gjort sitt mest personliga album hittills. "En Romantisk Idiot" är inspelad till största delen i Fimta Recordnings i Södermanland.

"En Romantisk Idiot" rymmer musik i färgerna blues, rock och americana med texter om livet, kärleken och världen omkring oss. Tillsammans med "Jugglo" och musikerna Markus Gahnfelt och Michael Wall har Slowman utvecklat ett nytt sound och det svenska språket har givit honom större frihet som textförfattare.

Den första singeln "Kärlekens Osynliga Hand" som släpptes i april har legat 10 veckor (maxtid på listan) på Närradiostationernas topplista, varav 5 veckor på 1:a plats.

Senaste medlemmen i Slowman Band är Robert Wirensjö som spelat bakom artister som Mikael Rockfors, Py Bäckman, Anne-Lie Rydé och Marie Bergman bland annat. Med sitt keyboardspel tillför han minst en dimension till Slowmans musik.

Releasespelningen går av stapeln i Scalateaterns källare, en av Stockholms bästa rockscener, den 5:e september.

The Smoking Flowers
"There are not enough words to describe the intrinsic chemistry Kim and Scott Collins possess. The duo, better known as The Smoking Flowers, have discovered what some duos spend their entire careers trying to find, a fascinating marriage between artistic talent and subtle sensuality that pierces the attention of anyone in the same room as them. The Collins' have devoted their entire lives to music, and the second their wild feet touch the stage they exude just how tenured they truly are." ~ The Repertoire

Musically speaking, Kim dances between drums, accordion, acoustic guitar, mandolin, harmonica, shimmering tambourine and her own sensual, simmering vocals. Scott plays electric and acoustic guitar, harmonica, and delivers his vocals with the voice of a feisty, gin battered, heart on sleeve, hardscrabble troubadour.

They have influences that range from Led Zeppelin to Gillian Welch and The Ramones to Neil Young. Kim was ironically considered by one of those very influences when she was up for the female vocalist spot in Robert Plant's Band Of Joy. Unbeknownst to Kim, mr Plant had been listening to some of her recordings and loved her voice. But as fate would have it her friend Patti Griffin got the role. "The job was clearly destined for Patti. I mean look at her and Robert now! I do believe in a good love story, after all", says a sighing Kim.

The Smoking Flowers 1st album "Sweet As Port" debuted in 2009, initially recorded as a side project of sorts for the couple from their respective rock bands at the time. It is a delicate americana album released well before americana was a popular trend. Their critically praised 2nd full length album "2 Guns" was released in 2013, but was raucously brought into existence in single live recorded takes over about 4 days in 2011. It is a ferocious musical document that eerily proved to be a foreshadowing of a battle the couple was soon to encounter.

Kim was diagnosed with an aggressive form of breast cancer just after they recorded and mixed "2 Guns", delaying the album's release by 2 years. Kim's breast cancer is in remission today due to only using holistic and alternative methods and a raw food diet, no chemotherapy, no radiation, no hormones. In the wake of this experience Kim and Scott took life by the reins and hit the road in their vintage Volvo 240 station wagon, touring across America and Canada for 3 years straight promoting "2 Guns". With this life altering experience to draw upon, and 3 years of intense touring under their belt, the couple then tapped even deeper into their raw rock, punk and folk roots in the composition of their newest album "Let's Die Together" just released. The undeniable urgency present in these recordings cannot be faked. "Let's Die Together" is a true story of triumph.

The Collins's continue to be activists and advocates for holistic and alternative medicine and healing, also founding the charitable organization The Treasure Chest. Their music and life have been an influence on many East Nashville artists, being early pioneers of the now popular underground scene.

The Smoking Flowers live shows exemplify the gritty wanderlust of Kim and Scott, while their songs paint a picture of a couple that lives together, married 19 years, writes together, plays together and simply loves life together. The Smoking Flowers are currently on tour worldwide.
Sofia Ekberg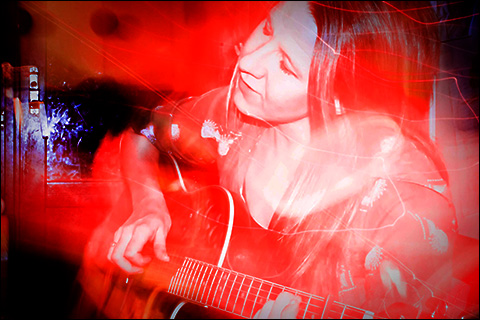 Sofia Ekberg is a Swedish, Gothenburg based singer-songwriter who plays music in the field of folk-country-pop. Sofia sings stories about daily life, its big questions and small details, with a voice and lyrics that get under your skin. All accompanied by her rhythmical guitar playing.

Sofia's musical journey has taken many turns. She was born in the small village Bottnaryd in the deep forests of Småland, and very early on had a longing for music. At the age of five she got her first guitar and soon found a way to express herself musically.

Growing up she changed direction: trained and worked as a musical theatre performer, both in Sweden and England, and took part in productions on stages like Oscarsteatern in Stockholm, Östgötateatern in Norrköping and The Mercury Theatre in Colchester, England. When living in England she discovered her songwriting and began to play her songs at open stages in and around London, where she also worked as a session singer and was a member of Jest, a soul-rock band that played in the streets. Somewhere along the way, Sofia wrecked her voice, and wasn't able to sing for a number of years. During this silent time her songwriting kept evolving, and she worked hard to find a way back to her authentic voice and unique expression.

Now she's here with the debut EP "All The Small Details", produced together with Patrick Rydman and Henrik Cederblom. Recorded mostly live at the studio Epidemin in Gothenburg, with three guitars, harmony singing, mandolin, dobro and stompbox, the trio creates a strong presence and a feeling of acoustic directness where the songs and the stories really come into focus and grab your attention.

Sofia plays solo, duo, as well as with the trio My Quiet Companion (with Rydman and Cederblom). She has played venues such as Visby Songwriters Festival, Copenhagen Songwriters Festival, Sunne Folk Festival, Pustervik (Gothenburg) and Jarmusch Club, Caserta, (Naples, Italy).

Sofia also works with various co-writing projects in both Sweden and Denmark. Currently she's involved in a project together with Danish singer-songwriter Cecilie Sadolin, who released her debut EP "Nordic Craft" in September 2013. Sofia is also the guitarist of the band Mint.

Furthermore, she has developed and runs the one-year course for singer-songwriters at Löftadalens folkhögskola in Åsa, Sweden.

Son Of The Velvet Rat
Son Of The Velvet Rat celebrate the glorious elusiveness and the sweet heartbreak of song by releasing a new live record, "The Late Show", for their US label Fluff & Gravy/Mint400.
A few years ago, Austrian natives Georg Altziebler and Heike Binder set down roots in the Desert community of Joshua Tree,CA. In the last 50 years the desolate town has quietly become an enclave for artists and musicians much like Paris in the 1920's or Laurel Canyon in the 1960's.
Their 2017 release, "Dorado", produced by Joe Henry, featured a mix of high desert musicians and LA stalwarts, as well as guest vocals from brilliant singer songwriter Victoria Williams. The record received rapturous reviews and topped myriad year end critics' polls.
"The Late Show" is a souvenir from their extensive 2017 tour. The album was recorded at three venues, the Rhiz in Vienna, Austria, Scheune in Wredenhagen, Germany and The Studio Venue in beautiful downtown Burbank,CA.
The 11 song set features several songs from "Dorado", but also reaches back to older albums like "Animals", "Firedancer" and "Red Chamber Music". "Another Glass Of Champagne" is a newish number that revisits an older riff and adds new lyrics. The ambiance is passionate, sweat soaked and electric.
Georg and Heike's cinematic sound is augmented by Dominik Krejan on Fender Rhodes piano and backing vocals. Drum duties are split between Muck Willmann and Felix Krüger. Highlights include an epic "Sweet Angela", a brooding version of "Copper Hill", the pulsing psychedelia of "Surfer Joe" and the world weary ache of "Franklin Avenue".
Son Of The Velvet Rat weaves a sonic tapestry of disparate influences that is best described as folk noir, while being thoroughly unique in every aspect. No wonder everyone from Americana UK to Lucinda Williams to Palm Springs Life & Magnet Magazine is singing their praises. "The Late Show" offers a perfect introduction to their sui generis sound.

Sons Of The Sea

"Sons Of The Sea" is the quintessential Brandon Boyd record — an introspective, eclectic collection from the artist, author, activist, environmentalist and surfer that will tantalize longtime fans while further spotlighting his evolving interests. The acclaimed Incubus vocalist is stretching his formidable creative muscles with a daring new foray into solo music.

While Boyd's inviting, empathetic voice is familiar to millions, "Sons Of The Sea", the self-titled album, infuses it in challenging new contexts. Produced by the renowned Brendan O'Brien (Incubus, Pearl Jam, Bruce Springsteen, Rage Against The Machine), the album luxuriates in innovative sonic backdrops, allowing what they coined as 'oddball pop' to flourish. For an artist like Boyd, the thrill and confusion of the quest to create will always trump the tangible, material rewards bestowed for his efforts.

Leadoff track "Jet Black Crow" flaunts what Boyd calls a 'stomping playfulness' that befits his dreamlike musing on infatuation's ups and downs. And he is just as compelling in the record's many departures, from the eerie, synth-driven obsession of "Lady Black", to playing lothario in the seductive "Come Together", contemplating his unique creative process in the piano-driven "Avalanche", or paying tribute to Emily Dickinson's perspective on an artist's responsibility via "Untethered" — 'tell us the truth, but tell it to us gently, lest we all go blind'.

Boyd and O'Brien joined forces when Incubus went on hiatus following 2011's "If Not Now, When?" 'After much toiling and overthinking about how I was to go about starting a new music project, I decided that the best way forward was to let go completely!' Boyd enthuses. 'Stop thinking about where, when, what, who and how, and simply… Go!'.

That ability to overcome doubt and give voice to complex thoughts applies to his visual art as well. Boyd's third art book, "So The Echo", emerged this fall, following up acclaimed predecessors "White Fluffy Clouds" (2003) and "From The Murks Of The Sultry Abyss" (2007). A compendium of unobstructed watercolor, ink pieces and photographic spreads, "So The Echo" 'offers some of my most vulnerable observations yet, unedited and out on a limb. After all, the echo towards a life of expressivity is only as loud as the call!'.

'There is no end in creativity', Boyd concludes. 'Hence, to strive towards an end result is a fool's errand. Set goals, make music and paint pictures, but know that the crux of your happiness balances delicately on the wings of the act of creativity itself. Not at the finish line'.

The album "Sons Of The Sea" is set to be released in Europe in February on Membran, including special acoustic versions of "Come Together" and "Lady Black".

Spike Flynn
Spike Flynn has released 2 albums of original songs. Both have been very well received. His 1st album "It's Alright" reached number 10 on the Euro Americana Chart. He won the alt country section of the Tamworth Australian National Songwriting Competition in 2017 and had 3 songs in the 2018 finals. He is an accomplished finger picking guitarist in the style of Doc Watson and plays rack harmonica. His strongest interest however is the lyrical side of songwriting.

Originally from a small town in the Central West of New South Wales, Australia, he has been based in Sydney now for many years. Spike infuses home town and country themes with an urban edge. He says his songs "are for listening to, the lyrics, for me, are the most important element". That's why he always includes a lyric booklet with his CD's. His original songs have a strong Australian presence, but with universal themes.

He has supported international acts including Peter Rowan & His Bluegrass Band, Kristina Olsen and John McCutcheon. Until recently Spike performed with his 2 piece band the Open Hearted Strangers, playing a mix of original songs, blues and country. He is now doing more solo and duo gigs around Sydney. Currently Spike is focused on songwriting and recording. He has several albums of original material ready, which will be released over the next 2 to 3 years. Spike Flynn sees himself as primarily a songwriter, he is an 'album' songwriter, focused on story telling and the overall album feel and continuity of a collection of songs.

Spottiswoode & His Enemies
"Lost In The City", Spottiswoode & His Enemies' 7th album, is the band's most ambitious song cycle to date, a giddy brew of jazz, chanson, rock, blues and minimalism. The music reflects the raw energy and sophistication of the city the band has called home for the last two decades. Whether joined by a string quartet, gospel infused backing vocals, a beefed up horn section or simply left to their own devices, the band is at its righteous best.
Spottiswoode's stories of love and death in the Big Apple are peppered with selfportraits, landscapes and snippets of advice. His lyrics cover a broad emotional range, by turns self mocking, tormented, swaggering and elegiac. The English frontman has recently returned to his native London to raise his baby daughter. Is this his New York farewell?
The journey starts with a walk to the Hudson. The singer reflects on his life in Manhattan and stares across the river. "What do you see on the other side?", chant the backing vocalists. "It's not heaven", he replies. "It's just Hoboken". Suddenly, what had started as a ballad for piano and strings erupts into a Springsteenesque rock anthem. A silly joke about New Jersey or a heartfelt meditation on life and death?
Dan Reed of WXPN explains, "They do something few bands can do, evoke real emotions, sometimes several different ones in a single song". The video for 'Hoboken' was premiered on the Paste Magazine website just ahead of the album's New York release.
The 18 track adventure proclaims its jazz bona fides with a series of blistering and lyrical solos from Candace DeBartolo (sax) and Kevin Cordt (trumpet). Still, the band refuses to be pigeon holed. At any moment, Spottiswoode might turn down a rainy boulevard to meet a chamber quartet or encourage his Enemies to tear off the shackles and rock out. You can throw any quick elevator pitch straight out the 42nd floor window.
Spottiswoode & His Enemies are, Spottiswoode (vocals, guitar), John Young (bass), Tim Vaill (drums), Candace DeBartolo (saxophone), Kevin Cordt (trumpet), producer Riley McMahon (guitar, mandolin, glockenspiel), and Tony Lauria (piano, accordion, keyboards).
Special guests include Antoine Silverman (violin, Einstein On The Beach), Martha Redbone (backing vocals), Sara Jacovino (trombone).
Referred to as a "genius" and a "downtown ringleader" by The New Yorker, Spottiswoode
is the son of an American opera singer and an English clergyman. WNYC's John Schaefer describes him as "one of New York's more colorful band leaders for more than a decade". His songs have been featured in a wide variety of television shows and films ('She's Out Of My League', 'A Street Cat Named Bob',' The Ledge', 'Bloodline', 'Secret Circle', 'Kingdom').
Spottiswoode's award winning gothic rock opera, 'Above Hell's Kitchen', was recently presented to sold-out crowds at the New York Musical Theatre Festival. His New York screenplay, 'Either Side Of Midnight, is currently being made into a feature film. Principal photography was completed in November 2019. The film is helmed by the veteran director, Roger Spottiswoode ('Tomorrow Never Dies', 'Under Fire', 'Shake Hands With The Devil'). Remarkably, the two Spottiswoode's are not related!
Stephen David Austin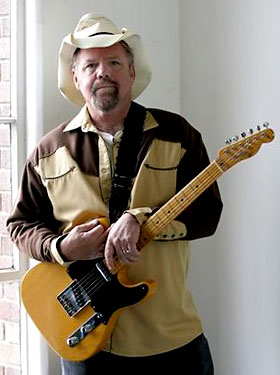 The honest and unadorned images in his lyrics open a window into the life and times of Americana singer-songwriter Stephen David Austin.
Neon motels, brown Bakersfield skies, tobacco-stained fingers and a woman's whiskey eyes reveal the veteran musician's vision of a town, a world, or simply a state of mind where the ground is shifting beneath our feet faster than we can regain our balance. With a keen eye for detail and a strong sense of place, Austin paints his images in sepia tones darkened by the fine brown dust of the San Joaquin Valley.
It's all here – ready to be experienced – on Austin's first solo CD release, "A Bakersfield Dozen".
Even as the raw, Telecaster-laden rhythms and crying pedal-steel guitar cling to a musical tradition born of the Bakersfield Sound, Austin's lyrics make it clear the world he inherited from Buck Owens, Tommy Collins, and Merle Haggard is being transformed before our very eyes.
"I've always been drawn to stripped-down, raw roots music and great storytelling", Austin said of his influences, who, in addition to the aforementioned icons, include Dave Alvin, Steve Earle, Guy Clark, Rodney Crowell, Townes Van Zandt and Gram Parsons. "If you can't tap your feet to it, or tap your beer bottle against the tabletop, you've missed the target".
While these musical traditions are hugely important to Austin, songs like "Kansas Ain't In Kansas Anymore" and "The Cage" immediately signal to listeners that even our dearest traditions may not survive the forces of change surging toward us like a record Sierra snowmelt on a summer afternoon.
Inspired by a popular quote from "The Wizard Of Oz", Austin's "Kansas" takes Dorothy's iconic line a step further, suggesting that even the Kansas that exists in the American Heartland of our imagination can't claim to be in Kansas anymore.
Drawing his lens inward to reflect a more personal perspective, Austin's "The Cage" is penned in the storyteller tradition. It's about a man hitch-hiking toward his hometown after spending decades in prison. But like Kansas, the man's home is sure to bear little resemblance to the place he once knew.
In his song "The Day Buck Owens Died," Austin mourns the loss of the Bakersfield Sound pioneer, and at the same time, dedicates an unabashed homage to the music of Owens and the Buckaroos. Austin said he still remembers being stunned by the news of Buck's passing in March 2006 – and when Buddy Blue, a founding member of The Beat Farmers, died a few days later, Austin dealt with the loss the best way he knew how, by writing about it.
Austin is the first to recognize that his view of the world is anything but rose-colored. His lyrics have focused on broken dreams, endless nights and the inevitable fall from grace so many of us face at some point in our lives. Fortunately, his sense of humor remains hilariously intact in songs like "Best Ex I Ever Had" and "Dance With No Pants".
Americana music is a lyricist's domain, the perfect vehicle for a storyteller-songwriter like Austin. And the southern San Joaquin Valley, the setting of John Steinbeck's "The Grapes of Wrath," is a central character in much of Austin's writing.
"If Steinbeck had been a musician," Austin said, "I think he'd still be in Americana".
Steve Mednick
Steve Mednick has recorded 15 CD's and published 191 songs, including his latest CD, "Enough!". "Enough!" is a series of songs, including the first 7 which were inspired by and dedicated to the young victims and survivors of the Parkland Stoneman Douglas shootings of February 2018.

While the words came from the mouths of the victims and their families and the reportage on these incidents, it could have been about any of the seemingly endless mass shooting incidents unique to the US. The subject is dark, yet the story must be told: "I can't imagine the horror facing my grandchildren as they wait on the cusp of their school years. Forget the probabilities; in this case, the possibility is all you need to understand. The fear is palpable and the killer could be the kid next door. We need safe streets, schools, gathers spots, sanctuaries to worship for all faiths".

Steve has written of gun violence many times before, notably, "Stand Up (And Take Them On) in 2011, "Take It Back in 2012, "The Angels They Are Crying " in 2014, and "We're Better Than This" in 2016. Unfortunately, there are more in his catalogue and, inevitably, there will be more.

The other songs on the CD could be on his "Problems In Democracy Series" and reflect Steve's continued concerns with a look back to 1968, "The Whole World Was Watching", and look into the current political climate in the United States. He has tried to write a musical essay or polemic that you might be able to dance to.

"Enough!" was the latest collaboration with Eddie Seville and Karl Allweier. Steve is also joined by his Hard Road compatriots, Tony Casagrande and Joey Sciortino, his long time vocal partner, Natalie Modugno, and, Steve Jacobs, who, again, plays some mean violin. Steve was especially pleased that Frank Carillo contributed the guitar solos on "What Are You Going To Do?" and "A Dark Night Is Upon Us" and, Jen Durkin contributed her pipes to "The Whole World Is Watching", "A Dark Night Is Upon Us" and "Don't Let This Season Pass".

Steve is already in the studio working on 2 projects under the working titles "River of Tears", with a new series of stories and cast of characters, and "Other Voices", where he will collaborate with different vocalists and musicians on some new songs.
Steve Noonan
Steve Noonan released his first album in 1968. It was such a huge smash success that he is releasing his follow-up immediately forty years later!


Way back in the 1960's there was a hip music magazine called Cheetah. The first issue featured a nude picture of Mama Cass on a bear skin rug. Did you know Mama Cass had a tattoo? It was Cheetah that labeled Tim Buckley, Steve Noonan and Jackson Browne as "The Orange County Three." All three were friends who performed at the Paradox in Orange County and other folk clubs and all three were very talented songwriters. At that time Jackson Browne was not much of a singer and it would be a few years before he would make his first album, but Elektra Records had signed Tim Buckley and he had recorded his first LP. Looking for another singer songwriter to duplicate Buckley's success, Elektra signed Steve Noonan in 1967. It seemed like a dream come true to the teenaged Noonan, but, sadly, it wasn't. It turned out to be the worst thing for Steve Noonan's professional ambitions.

Just as the Nitty Gritty Dirt Band had a Top 40 hit with 'Buy For Me the Rain', a song written by Steve Noonan and his friend Greg Copeland, Steve went to New York to record his album. Paul Rothchild, the legendary producer of the Doors and Janis Joplin was brought in to produce the album. But Elektra and Rothchild wanted Tim Buckley II, not Steve Noonan. They tried desperately to recreate Noonan in Buckley's image and Steve resisted. The clash led to Rothchild storming out and taking his name off the record. Steve said, "You can take my name off it, too." The record came out. Elektra spent twenty dollars on promotion and it sunk like a stone. I bought a copy for sixty-six cents at Aaron's Records on Melrose. The album and the artist who made it deserved better. 'Leaning Back & Laughing' is as fine a track as anything ever released on the label.

The second Steve Noonan album is the work of a seasoned artist, a singer songwriter who has labored in relative obscurity for all these years. While Tim Buckley fell victim to rock's excesses, and Jackson Browne rose to fame and played intimate songs in baseball stadiums, Steve Noonan played coffee houses and living rooms, always writing and playing and singing. Most of the artists of the sixties did their best work in their twenties. But here we find Steve Noonan just a bit older and doing some of the strongest work of his life. The songs on this new album were mostly written in the last few months. Listening to these songs now is like hearing an exciting new discovery. It's like finding a forgotten gem for sixty six cents in the bargain bin at Aaron's.
www.stevenoonan.com

www.myspace.com/stevenoonanmusic
Steve Postell


That golden California Sound comes alive again on 'Time Still Knocking', Steve Postell's Immergent Records debut. This rich, organic work draws on rock, folk, blues, country and R&B, all distilled through well-honed craftsmanship coupled with genuine heart and the musical camaraderie of a staggeringly talented group of musicians.

A singer-songwriter, guitarist, producer, Steve's remarkable career begins a new chapter on 'Time Still Knocking' which features a wide array of legendary musicians. Contributors and collaborators include David Crosby, Jennifer Warnes, John Oates, Robben Ford, Eric Johnson, Paul Barrere, Dave Koz and many others.

"I was with the band, Little Blue, for nine years and I wrote a lot of the material, so when I was signed, the original thought was to create a new band around me," Steve says. "But after I started working on the album, it became clear that this was an artist-driven project. We felt it was time for me to make a solo record."

The album's opener, the inviting, bluesy '3:45 Coming Through', is one of the few tracks that Steve wrote on his own as most of the songs are collaborations. His songwriting partners ranged from rockl veteran John Oates (Hall & Oates) on the baroque folk-rock of 'Straight For the Moon', to hard rocker Kip Winger on the churning 'Change in the Circle'. "Even though Kip, John and the others are all different, there's a kind of common thread, true of every person who worked with me on this record," Steve says. "They all understand and strive for a very high level of artistry. That's what connects everything, not their styles."

The music on 'Time Still Knocking' crackles with a sense of discovery, yet is also instantly familiar. The rising harmonies in 'Background Noise' and 'Catch The Wind' tap into a legacy that includes CSN&Y and the Eagles, among others. Steve also pays tribute to his influences with Buzz Feiten's 'Long Way Home' (featuring Buzzy and jazz legend Dave Koz) and Little Feat's 'Missing You', sharing vocals with the song's writer, guitarist Paul Barrere.

For Steve Postell, 'Time Still Knocking' is the culmination of dedicated work, lasting friendships and creative partnerships for a complete musician who knows where he's been and looks to the future with anticipation.

"My primary inspiration was always to be a singer-songwriter, but I wanted to understand as much about the process as possible," he says. "It's always been about songwriting first, though the studio – engineering, how you record, arrange and so on – is a big part of it too. Assembling all the talent for this record, from the incredible musicians to mix engineer Nathaniel Kunkel and up to the final days with legendary mastering engineer Bernie Grundman, gave me the chance to watch these songs come into existence from their birth as mere ideas."
www.stevepostell.com

www.myspace.com/stevepostell
Steven Casper & Cowboy Angst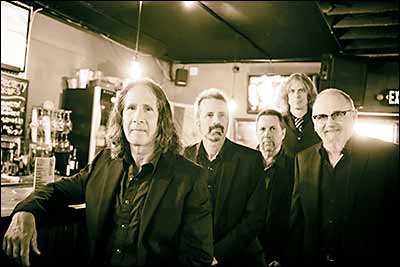 With Steven Casper at the helm on lead guitar and vocals, he and his band, Cowboy Angst, get tighter every year. In 2013 they were recognized by Country Music Television, CMT, who called their song, "Trouble" a 'recommended americana track'. In 2015 they were declared, 'one of the hottest unsigned bands' by Music Connection Magazine. Now Steven Casper and the boys are back with "Sometimes Jesse James", his 8th recording and his 7th production with Ira Ingber (Bob Dylan, Van Dyke Parks).
The members of Cowboy Angst are well known studio musicians and longtime members of this band. John McDuffie on electric and classical guitar, pedal steel and lap steel, as well as co-writing a song on the album, Carl Byron on electric and acoustic piano, accordion, and B3 organ, Herb Deitlebaum on bass, Jay Nowac on drums. Ingber not only co-produces with Casper, but also lends additional guitar, keyboard, percussion, bass, dulcimer, cittern, and backing vocals.
Casper has once again, made a deliberate choice in putting out an EP in accordance with our on-demand society and listening practices. "Most people listen to streaming services these days, so I like to get my music out there, fast". "Sometimes Jesse James" consists of 6 honest and skillfully crafted songs that do a great job showcasing Casper's own brand of americana. Casper's sound incorporates influences from country to rock, blues to r'n', and always with a bit of cajun and tex mex thrown in.
The 1st song, "Down", alternates between a Bo Diddly rhythm and country folk chords. It deals with recognizing our mind being our greatest strength, or our biggest weakness, when it puts negative thoughts and excuses in our heads, 'why crawl if you have a chance to fly'. "The Best Day Of Our Lives" is a ballad that has McDuffie's pedal steel adding to the melancholy mood of the song, 'and the sun made diamonds that shone through the trees, as it danced across the sky, we knew it was late but we didn't care, on the best day of our lives".
"Wrecking Ball" is the only cover on the record, a daring and unique version of the Ryan Adam's song. Ingber incorporates two instruments never used on a Steven Casper record before, a dulcimer and a cittern. He explains, 'with those 2 instruments, sonic textures that seemed initially somewhat at odds with the song as I first heard it, proved to be completely compatible, if not completely captivating. With the dulcimer playing the melodic lines, and the cittern playing the chordal rhythm, the track was filling out nicely".
"They Call It Love" is a departure from a typical Casper song, as it's a blues groove number along the lines of Little Feat. Casper tells us about the inception of the next song on the record, "Born To Lose Blues", 'this song pattern and 1st verse came to me 4 or 5 years ago. There was not even a main theme and I couldn't seem to finish it. About 6 months ago I started playing around with it again and the final 3 verses came right out. The original 1st verse was, 'I was naked in the storm, battered and abused, feeling kind of fragile, feeling kind of used, then I found you'.'
The record ends with "Mi Sueno, Mi Dolor"). This song was co-written by Casper and John McDuffie, who plays nylon string guitar on the song. 'For the last 4 records I've written an instrumental piece', says Casper. 'I wanted a slow minor key mexican blues song for "Sometimes Jesse James".'
This 7th production between Casper and Ingber shows what a steady working partnership can produce. 'I can't over emphasize the importance of the discovery aspect of the creative process, be it music, painting, writing, etc', says Ingber. 'I have been fortunate to have worked with Van Dyke Parks for many years. From my perspective, the discovery of the arc of a song is the vital component in making a song compelling and demanding our attention. Van Dyke is master of this, and his mastery didn't go unnoticed by me. Every song on "Sometimes Jesse James" is the product of this discovery' aspect'.
He continues, 'somewhere during the creation of the recording something happens that informs the path forward. It could be the way the organ intertwines with the vocal on the opening verse. It could be the way the chorus enters with complete inevitability. Once we make those discoveries, we're off to the races'.
http://caspermusic.com

www.facebook.com/caspermusic
Sugarcane Jane
As it turns out, Sugarcane Jane is not just another promising Nashville upstart paying its dues as a tour warmup act. Instead it's a new name for a couple of familiar faces, and the latest step in the evolution of a partnership rooted right here in Lower Alabama.

There is no Jane. The act is a duo consisting of Anthony Crawford and Savana Lee. She's a Baldwin County-based singer-songwriter. He's a Birmingham-native whose day job happens to be playing guitar and other instruments for a guy named Neil Young.

A couple of years ago, after meeting in Nashville, they recorded an album of folksy adult pop titled "Redbird." Her name and face appeared on the cover; the songs were his, but she sang them as if they were hers.

She moved back to Baldwin County. Disaffected with Nashville and wanting to be closer to his parents, who live in Daphne, so did he. "It's really been a blessing to come back to Alabama and be close to family," he said.

To say working for Young keeps Crawford on the go would be an understatement. He figures that in the last year Young's tours have taken him to Europe four times, to Canada twice, and across the United States several times, not to mention jaunts to such far-flung places as Australia.

"He has been very prolific of late, and it seems I've been involved in every episode of it," Crawford said. "When I come home, I make good use of it."

Crawford, it turns out, is pretty prolific in his own right. On the Internet, he's been posting installments of a humorous video documentary titled "On The Road With A Rock Star", based on his experiences with Neil Young's band. He recently released a new solo album, "Five is Red." He and Lee have put together a no-frills live recording of Sugarcane Jane-material (which they will release soon), and are hard at work on a new studio album.

"It's just two people doing what they love to do, and coming from a real honest space," he said. "Our parents seem to like it, so we know we're onto something."

"I want to be a part of the moment. I'm not here to impress upon anybody," he said.
www.sugarcanejane.com

www.youtube.com/sugarcanejane

www.myspace.com/sugarcanejanemusic

Surrender Hill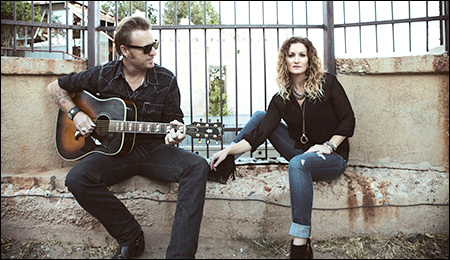 Years before forming the Americana duo Surrender Hill, songwriters Robin Dean Salmon and Afton Seekins chased their own muses as solo artists.

Salmon was an award nominated rock and roll frontman who'd spent the 1st half of his adolescence in South Africa. During the early 80's, his family relocated to a longhorn ranch in Texas, where Salmon found himself listening to a cross cultural mix of Bob Wills, Sex Pistols, Marty Robbins and The Clash. He took up songwriting at 15 years old, launched the band See No Evil soon after high school, and later moved the group to New York City, landing a major label deal with Sony Music in the process. A decade later, though, Salmon found himself drawn to the rootsy sounds he'd heard as a child on the ranch, where cattle workers would strum country songs after a hard day's work. Inspired, he relaunched a career as an alt country songwriter, eventually crossing paths with Seekins, his future bandmate and wife, while playing shows in Sedona.

Meanwhile, Seekins grew up splitting her time between an Alaskan fishing village and an Arizona frontier town. Summers were spent in one location, school years were spent in another. Throughout it all, she honed her talent for dancing, eventually moving to New York during her 20's and finding success as a choreographer. Unable to resist the need to pursue songwriting, she later headed back to Arizona, where she turned the contents of her personal journal into the lyrics of her very first songs.

Separately, Salmon and Seekins are strong, Sharp voiced musicians, with songs inspired by their colorful and unusual backgrounds. Together, they're something bigger, a soulful, countrified duo whose music nods not only to America's rural pockets, but also to the world at large. Appropriately, the group takes its name from the real life Surrender Hill in South Africa, where the Anglo Boer War came to a close. After all, this is a band of songwriters who've fought their own battles and suffered their own scars, only to surrender to, and find peace with, each other.

On their 3rd album, "Tore Down Fences", the members of Surrender Hill unpack the skeletons in their closets, leaning on one another for support. Like the 2 records that came before it, 2015's self titled debut and 2017's "Right Here Right Now", the 2018 release "Tore Down Fences" is an album about relationships, delivered from the perspective of 2 songwriting partners who'd weathered their own share of breakups and missteps before crossing paths. Unlike those previous records, though, this album focuses not on the romantic honeymoon period of a relationship, but on the challenges that arrived before the pair got together. It explores the reality of romance, the good, the bad, the bright, and the dark.

"On our earlier records, it was clear that we were 2 people who'd fallen in love and were writing songs together", says Salmon, who splits the album's vocal and songwriting duties with Seekins. "There was a lot of love going on. This new record is interesting because we've been together long enough, both personally and professionally, to start exploring some of the darkness from our lives before we got together. We're focusing on how great it feels to be past that. There's still a lot of love on this album, but it comes from a darker point of view. It's about what we went through, what we did, and what we overcame".

A roots rock album filled with guitars, harmonized vocals, organ, and the occasional burst of pedal steel, "Tore Down Fences" pushes Surrender Hill into harder, grittier territory. All 14 songs were tracked in just 2 days, with Salmon producing the sessions in a Nashville recording studio. The fast pace helped shine a light on Surrender Hill's talent as a live act, something Salmon and Seekins have been honing for years, with an annual schedule of 200 shows spread across much of the globe. They've played bars, ballrooms, American wineries, and South African resorts, often trying out new songs in front of live audiences. "Tore Down Fences" captures that immediacy with tunes like the up-tempo "Get Along", a socially conscious song, delivered during a politically divisive time, and the slow, swooning title track, in which the 2 singers present all the baggage from their previous relationships. Together, the songs on "Tore Down Fences" paint the picture not only of a band that's reached its creative peak, but a relationship that's built on trust, twang, and creative chemistry.

Like its name suggests, "Tore Down Fences" finds Surrender Hill tearing down the boundaries that surround them.
Susan James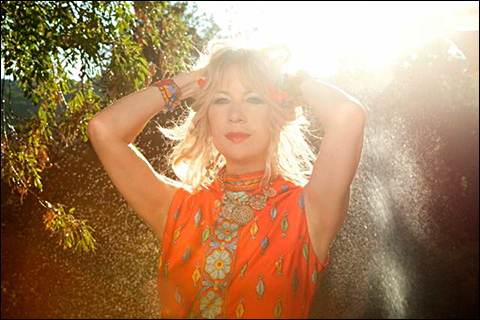 Susan James earned high praise for her 2011 release, "Highways Ghosts Hearts & Home" of which Ryan Adams, tweeted about her "great songs" and killer band. Now in 2013 Susan James returns with the lushly written and well produced "Driving Toward The Sun". Although Susan has many musical influences, DJ's familiar with the music of everyone from Lucinda Williams to Byrds, Beach Boys, Linda Ronstadt, Eagles and even Fairport Convention will hear echoes of their legacy laced throughout James' music, which sparkles with her compelling lyrics, vocals and overall sound.

Teaming up with Ryan Ulyate, producer for Tom Petty and George Harrison among others, Ulyate is just one of the many talented people who James attracts to her projects. "When Ryan and I began, we talked about how it should be as acoustic as possible, but still have a big sound. Our aim was to get the acoustic guitar to really rock like the guitars in the Rolling Stones 'Street Fighting Man', for instance… We named the sound we were attempting 'The Wall Of Intimacy'. And every song had to have it in a way, no matter how big or small the song was. I think we achieved it, and I'm proud to share it with everyone now."

From the transitional feeling of 'Driving Toward The Sun' to the intensity of 'U-Haul In The Driveway', and 'House Of Love', listeners will be able to visualize these snapshots of a longterm relationship that has completely fallen apart. 'Anniversary' and 'Tule Fog' and 'Mission Bells' are more stripped down acoustic tracks, where listeners will sense a glimmer of hope in some of the toughest times.

James has been described by The Los Angeles Times as a "a master at exploring the emotional and sonic possibilities", and Blurt Magazine noted, "excellent songwriting and an eye for musical details". On "Driving Towards The Sun", she affirms the praise with insightful and big-picture stories. An adept and seasoned performer, Susan opened for both Lindsey Buckingham and Bob Weir throughout their respective six-week national tours and also supported acts from Richard Thompson, Son Volt, Rufus Wainright to Daniel Lanois just to name a few. She is currently booking tours for 2013.

Susan Kane
New York based singer songwriter Susan Kane releases her 4th CD in April 2017. "Mostly Fine" represents something of a departure from her previous efforts. Recorded over a couple of months with local musicians at Fred Gillen Jr's Woody House studio, it is a largely acoustic record with nary an electric guitar within earshot. This album is filled with dobro, fiddle, mandolin, accordion, and lap steel, with a sprinkling of banjo layered over acoustic guitars. Nevertheless, listeners will find themselves in familiar lyrical territory, with songs that amuse or evoke deeper emotions. But they will notice that even the humorous tracks reveal subtle insights into human foibles. The album features 7 original songs, including a co-write and an adaptation of a poem, and 3 covers. The title originates from a lyric in one song and is not meant to be negative, says Susan. She believes if well into adulthood you can honestly say that everything is 'mostly fine', that is really fine. Produced by Jeff Eyrich (Dave's True Story) and mastered by Scott Hull. Guest artists include Abbie Gardner (Red Molly), The Levins, Lisa Gutkin (Klezmatics) and David Bernz.
"Mostly Fine" follows the successful releases of her 3rd CD "A Word Child" whose eclectic tracks addressed timeless and universal themes of love, loss, and hope. In addition to original compositions, it covered some famous writers and some lesser known. Produced by Billy Masters, it was recorded primarily in Austin, TX, and featured many gifted musicians, including bass player Zev Katz, pedal steel artist Bob Hoffnar, fiddler Warren Hood, percussionist Ben Wittman, vocals from Jess Klein, bass player Glenn Fukunaga, drummer Marco Giovino and others. The CD enjoyed an excellent response from the radio world, as did her 2 previous releases, which were well received and enjoyed extensive and long lived radio play around the world.
Susan has played at a wide variety of well known venues and festivals in the New York area, including the Towne Crier Café, the Bitter End, the Pleasantville Music Festival, the Huntington Folk Festival, and the Tarrytown Music Hall. She has shared bills with such diverse artists as Pete Seeger, Garnet Rogers, Sloan Wainwright, Ryan Montbleau and Catie Curtis. An active member of the local music scene, she is a past president of Tribes Hill, a Hudson Valley collective of independent musicians. During her stint as president she produced a 2 disc compilation CD for the group.
Born in New York, and raised in various suburban locations by artistically inclined parents in New Jersey, Kane was drawn to music at an early age, but wandered away from her mother's conservatory piano repertoire to the homespun vibes of acoustic folk and twangy country music. The arrival of Bob Dylan and equal time for folk music and its offshoots on top 40 radio and pop music outlets of the time called to her. "My mom is actually from Wheeling, West Virginia, home of WWVA and its legendary Jamboree USA country music show ". Coming to songwriting later in life gives one time to process everything. Something old, something new, the old bridal rhyme is the perfect recipe for songwriting. If you follow Susan on Twitter, you'll find she admits to digging in the dirt, digging the Dead and reading a lot of books, the paper kind, preferably. A connoisseur of words, she's a reader, a listener, a hunter and gatherer of raw song material.

Suzie Vinnick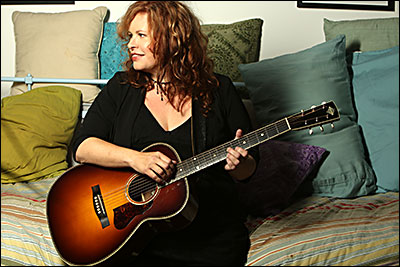 You don't have to travel far into Suzie Vinnick's catalogue of music to know you've found something singular and unforgettable. Hailing from Saskatoon and now settled in Ontario's Niagara Region, Suzie is one of those rare performers who knows when to deliver the vocal knock out and when to pull back to a whisper, bending notes and phrases that tiptoe across your heart. Even her humming is like a warm caress. "Singing is like sleeping and breathing for me. If you can't sing with feeling, you can't move people". She performs with a warmth and generosity that makes her at home on your best friend's front porch or under the lights of the National Arts Centre.

Suzie has won 10 Maple Blues Awards, a Canadian Folk Music Award for Contemporary Vocalist Of The Year and is a 3 x Juno nominee. In 2013, she was a finalist in the International Blues Challenge at the legendary Orpheum Theatre in Memphis in the solo duo category. She's also won the 2012 CBC Saturday Night Blues Great Canadian Blues Award and the 2012 Sirius XM Canada Blues Artist Of The Year. And for 5 years, she was the voice of one of Canada's national coffee chains, Tim Horton's
.
Vinnick is gearing up to launch her 6th album in Europe in late 2018. Unlike her last 2 albums, which were solo acoustic affairs, Suzie's new release, "Shake The Love Around" is a band record. The album's title was inspired by friends in Forget, SK, who used to hold hands and shake the love around after grace at every meal. The warmth and camaraderie of those days has never left her.

Working with co-producer and keyboardist Mark Lalama (Sisters Euclid, Marc Jordan), "Shake The Love Around" moves beyond Suzie's singer songwriter persona and celebrates her prodigious instrumental chops, on bass, lap steel, electric and acoustic guitar, and the gorgeous National Folkstar guitar.
Suzie recorded the album bed tracks with drummer Gary Craig (Blackie & the Rodeo Kings, Jann Arden, Tom Cochrane). She also has a few other guests on the album including Colin Linden and Kevin Breit playing guitar on 2 songs and Dean McTaggart and David Leask lending their songwriting and vocal talents to each of their album co-writes.

The songs are as diverse as her talents, coming in like little gifts, each one a happy surprise in contrast. There's the anthemic power of "The Golden Rule", and the quiet beauty of "Drift Away", co-written with Matt Andersen. And just try to sit still through "Find Some Freedom", a joyful ride through all the things that make life worthwhile, if we only look.

Her blistering rendition of John Fogerty's "A Hundred And Ten In The Shade" shines a light on Suzie's guitar prowess, while Percy Mayfield's "Danger Zone" takes on the new normal of these turbulent times and demonstrates Suzie's bass chops.

From start to finish, the joy and power of Suzie's full bodied vocals is on target in every track. "A lot of me is in this album, and it feels really good. We shook the love around and made it happen".

Swampcandy
"Mine" is the 5th full length album by the hard traveling, foot stomping roots duo known as Swampcandy. Set for release in October, "Mine" is 13 songs of acoustic and electric americana heavily influenced by primitive blues, world music, hard driving rock'n'roll, rotgut whiskey, almost 2 000 live shows and 100's of 1 000's of road miles. The tales they spin are sometimes moral, sometimes dark, yet always timeless. Sonically, the material weaves seamlessly between the incredibly full sound created by the core band, guitarist and vocalist Ruben Dobbs and bassist and foot drummer Joey Mitchell, and the ultimate vision of the songs replete with keyboards, strings, vibes and more.
Just over half of the songs on this album were recorded during the "Land" sessions, the rest were tracked and fleshed out over the last 2 years. There are some concepts involved in this release as well. Together, the previous album "Land", combined with "Mine", create the grand vinyl release Swampcandy "Landmine". The gatefolds of each album when opened and placed one below the other create the board game Swampcandyland that comes with instructions, playing pieces, dice and mysterious "The Flask Of Question". Just like their music, the game is open to interpretation.
"This album evolved very organically", Dobbs explains. "About a year after 'Land' was done I started working on material that would become 'Mine' and I started seeing how the 2 could be tied together. The concept of the game came during the recording of 'Land'. The song 'Swampcandyland' came 1st, for the album, and then the idea of the game emerged. I brought in my friends who help me with creative stuff, and we came up with the entire concept, then we tested it and woke up a day later and saw it was good".
Despite being the theoretical musical bookend to "Land", "Mine" is its' own album, one that marks a bold departure for Swampcandy from a roots band dabbling in other genres to a band expanding its scope and confidently writing the next chapter of its musical journey. From standard power trio arrangements to ragtime, aggressive finger picking, alongside Hammond B3 organ and grand piano, instruments from the far flung reaches of the earth nestled in with fiddles and violins, violas, cellos, upright bass and slide guitar, there is bound to be something for everyone on "Mine".
www.facebook.com/swampcandyland