THE MIKE FINNIGAN INTERVIEW

Interview and photos by Francesco Lucarelli, Rome, 2007.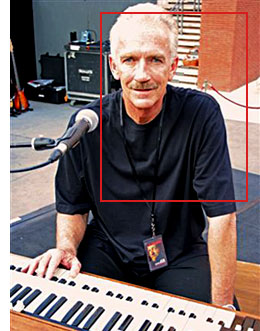 When it comes to Hammond B3, Mike Finnigan is one of the most requested players in that arena. The list of sessions and albums he has played on is impressive and it speaks for itself: Jimi Hendrix, Dave Mason, Rod Stewart, Maria Muldaur, Etta James, Green on Red, Tracy Chapman, Joe Cocker, Taj Mahal, Jennifer Warnes, Dan Fogelberg, Ringo Starr, John Hiatt, Manhattan Transfer, Leonard Coehn and so on, until – obviously – Crosby Stills & Nash.
Last year I met Mike before his show with Joe Cocker in Rome. We have been knowing each other for a long time, since the 1988 CSN summer tour. Over the years, we met several times and we often spoke about his collaboration with Stephen, David and Graham. This time, however, our conversation focuses on his many excursions into the blues.
Born in Cleveland (Ohio) in 1945, Mike Finnigan was lured to Kansas University in 1963 with a basketball scholarship. After playing for some time in the university basketball team, his interest in music began to grow. Even as a child he had taken piano lessons and had been banging on an old drum-kit, but when in 1964 he had the chance to mess with a Hammond organ, Finnigan's attention gradually drifted from the orange ball to the black and white keys. In a short time, Mike joined The Serfs, a local group that was expanding its reputation beyond the borders of the State.
In the early months of 1968, the band was on tour on the East Coast. When Tom Wilson – producer of the first albums by Dylan, Wednesday Morning, 3 AM (Simon & Garfunkel), Frank Zappa, the Velvet Underground and Nico – heard them playing at the Cheetah in New York, he immediately secured the group a contract with Capitol Records. A few weeks later, The Serfs were at the Record Plant Studios in New York working on the album "Early Bird Cafe." The Record Plant was the new recording facility in town, located on 44th Street, just a few doors from Broadway, and The Jimi Hendrix Experience was there also, laying tracks for a new project.
The Serfs had the afternoon through early evening slot, while the Experience had the night. One day Jimi was listening to some of The Serfs recordings, which he liked, so he invited them to stay for a jam. At the end of the session, Mike's name was already engraved in history of rock 'n roll as part of Hendrix's legendary album "Electric Ladyland".

After joining The Jerry Hahn Brotherhood, Mike was recruited to join ex-Traffic Dave Mason on tour. In the meantime, he recorded an album with Jerry Wood and after a while he began to play with Maria Muldaur. While on tour with Maria, in 1976 Mike met Stephen Stills and this event marked a significant turn in his career. The rest of the story is well-known, except – maybe – for an often overlooked element: Mike Finnigan is not only a great musician but he is also an extraordinary singer. Blessed by a soulful voice, rich and scratchy, Finnigan sings the blues like few white boys can do. His most recent recording adventure, the one with L.A. Blues Alliance, confirms it in capital letters.

FL – A few days ago I listened to the excellent LA Blues Alliance album…
MF – Yeah, the record came out… Keb' Mo', Sonny Landreth, John Robertson, who is a great drummer, Amy Keys, a great vocalist, and Bob Glaub…
FL – I met Bob in 1988 during the CSN summer tour. How is he doing these days?
MF – He's doing well. He doesn't work live much…I think the last time he was on the road much was with John Fogerty and I don't think he has done a lot of travelling since then. He spends most of his time in LA now.
FL – How LA Blues Alliance came together?
MF – Mike Post. In Los Angeles he is probably the number one guy for scoring of television shows and films. Especially television, where he had terrific success, going back 35 years with very successful television series like L.A. Law, Hill Street Blues, NYPD Blue, Law and Order. He wrote all the music: he wrote the theme-songs and he scored the shows. But he's always been a big fan of blues. All of us have worked for him at different times playing parts for different shows. He knows a lot of musicians in town and he is a really good musician himself. More as a writer but still a good musician. And this one was his idea: he just called everybody and asked: "Would everybody do it for nothing? And then we just put it out and see what happens". And everybody said ok, so it all came together as a labour of love kind of work.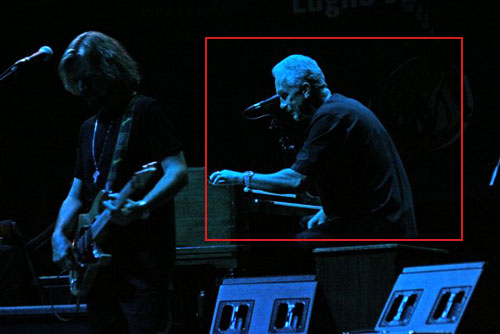 FL – How is it playing with two different guitar-players like Keb' Mo' and Sonny Landreth?
MF – It's wonderful. And "Snuffy" Walden is another guy who played on it. He is a real good guitar player. He played with artists such as Chaka Khan and Eric Burdon. Then he went on to score "Ellen," "Roseanne," "Sisters," "The Jackie Thomas Show," and many other television shows and films.
FL – I guess the great thing of such a combination is that everybody adds his own different spice to the plate…
MF – Yeah, right… Everybody is very professional and everything was done very spontaneously: Mike has a really nice studio and we cut all the tracks in just a few days. We didn't know what we were gonna do, we just went in there and somebody just named a song and showed it to everybody and then we recorded it. We rarely did more than two or three takes of each song. And we did a lot of live vocals and that seemed to make things better, too.
FL – It's a good approach to keep the project genuine and fresh…
MF – Yeah, it's more about performances than recordings: everybody is a good enough musician, and experienced enough, so everything worked out pretty well. Some of the songs were a little bit involved. A couple that Sonny did were a little tricky but it was fun and everybody really enjoyed doing it.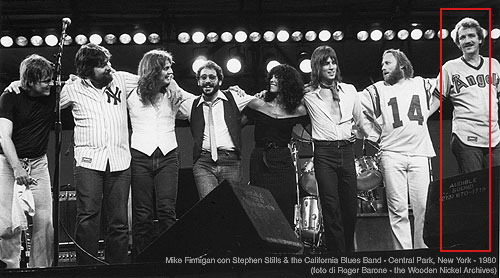 FL – How about the new Phantom Blues Band record?
MF – The new album is on Delta Groove, a blues label, and it got a lot of great reviews. That's the band I played with for Taj Mahal for a long time. Kind of a blues band, very good band. We've been recording with a lot of people over the last several years.
FL – Especially Texas-blues records?
MF – All those guys are Texas-blues guys except for me… Johnny Lee Schell has been touring with Bonnie Raitt, Ron Wood and John Fogerty. Tony Braunagel is the drummer and he has been touring and recording with Eric Burdon, Rickie Lee Jones and Bette Midler. And he, as Johnny Lee, has played with Bonnie Raitt, too. And we've all been playing together a lot…

FL – As Phantom Blues Band, you've been quite successful and won a couple of awards…

MF – Actually they won a Grammy before I got in the band and then right after I got in the band they won another Grammy. And in 2001 we won a W.C. Handy Blues Award, an award of the Rhythm 'n Blues Society, as Blues Band of the Year. We continue to play together and we keep recording with a lot of different people in Los Angeles, when they come to town. Before I left town for this tour with Joe Cocker, we recorded several tracks for Taj Mahal's new album. And we've been recording with Curtis Salgado, who is a harmonica player and singer. We're gonna do an album with Kim Wilson of the Fabulous Thunderbirds: he really wants to record with us. And we did another album with Barbara Blue, a singer from Memphis, Tennessee, who we've already done a couple of albums with in recent years. This year she's been nominated by the Blues Foundation for a 2007 Blues Music Award in the category of: Contemporary Female Blues Artist of the Year. And in 2006 we did an album with Eric Burdon, Soul of a Man. We seem to stay busy in LA and all the other guys are like me and we are all involved in a lot of projects. But this is really the band we love. And we're really lucky because we have Johnny Lee Schell's studio. I have a Hammond organ and a piano there. It's a nice place, it's very homey. It's in the back of his house and it's very relaxed: his dogs laying on the floor… It's pretty cool!
FL – How's been playing with Taj Mahal?

MF – It's always been a great time with Taj!

FL – He's not strictly a blues artist: he likes to explore different styles and different influences, too…

MF – He's always been kind of like that. He's always been basically a blues artist, I mean that's where he comes from and that's the basis for so much old popular American music, but he's always been interested in different African kinds of music. That's what makes him interesting. But he is a blues guy at heart, that's what he really his, that's what he does the most and does best, I think. We had a great time recording with him lately and we recorded "Do Right Daddy", the old Bo Diddley song. We just did it once and we had never played it together.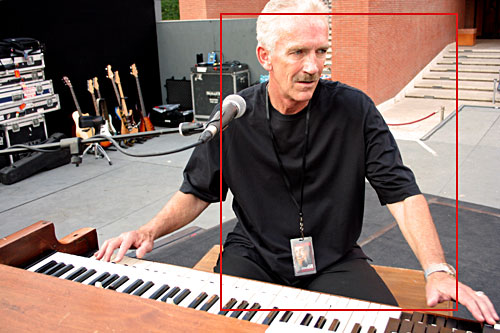 FL – In 1993, you recorded a country album along with your youngest brother Sean and former Bread member Rob Royer…

MF – It was never released. It's pretty good, though. The way it happened was the guy from Bread wrote all the tunes, actually he's had a lot of success as a writer, and I used to bring demos for him in Los Angeles and he said "We should do this and see what could happen". Nothing happened but we had a lot of fun doing it.

FL – Was it quite a different experience for you or was it closer to your first solo record?

MF – It wasn't unusual for me. I've always liked country music a lot, good country music, like George Jones or Merle Haggard, people like that. There's a lot of the blues in that music, it's just a little different and I identify with a lot of that. Some of my favourite singers come from country music, like George Jones and Merle Haggard: I really love to hear them singing. The subject matters are pretty much the same, as it is with rhythm & blues music, which is money, women…loss of money, loss of women…cheating, divorce…people live, people die…the real life problems. I like the good stuff but a lot of country music today is not that good because it sounds too slick compared to what it used to be like.

FL – For years, I've been fantasizing about an album which would perfectly fit your style and Stephen Stills' roots: a real blues album. You know, something similar to what Eric Clapton did when he released "From the Cradle". Did you guys ever plan to work on any similar project?

MF – Not really…

FL – I think it would be perfect for your voices, with your Hammond and his guitar. Given the influences you and Stephen had in the early stages of your careers, a blues album would be the ideal playground.

MF – I think so, too. I don't know why we never did anything like that but it's never too late, I guess. We could do that, it's a very good idea. Stephen's got a lot of good blues chops. He's always been a guy who likes the blues a lot and listens to a lot of blues artists… he understands their music. I think it would be a good thing for him to do something the way we did with the LA Blues Alliance or with Phantom Blues… Very spontaneous stuff, because you get in trouble when you start thinking.

FL – How do you feel being on stage playing with all these great singers like Joe Cocker, CSN, Etta James being an excellent singer yourself?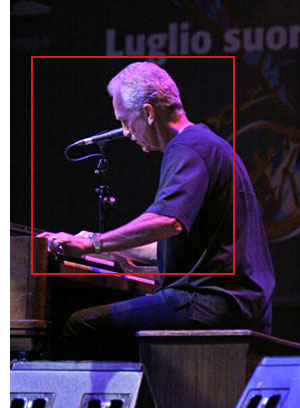 MF – I feel great. Last winter I recorded with Joe and after we finished the album he asked me if I'd be interested in touring with him. And it was a lot of work and I said: "Yeah, I would do that." It feels good: I'm always happy to be involved with people like them. But Etta James is one of the greatest artists surviving generations and Joe is certainly great, too, but there's not too many people that are in the same league with Etta. She is fabulous. I've played with her off and on for twenty-five years. I was her musical director for a couple of years and then I left to go back out on the road with CSN and somebody else took that place but I went back to play with her again and I played with her a lot. I love her: I have all the respect in the world for her as a singer. She's just wonderful. And having watched her work, night after night, you develop a new respect besides what I already had which was how great she was almost every night. No matter what she was always good and very professional in the way she approached her work. She always delivers. Joe has got a lot of that, too. Joe doesn't like to hold anything back. He brings it to work. And I've known a lot of people who don't do that. I think that they think they're doing their best but they are really not. I think there's a very few people who really, really deliver every night with a lot of commitment. It's kind of rare, 'cause especially people like Etta have been around for so many years – she's been recording since the Fifties – and she's still doing it. Her health isn't really that good right now, so I don't know how much longer she's gonna be with us. She's only 68 or 69 but she's lived pretty wild for a while.

FL – One of your first sessions, and probably the one you've been most asked about, is the one you did with Hendrix, when he was recording "Electric Ladyland"…

MF – What I remember is that it was really fun. He had already made a couple of albums and I was certainly aware of how great an artist he was. I felt fortunate that he asked me to play with him. It was something which had more to do with being in the right place at the right time than it does with my ability. It was something that was done – once again – very spontaneously, something we made right on the spot. I even contributed to some of the music and lyrics but I was never paid for my recorded contributions. (laughters) Nevertheless it was a great time. Certainly, Jimi Hendrix was the most innovative guitar player I've ever heard. After all these years, it's amazing how influential he remains. I was glad I had the chance to be part of his career, which was too short. I'm proud of the fact that I was able to be on a record with him.

FL – Did he ask you to join him also on tour after those sessions?

MF – There was some talk about that with the Band of Gypsies. That came up a couple of times but nothing ever was like pounded out solidly. It was mentioned a few times about a year after that and I got contacted by his management. I told them I'd be happy to hear whatever they were interested in doing. "I'm all ears", you know, but it never worked out and shortly after he sadly passed away.

FL – Is there any new Stills or CSN project you're currently involved into?

MF – Not right now. I sure hope I'm not done working with those guys. I couldn't be with them touring in Australia in November (2007) cause of my commitment with Joe and this was the first time I missed one of their tours in a very long time but I hope I'll get the chance to play with them some more cause I've always enjoyed it a lot. I really feel lucky to play with those guys.

Tunnel Of Love Revisited
The Patti Scialfa Interview by Francesco Lucarelli, Rome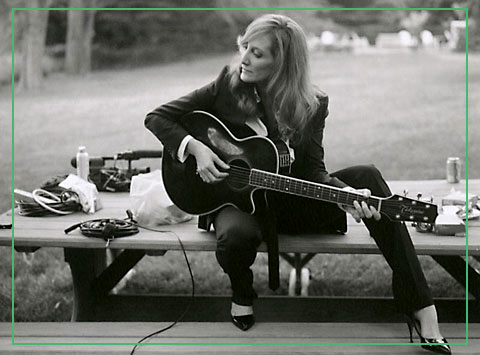 It's a wonderful day and Patti Scialfa is in Rome to promote her third solo record, "Play It As It Lays". The album is very different from anything you would expect by a singer-songwriter coming from the Jersey scene, who has been travelling the world as a member of the E-Street Band. Musically this beautiful piece of work belongs to another area. The album smells of gospel and blues, of Louisiana swamps and muddy waters: we are definitely closer to Memphis than to Asbury Park.
Patti's lyrics are extremely personal, highly focused on a careful analysis of the complexity of long-term relationships. It is a brave choice to talk about it with so much honesty and depth, especiallyafter last year's break-up rumours.
Patti is waiting for me in her hotel-suite, sitting on a big velvet sofa: she has a stylish dress and her long red hair – seductively contrasting her ivory shirt – fall softly on her shoulders, giving her a first-class charm. She stands up approaching me with a smile. I'm quite surprised to find her so relaxed and fresh, greeting me with grace and enthusiasm, even if I am the last interviewer in a long line of journalists she has talked to today.

FL – I am quite embarrassed to begin my series of questions, as you might have to tell some of the same stories all over again. Are you exhausted after a long day of interviews?
PS – No, I don't even count what I'm doing. I work hard on my records and I take them very seriously and once I'm in there I'm a real bull with my record. If it's not sounding right, I just get in there working until it sounds right or it doesn't make it on the record. And to have it done and go "Hey, look… do you want people to listen to it and to come out and talk about it?" You're the first people who've listened to it…no one in the States…we haven't done anything in the States yet…so it's great to come out and breathe some life into it.
FL – It is a very odd coincidence but in a short period of time, the wives of two of the major American songwriters release their own albums. Pegi Young, Neil's wife, released an album last June and you've just finished your third album. Both of them are rich and deep albums and it's great to see that even though the market is all for the latest young pop-stars, there's still the chance to get music from singer-songwriters who are not in their twenties anymore…
PS – I just think that to keep making music is an important thing. You know, blues music goes on forever and people play when they're ninety years old. You know, Etta James…those women out there singing at seventy…you want to make sure you can do that and that is relevant. I was glad to hear that Pegi was doing a record. I gotta get her album. She's really lovely and I'm glad she got that record out.
FL – She's been writing since she was young but taking care of three children, founding the Bridge School and managing it for quite a long time has not been easy…
PS – That was what I was really glad for her, because that's really hard and it takes a lot, a lot of time and dedication and a big heart. So that she got to make this record is a great, great thing.
Our children are 16, 15 and 13 and so I'm wondering "What was I doing before that and what was he doing?" And we all know what he was doing but still…hey!
FL – I think it's a natural process: you're so focused into what you're doing and then all of a sudden you realize you've grown up and then you would like to explore a different part…
PS – …a whole different world…a whole different part of your life that's beautiful…
FL – Children affect your daily-schedules and they bring changes in your working life, especially if you are a mother and an artist at the same time…how much did these changes affect your spare time and your inspiration?
PS – The free and spare time…(laughter)…becomes less and less…where is that?! Still looking for it! …(laughter)…You do have to fight to have a little of it….Once the kids go to school, Bruce and I get up, make them breakfast, drop them off at school, probably work out in the gym and then you have all that time before they come home, which is really, really free time…then you can go up and write and work on your music and you know you're not gonna be disturbed at all…then I would have that amount of time usually again late at night, after everybody would be asleep I would write.
But most of my writing , I would say…I always get up…not now, because it's summer….but during a school-week I get up an hour and a half, two hours before anybody in the house…make my coffee and work on music then…I'd be really fresh and my head wasn't clogged with the million things I would have to do like soccer game, parents night at school, meet the teachers…the things that everybody does with children….in the morning that wasn't inside my head yet, so I could go right into the artist's head and just be free and work….see, you will find your time…listen, it's a luxury for me…I am not out there working trying to support my family, have a job, and then coming home raising children and then on top of that cleaning, cooking and trying to find some time to write…
I have a big staff, great kids, I have a lot of family in my house that helps with the kids, too…so I have the time…it's harder to say to the person who's working a different kind of job, taking care of their kids and then inking out a little, like Joanne Kathleen Bowling, the woman who wrote all those Harry Potter's books…that was a feat…she was working a day-job, raising her kids and then would be writing.
FL –If you're a songwriter the muse doesn't wait for you. It's a much different process…
PS – No, the muse doesn't wait for you (laughters)
FL – I think sometimes what happens is you wake up, you plan your time-table to make room for some song-writing but when you sit down to write the process is not that automatic…
PS – You gotta catch it out of the air, when it's passing over you, you gotta grab it… What I'd do for that is…if I really have like an idea that I don't want to lose, I carry one of these recorders around, there's even smaller versions, little little slim versions…you can sing something into it, you can run off to a room where none's in with the guitar, for a second, or a piano…get that idea down, just make sure it's down, scribble some stuff in the notebook and then come back to it later…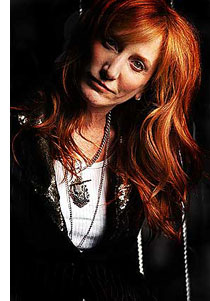 FL – Does it happen to you while driving?
PS – Yes, driving! It's funny, I think a lot of people are similar this way: driving, in the shower…
I wrote "Rainy Day Man" in the shower the day I was going into the studio to record another song. We were recording a song I'd written that was basically boring me and I was just saying "Oh no, I don't wanna do this song…let's try this song I wrote this morning in the shower" and I started playing it on piano and then we recorded that instead…
You don't know what is going to strike you but you do have to honour it because if you think "Oh, I will have that idea again" the times I do let certain things slide I get mad at myself later because an idea is an idea, you gotta write it down. You keep notebooks and scraps of paper all over the house so that you can write it down…you must do that!
FL – I listened to your new album and I think it is stunning: I love the sound, I love the lyrics and I love the songs. You open the album with the beautiful "Looking for Elvis", a song with a rough sound which makes you feel like you're really out on the road looking for someone or for something. You sing: "I'm just looking for some inspiration, I'm looking for something to rock my soul". Do things which rock your soul usually inspire you as a songwriter?
PS – I was using Elvis as a metaphor. In my idea, the young Elvis represented the American Dream, the promise, the vitality, creativity, reinvention…looking for that kind of purity and ideal of your country again. So that's what the person in that song wanted: those things back in her life. You know, "give me that dream back of my country" that I thought when I was a little girl what my country was about. Give me back that idea or the dream…not that you gotta have the whole whole dream, because that would be too simplistic but give me back that idea of people wanting to do the right thing, being truthful, trying to raise yourself up to a better consciousness. I wanna see that idea back again, I wanna see it reflected in the people who run our country, I wanna see that idea reflected back in my friends, in my husband. Let's generate that.
FL – Do you have high hopes for the 2008 Presidential elections in the Unites States?
PS – Yes, I'm very hopeful! High, high hopes.
FL – Could Barack Obama be the right candidate for the Democratic Party?
PS – I've read his books and I love his books. When you're talking about that kind of inspiration and ideals, he seems to have a lot of poetry, too. I think there's a lot of great candidates and it's so early yet, it's just so early you just want to see how it will all fall but I think we have a lot of great people running. I think John Edwards, Barack, Hillary (Clinton).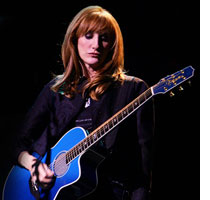 FL – I think the point is to try and choose one, and support him or her, so that energies and preferences and votes will not be wasted.
PS – That's the thing that you do get worried about when you have some many nice people running but I'm hopeful.
FL - How did you feel after the "Vote for Change" concerts didn't reach their goal in 2004?
PS – I was very disappointed, I was really disappointed. I was more disappointed that I thought I would be. It was heartbreaking but then you just got to get pick up, go on, get back in there and just wait it out.
FL – The odd thing is that apparently many Americans weren't happy with the Bush administration but when they had the opportunity to change a new and different President they backed down…
PS – I think what they were saying was that when there is a war statistically they don't change administration.
FL – Back to your new album, it is so personal and honest, it sounds like you're truly wearing your heart on your sleeve. It's like a journey along the backstreets of love, where it isn't exactly silver and gold all the time….
PS – I don't think anything is like that. When you're younger you may have some expectations like that and I think it's a very dangerous thing to expect. And I think it's dangerous to expect perfection from anybody (laughter), yourself included.
FL – Especially yourself…
PS – Especially yourself! It's a dangerous thing to do. For some reason, especially in our world, especially in the States, everything - in a cartoonish way – is so heightened into perfection.
To find real enduring relationships and strong, strong relationships where you're more forgiving human limitations. You're not gonna have those deep relations, those kind of deep relationships unless you're realizing the imperfections. So the record for me was somebody who's struggling with all the imperfections. You can't change people: people have their limitations. How do you make peace with all these imperfections in yourself, and in everybody else, and make peace with that and not trying to change anything and be a more generous person yourself to give that person that room, to have mistakes, to not be perfect. Life is messy, life is complicated, you know, tremendous complexity is in a long-term relationship. Mother-daughter relationships are complex, some father-son relationships are complex…you know, every each way…so that's what the record was about.
FL – Especially in long-term relationships you have to nurture each other all the time. You can't take for granted they are gonna last forever.
PS – No, you can't take it for granted. So the woman in a lot of those songs is actually saying that: "Don't take this for granted!". It's kind of fighting to be seen clearly. It's very easy to let your glasses get foggy and you do have to stay vigilant over the idea of each other because you can mess up that very easily and at times not see the other person clearly and you have to be vigilant about that.
FL – Sometimes it is easy to get lost in the little things of the everyday life, all those little details and then you don't see the big picture anymore…
PS – Yeah! Why did we get together in the first place? It's so funny because when Bruce and I first got together about having our first child, we went like "you know, once a week we should go out to dinner, or even if we just rent a hotel room we'll have our own time." We never did that once we had the kids! Are you kidding me? (laughters) We're lucky if we do it once a year! Sometimes when we have to do something we say "Let's drive to the city!", instead of being driven even if it is going to be a long day and we're going back late at night and have dinner plans. "No, let's just drive ourselves, because then we can talk and have some time alone." When we did the shows at the Meadowlands in NJ and we did about 15 shows, we drove to the gig every night, just the two of us. "Let's go to work!" But it gave us a moment to be alone…You know, everybody thinks everybody else's life is…we have a great life but those inter-dynamics, regardless the economics, are the same as everybody's else: "hey, let's make time for each other". That's the hardest thing in the world to do once you have children.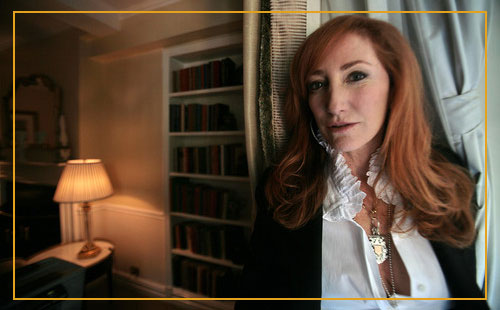 FL – It sounds familiar! (laughter)
PS – Yeah, it's impossible! Come on, let's just go out to a bar and have one drink…let's just take a half hour! And it's OK and it really is ok but then sometimes that Bruce and I do something together, we go "Wow! This is so much fun just being the two of us I forgot!" You know, I forgot how much fun it is when it's just our relationship, just the two of us not doing with raising the whole three kids. It's all good.
FL – I think everybody has been – at least once in his or her life - "tumbling down a shattered black ladder," like you aptly described in the last song on the album. Most of the times it's a hurting process, because you have to face also the ugly things, the ones you try to forget or the ones you don't want to see.
PS – I actually like those things. I like the vulnerabilities. To me, exploring or knowing the vulnerabilities in the other person makes me feel closer because perfection, or trying to be perfect, it's a brittle idea. Vulnerability, when you're letting go all of that, and really just trying to be straight and human and vulnerable, that's when you feel close.
FL – Vulnerability is the human condition…
PS – Yes, it is. And then you feel accepted.
FL – As a matter of fact, the last lyrics of "Black Ladder" are brilliantly positive.
"I'll tell you now that you matter. I'll tell you darling that I still care."
It's like the end of the journey…
PS – It is. It's so good you thought that. It was important for me to have that song there because even though "Play As It Lays" starts springing that up, it was a thing where… "Look, all these things are banging around my head, all these different things"…but in the end a person's saying "You can feel all these things: it's ok to feel them all." "I've been down your black ladder, I've been down your dark stairs"… It's ok: I've seen everything's messed up with you and you've seen everything's messed up with me. That's good, that's actually good. Theirs are strong foundations. That's what makes things deep and rich.
FL – That's when you can get to the real essence of a relationship…
PS – Yeah…happy, shiny…that stuff is way over-rated…not interested in that! (laughter)
FL – Once you said "Rumble Doll" was like a love letter to Bruce. How would you describe the new album?
PS - "Rumble Doll"…love letter to Bruce… "23rd Street Lullaby" love letter to maybe my youth in Chelsea before I was married and stuff… This record was truly just exploring the complexities in adult relationships and looking at him in the face, finding and understanding and coming to terms with that. The real mature idea of a relationship, not just the romantic one-dimensional idea…to crack that world open and fill it with everything.
FL – Dobro, Wurlitzer, tremolo-guitar and the Hammond organ really define the sound of this album and help to create the perfect environment for your inner journey…
PS – It's swampy mystery and it's dark and low. So it feels like something is coming out from the weeds down under. When we recorded the first few songs of the record…it's funny because as you are going to make a record and then as you're making it, it turns around and it starts making you. So when we first went in, I said "Oh, wait a second! I am making a record here." I just didn't even really think about it. I just listened to the song back and then Nils said to me: "Go out and buy Sly & the Family Stone's "Fresh" record". And then Bruce goes: "Go get "Dusty in Memphis."" And then all the guys who were in the studio said "Go out to Ream Records" and gave me a big list. Actually Bruce went out and he was nice to go to the record store and the next day he bought me a whole bunch of records to download on my i-Pod: Dusty Springfield, Staples Singers, Al Green, Sly & the Family Stone, Wanda Jackson…just a bunch of different things to keep…and that's all I listened to while I was making this record for six months…I wouldn't let myself listen to anything else: just to stay focused in that kind of rhythmic area.
FL – This album is much different from the previous ones and it isn't exactly your ordinary singer-songwriter record…
PS – It's interesting: I see myself as a singer-songwriter but I thought it would have been interesting to try and take r 'n b…as far as I'm concerned, the greatest songs in the world in that form have already been written but it would have been interesting to take my own style of writing, which is a little more personal, personal to me, and put it in that border context of r'n'b…wonder what that would sound like… So you could listen to the record and just like listening to it, or if you want to go deeper, you could look at the lyrics and there would be a whole other layer going on. The musicians were fabulous. When you have those players in a room and they start playing rhythmically and funky, it's like "Wow, this is exciting…this is fun!" Even though this record can seem a little dark sometime, or complicated…
FL – I don't feel like it is that complicated, or dark…I feel it's like a river which takes you somewhere within you…
PS – I love that, I love that you said that because we had fun making it, we really had a lot of fun making it. We just felt really like we were playing. For instance, "Town Called Heartbreak"…we just started jamming while we were playing the song… We started playing the B section of the song over and over to get the groove down…so they rolled the tape – thank God! – because we were just learning the song, I was teaching it to everybody, and the jam was so much fun that when we went back to cut the song later on that day, we said the jam sounded better, so we took the jam and we used that because it sounds fresh… "Run Run Run", same thing: the guys were out the door, Nils had his guitar packed, and I said "Oh guys, do me a favour: I hate to do this… come and just make a rough demo of this song I just want to hear…" and as I was showing it to them, the guys in the studio were smart enough to let the tape roll and they started recording. Then Nils opens up his guitar and I keep playing the song over and over…you know, it's basically a blues riff, a rockabilly tune…Nils gets his guitar our, hooks it, tune it and he starts playing…Steve had half of his kit out, he put like a magazine over the drum thing and he started beating that…and we actually took that for the song, 'cause when we went to record it and we said "OK, let's do a real take", it just didn't sound rough enough.
FL – How's having another songwriter in the house?
PS – We show each other our stuff. If I'm creating something – I'm not a superstitious person at all – but I do feel when you're writing, it's the only place I'm superstitious, it's not to show that song until you've really had it nailed 'cause, if you start showing it and if you think it's too good, I always think that will spoil it or - if you don't have confidence in it - that will spoil it, too. You just really need to be on your own with it. I usually show them to Bruce, or I say "Check out this song that I recorded in the studio today". If it's a piano song, he'll hear it around the house…I hear his stuff around the house…and then he goes "Let's hear what came out in the end". Usually when a song is done, we'll play it for each other "Oh, I want you to check this out." You just got to give each other a tremendous amount of room until it's recorded. When somebody's writing something, you can't really be judgemental, because the person needs a lot of room and from the time it's written in your lap literally to the studio a lot changes.
FL – I think the performance of new songs is the most exciting part of the process, as it's when the new tunes really begin to take life…
PS – To play live it's so much fun, especially with these guys. The last time we played live together in the States for "23rd Street Lullaby" we had so much fun that I thought "Oh my God…this is scary fun!"
FL – Performances bring new life into the songs…
PS – Absolutely and you can figure out new things. I have to see how it will all work out. It's certainly not planned right now but hopefully in a couple of months we'll come out with a way to do some stuff.
FL – Isn't it strange in a business which nowadays doesn't sell many records anymore not to go on tour and support a new album? You just played a few shows around the time you published "23rd Street Lullabies"…
PS – Yeah, I got to play a few which was fun… It is a strange business now and it's strange even if you're young and making pop records. So being my age and making a record that I made it – it's not a big commercial record – you know, you're putting your thoughts down. I just feel fortunate that I don't have to depend on this record to support my family, so I can make the kind of record I want to make...I have a lot of freedom. It would be nice to go out and play with it because what happens in the studio you're so close to it, it's yours…you're in there and you're working so inside all the time and then once it leaves your hands goes to this level and becomes more abstract, it's not tangible anymore to you. So playing put you back in touch with your music. I'm going to do some live shows but I have to wait until my kids go back to school in September. I have to wait to see when they get to school how they're doing: they're in high school and high school it's a tumultuous time for kids. My kids are doing really well but I just want to make sure they're ok, before I play or take more time away.
With sincere thanks to Francesco Lucarelli and the kind people at :

David Crosby: King of California
Truthfully I don't think rock and roll should have a hall of fame, but I'm honored they inducted me twice, once with the Byrds and later as CSN&Y. At least I'm in good company. But I don't really take it seriously. What really counts is making music. I am having so much fun performing, I feel almost guilty. I think, my God, I hope no one comes and busts me for this.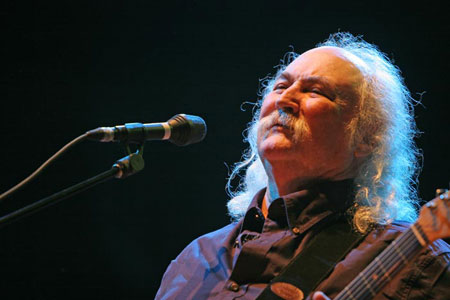 Interview and photos by Francesco Lucarelli and Buzz Person
(originally published in the January 2007 issue of Buscadero)
THE INTERVIEW – by Francesco Lucarelli & Buzz Person
A few months ago you were touring with CSN&Y and last November we had a harvest of Crosby-related releases. How does it feel being so active at 65?
I have a lot more scars now than before and I have a lot of things wrong with me. There are a lot of medical problems I have to deal with which makes it harder, but you don't know that when you're playing. As soon as you start playing, it all goes away. The last couple of years have been absolutely wonderful. It's been wonderful ever since Nash and I went to Europe with that unbelievable band with my son James Raymond and Dean Parks in it. That was a very tough tour. Small places, travelling in European tour-buses, long runs but still we had one of the greatest tours of our lives because the music was just stunning. Then we did the CSN&Y tour and I think it was maybe the best one we've ever done. Those songs of Neil, when we finally mastered them and we started being able to deliver them, they energized us, they made us believe in ourselves again, they made our ability to steer people with those songs a major good thing. I think that was probably CSN&Y at its very best. And then the other stuff, the book and the box-set, Voyage. To be able to release those things within the same year would have been a great accomplishment. To get them out in the same month, almost in the same week, was amazing.
When Neil went into the studio to cut Living With War, did you know he was going to record a protest CD?
No, Neil didn't tell me about it. I found out about it through other friends of mine who are singers in Los Angeles. They were on the sessions where they put the 100-voices chorus on. People in that chorus were very very moved by the experience and they were on all over the net the next day and on several places where I checked it, they were all talking about it. It was a once in a lifetime experience.
So you really had no communication with Neil about doing it…
I had communications with him a number of times but I hadn't heard any of the songs. I knew they'd probably be good but I had no heard them or get anywhere near the effect you get when you actually hear those songs.

Do you think Neil had possibly CSN in mind when he cut Living With War, as there was a CSN&Y tour in sight?
Absolutely. We're the right vehicle. You won't do that with Crazy Horse. You take those songs and you put them between Long Time Gone, For What It's Worth, Ohio and Chicago and they all fit.
It feels like all those old songs now have more weight and new meaning. I think Neil knew we were right there and he knew that from the get-go. And we are the right band to go out again with. I think Neil should go out again with us, if not this next year, then certainly - if we are all still alive - in time to effect the 2008 elections as much as possible.
Musically the CSNY tours in 2000 and 2002 were quite similar. Both were great but they were basically 'oldies' tours. Anyway I got the impression there was a powerful feeling among you guys. Now I wonder what was your first reaction when you went into rehearsals for the 2006 shows? Did you have any impression it was going to come across as powerful as it did?
I knew the songs had the potential to be that powerful. I thought we didn't have enough time and I got into an argument with Elliot Roberts because I didn't think we had enough time to rehearse. But the truth is we pulled it off anyway.
You did the rehearsals in a studio where you brought the light-show in, the visuals and – basically – everything else.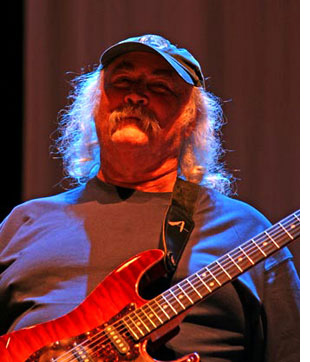 Oh, yeah! It was a dress-rehearsal from the first day, pretty much trying to get all of the elements together. We were working with huge screens, LCD screens, right behind us. We had six cameras mixing live, big backdrops, lots of logistic issues to deal with. There were moments when the backdrops, or some of the stuff would screw up, all of the way to halfway through the tour. But everybody got their act very quickly and everything went great after that.
Ever since the CSNY 2000 tour, we have been hearing rumours of a CSN&Y DVD from one of the tours. How about this time?
Plans are underway for a live CD and I think it will be from the last tour, because that was when we finally got the right bass player and drummer, and that was when we finally had some new material. And the new material really made a difference. I've been listening to the tracks, and they are really good.
And there's also the possibility of a DVD, a documentary from our 2006 tour, but it might not be what you expect. Neil is putting his energies into assembling a documentary of sorts. He is working on it right now. People will be knocked out by what they see. It's gonna be a film, and I think it's gonna be an amazing film, because there was an amazing thing that happened, but it's not gonna be a concert movie. Although there will be CSN&Y concert footage in it, this is not gonna be just a concert film of us playing. As a matter of fact, it will include interviews with people in the audience, as well as with military personnel who had returned home from Afghanistan and Iraq. It's really about now, this moment in America, and what it meant to do the Freedom of Speech tour. It's about how and why we did it. And it's about what kind of effect our tour is really having. Hopefully it will be shown at Sundance Film Festival.
Last November, on November 6th, you had 'mid term' elections in the United States. You were on a sailing vacation on election night. Did you have the opportunity to watch the moment-by-moment coverage?
No, I heard about them on BBC World News, which was much more interesting than most of the American networks.
There were two States, Montana and Virginia, during the recent "mid-term" elections in the United States that were really "key" to the switch of the Senate. In August CSN&Y played for about 25,000 people in Virginia. Do you think you helped?
I'm seriously hoping that we helped. It was a very heavy exit-poll because a lot of people were worried about the electronic vote and machines. It was almost a preview of the real election. It wasn't about the economy, it wasn't about any of the other egregious problems that need to be dealt with. It was about the war. America doesn't want to be there, doesn't want to be doing it, doesn't see that as our role in the world anymore. America wants us to pull off and get those boys home.
The difference in Virginia was about 8,000 votes. You had 25,000 people attending your show there last summer. There's a possibility CSN&Y could have swung the election in this particular state.
We probably had. I know we were doing what we believed was the right thing and it felt terrific to me. You know, the songs were very political and very strong. Basically we are just entertainers and a large part of our job is just to rock you, to make you boogie and make you feel good. But we never forget part of our job is to be the town crier, too. We are like troubadours, carrying the news from one town to another, saying it's 11 o' clock and all's well or we have a chimpanzee in the White House and things are a little bit problematic. And that part of our job last summer was so much stronger because Neil came with an entire album of hugely powerful songs. These were very direct songs, right in your face. Neil is angry. He doesn't think this is a just war, and neither do we. This is a war for profit rather than principle, and that's really, really a gross thing.
In effect, there's a good possibility you had the ability to affect a change in the United States Senate…
We had the ability to affect the change but it takes a lot longer and it is a lot more complex than most people think. One band going out doing one tour can't make one election change. But one band, as part of an upstanding will-power in the United States can make the difference.
Do you think there's a chance this momentum from the mid-term elections will gather forces for the 2008 elections?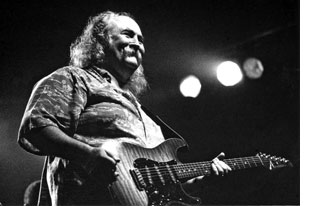 I don't know. It really depends a lot on the Democratic Party and over the last six years they haven't been able to find their strong man. I don't see anybody out there that really appeals to me a whole lot as a candidate. Al Gore looks pretty damn good. If you watch that movie, "An Inconvenient Truth" (a movie about Al Gore's global warming crusade), he could have done a good job and he would have probably been elected, too. The Democratic Party needs to show us some stuff: they need to get up off their asses and dust themselves off and say: "OK, we get a chance now. Let's show them what we can do". And they got a really smart guy in the presence of Howard Dean, he's a brilliant man. If they can work with each other and they can get out of that party-bullying bullshit that they've been dealing with forever, they might actually make some changes in this country.
So you really don't have any favourite candidate?
Yeah, I like Barack Obama, the young black senator from Illinois, but he's too young so far.
The day after the elections, Since Then, the new book by you and your co-author Carl Gottlieb, was released. It's a change in the format from Long Time Gone. Was there any particular reason for that change?
Yes, just something to do. Just for fun and making something a bit differently. The basic idea of having the different voices in different type-faces is still there, so you know who's saying what….when it's me, when it's Carl and when it's an interview. And we did partially put things into frames as if they were part of a screenplay, 'cause it was fun to do. It's a good book and I am very happy about it.
Gottlieb told us this book was a little bit more challenging than the last one, because during a period of time between Long Time Gone and Since Then you were more into your family and not so intimately involved with what 's going on down the core of the Los Angeles scene…
Well, I have no contact at all. I'm not part of that scene. I don't really want to be.
Was working with Carl much different this time?
It was fun, he's a brilliant guy. The only thing that we did wrong was that we let ourselves bound to a deadline and couldn't spend as much time as we would have liked to have fun with our project more. Carl did a very good job, though.
The focus of Since Then seems to be more about the people you love than about the music. Raising Django with your wife Jan, reuniting with your adopted son and daughter, James and Erika, going through a liver transplant, becoming a sperm donor. Does it mean music has a different priority for you today?
No, music is right up there with my family and my family is right up there with music. I do both and they are the two most important things in my life.
In late November 2006 there was the double release of the surround version of If I Could Only Remember My Name and your stunning box-set, Voyage. How do you feel to listen to your first solo album today with this new mix?
I think they made an unbelievably good transfer, a far improved transfer of it. They really did a good job. I think the surround mix is interesting. . I love this record. I think that probably the biggest thing is that at last it has got Kids And Dogs on it, which should have really always had.
Was there any thought about cleaning anything else from those sessions and put it on this release?

No, Kids And Dogs is really the right one. There were some other ones in that period of time but they weren't good enough to match up to that other stuff.

How about things like Coast Road and Leather Winged Bat?

Interesting stuff but not good enough to match up to the stuff that is on the record. The only one to me was really Kids And Dogs.

Voyage is absolutely stunning. I imagine you're pretty proud of that little package…

I am. The thing I am most amazed about is Graham Nash and Joel Bernstein and the job they did. And Silberman, who wrote the liner notes. They all did an astounding job. It's a beautiful package: the photographs are stunning, the graphics are beautiful and the colours are right. The juxtaposition of the pictures and the words and the music is beautiful and far-out. To me, it's just a stunning piece of work.

You are not one of the producers, Nash and Bernstein are. How much were you involved in the making of Voyage?

Very involved. I had because we picked the songs together. We went through lists of songs over and over again. We had a number of meetings and debated back and forth a lot, on the phone and on the net, about whether one song was more important than another song. You get to the point you only have a certain amount of disc space and you have more songs than you can fit on there that you think are significant. Then youìre trying to balance one song against another and that gets very tricky.

Did one person produce a base list to start from and work from there?

No, we all had base lists to start with. We just correlated them. Joel is so meticulous about getting it all exactly correct. Graham was just brilliant about the pictures and the graphics, and the way these things went together.

The first disc begins with 3 Byrds songs. You have some stuff that is making the rounds among collectors and some that has even been released, which is from pre-Byrds life. Don't you think it could have given a more accurate picture of you?

You see, I'm not trying to give a more full picture: I'm picking what I think was good enough. And it didn't start being good enough until probably Everybody's Been Burned. I think that was probably the first decent song. And it's my choice, 'cause it's my box-set.

You have a lot of unreleased stuff. Have you ever considered doing a 4-disc set?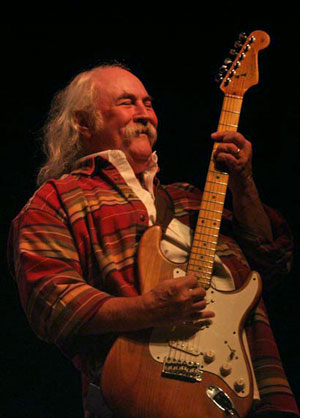 Yeah, there's plenty of stuff to do that. And there are songs that I wish could have been on it that would have filled up another disc, 'cause we had to choose between songs just to make the list that's there, pretty heavily pairing off a lot of stuff. It was very tough to get it down to that list. But there's things involved in the making of a set like this, such as marketing a 3-disc set instead of a 4-disc set, which you have to consider. A price point. It's all about a price point. You have one more disc and it goes up to another category of price point that we didn't want to get to. That's what they were willing to do and so that's what we did.

I heard you have a tour in sight…

Actually there's gonna be two tours. Between late February and March, Crosby Stills & Nash will be playing in Australia and New Zealand, and then we're planning a Crosby & Nash tour with the same band we played with in Europe in 2005. That was a wonderful band: every time we went on stage, I was wondering where the music would have taken us.

Which are your current three favourite artists among the new and popular ones?
I really like Jack Johnson. Last October me and Jack joined Jimmy Buffet on stage at the Santa Barbara Bowl and we sang ìSon of a Son of a Sailorî with him. Jack has his own new style and I think he writes really well. I think Nickel Creek are brilliant and I really like Pink. A couple of years ago people werenít speaking their minds as much as they are doing now. Now this little pop girl has written this song, Dear Mr. President. What a song! It just blew my mind out of my ear. The girl has real talent. She has balls.
And which are the three records you would bring on a desert island?

Aja of Steely Dan, Steady On by Shawn Colvin and Blue by Joni Mitchell.
With sincere thanks to the kind people at www.buscadero.com .