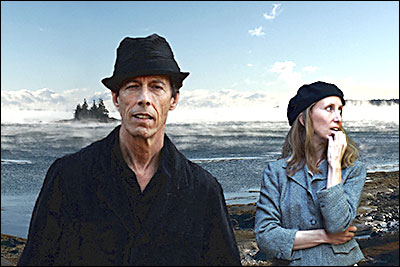 "Peter Gallway and Annie Gallup have been painting challenging, complex and unique musical vistas for many years now and their songwriting craft just gets better and better as they hone down to the true essence of their creative muse" ~ Paul McGee, Lonesome Highway

Hat Check Girl is the collaboration between Annie Gallup and Peter Gallway. "Cold Smoke", their 7th release as a duo, is a collection of 13 songs with historical subtext, some are fictional tales told against an historical backdrop, and others are accounts of actual events. Peter and Annie share vocals and instrumentation, and are joined by award winning fiddler Deirdre Wood Becher, from the bands Celtic Spring and Hidden Fifth.
http://hatcheckgirl.net

http://anniegallup.com

http://petergallway.com
Hayward Williams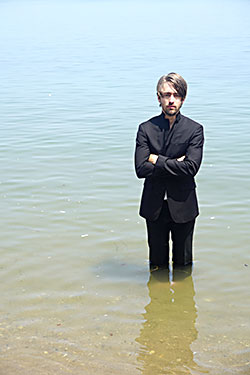 "Often dark, always honest and in the groove, Hayward Williams continues to break new ground in new traditional folk rock. There's a ghostly spirit that floats through the songs on 'Pretenders'. Williams is a wary caretaker of those spirits. His songs brim with the smoke and mirror lyricism of Leonard Cohen, with the rocker's heart of Neil Young."
Hayward Williams is a veteran singer songwriter from Milwaukee, WI. With 6 full length records under his belt, Williams is set to release his latest effort, "Pretenders". This record is yet another swan dive into the deep end of the americana and soul world that Hayward tends to reside in.
Growing up in Wisconsin in the 80's and 90's convinced Hayward Williams to search for something more out there in the world. Foregoing higher education, he joined a band and learned much about what to do and what not to do in the Midwest music scene.
Playing in pubs for many years , getting thick skin and finding a notably sharp tongue, avenues opened up to Williams. Headlining European tours, major US festivals and a few trips to Australia later, Hayward has carved out an impressive niche in the folk music business.
Williams' previous release, "The Reef", was produced by venerated songwriter, friend and collaborator Jeffrey Foucault. Utilizing an impressive rhythm section of Billy Conway (Morphine) on drums and Jeremy Moses Curtis (Booker T, Levon Helm) on bass, "The Reef" is an unequaled americana record with soaring vocals and hooks that dig in deep.
The new album "Pretenders" was recorded in October of 2016 at Midwest Sound in Rockford, IL, under a full moon and the care of Dan McMahon and Jeremy Koester. Hayward and J Hardin would co-produced the album. Charles Koltak, who played drums on Williams' "Haymaker " album in 2012 teamed up with Jeremy Moses Curtis in the rhythm section. Corey Matthew Hart of Madison, WI, would lend his talented voice and guitar work to the project during one late night session. Finally, Brooks Milgate would send his B3 performances in remotely from the east coast adding a layer to the project that would fit in with any Al Green classic.
The Headlocks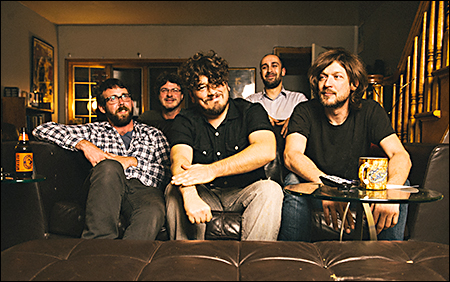 Led by uber-talented singer-songwriter Rob Carey, The Headlocks nail down the soul of rock 'n' roll in a way that we haven't seen in too damn long. Once described as 'the quintessential barroom band', these Staten Island natives are long-time favorites in New York City's rock and blues clubs, as well as on college campuses and festival stages.

"Most Golden Goose", the band's newly released sophomore album, is a finely crafted collection of lyrically rich and rhythmically rousing songs, best enjoyed while on the move, whether driving cross country, flying on a plane, sitting on the subway-bus-train, or swaying in the soft glow of a dimly lit bar scene.

The Headlocks' musical alchemy transports the listener to spaces and places beyond the hustle and bustle of everyday existence, on a roots rock 'n' roll-inspired journey through the hungers of the heart, melees of the mind, and ever evolving seasons of the soul.

Expanding on the rhythms and grooves of the band's critically acclaimed first album, "Cuckoo Bird", and organically formed through countless sessions of jamming and recording with Frank Cavallo on drums, Dan Gallagher on atmospheric slide and electric guitar, Nick Purpura on gritty rock guitar, and Joe Broncato on bass, "Most Golden Goose" is a timeless triumph of a 2nd studio record for The Headlocks.
www.theheadlocks.com

www.myspace.com/headlocksmusic

Heather Stewart
Heather Stewart is a singer-songwriter who you'd expect to see on a festival bill with Bonnie Raitt, Brandi Carlile and Sheryl Crow. She sees life the same way she writes and sings about – grounded and for what it is. She takes the good with the bad, and appreciates the beauty of both and the space in between. She sings with range, power and emotion, but it's Heather's down-to-earth realness that makes her so easily lovable and relatable. Heather now prepares to independently release her sophomore full-length album, "What It Is", on May 27th, 2014.

Heather Stewart is the conscious and connected music lover's triple threat. It starts with her enchanting nature; she speaks from the heart and every song or live performance feels like a genuine conversation. "I want people to walk away feeling as if they just had a lovely, intimate dinner with me", she says. "Where we discussed life, love and sex, drank wine and laughed a lot".

It then flows to her fiery and courageous spirit, acquired from years of battling her own fears and insecurities about stepping into the spotlight. As a former television producer for E!'s 'Talk Soup', Heather was a pro when it came to working behind the scenes, but something about it just didn't feel right. "Every time I did a sketch on camera for 'Talk Soup', (because all the actors were "in-house", i.e. "free"), I would say to myself, 'This is what I need to be doing". Heather's curiosity and lifelong desire to be in front of the camera eventually beat out her otherwise awesome, cushy job and she quit, making music and acting her career. She now stands as a powerful female role model, encouraging other women to be who they are and to be as big and powerful as they want to be, no matter how long it takes nor where they are in their lives.

Additionally, Heather proves she's a force to be reckoned with because, quite simply stated, she can rock out. She also connects with people emotionally, and gets them to sing and move their bodies. "I want to laugh, cry and feel inspired with my audience", she says. "If people walk away having been moved in some way or another, I've done my job".

After her TV production resignation, Heather Stewart traveled a solid road before becoming one of Fresno, CA's born and raised claims to fame. She toured with the Inda Eaton Band as a background vocalist, opening for Hootie & the Blowfish, LeAnn Rimes, John Hiatt and Blues Traveler. She gained some invaluable knowledge on that tour, like how to empty the sewage from the band "moho" (motor home) and that performing is not just about getting the notes right, but about connecting to the audience and taking them on the ride with you.

Heather also wrote and performed a popular one-woman cabaret show, lent her voice to a track alongside Julie Andrews in "The Great American Mousical", and currently also works as an actor in her home of Los Angeles, CA. In 2008, Heather independently released her debut album "Life Of The Party". Since then her music has been heard on television shows ('Men In Trees') and films ('Young, Single & Angry'), and she recently won the Malibu Music Award for her song "If I Can't Take You With Me".

Heather's brand new album, "What It Is", was produced by Greg Critchley and mastered by Robert Vosgien at Capital Studios. "Greg Critchley and I wanted a very raw and organic vibe for this album, which is why we chose to record everything 'live off the floor", she says. With a group of stellar musicians, all of whom have done session work for notable artists including kd lang, Fiona Apple, Ryan Adams, Lucinda Williams and John Mayer, that goal was achieved. Joining Stewart on "What It Is" are guitarists Blake Mills, Marty Rifkin and Joshua Grange, as well as bassist Sean Hurley and drummer Aaron Sterling.

"What It Is" was written mostly after the death of Heather's father. "Music to me serves such a dual purpose, emotional catharsis and escape", she says. "I wanted these songs to capture the rush and multitude of what I was experiencing, from 'Life is so f***ing short so I better make my mark', to 'What the hell is this all about', to 'Oh yeah, love'!". The album certainly takes the listener on this journey with tracks like "Had It All", addressing how life goes by in the blink of an eye, and "A Little More", exploring the idea of wanting more time to say "I love you" and "I'm sorry". Her song "Stand Up" offers an anthem of encouragement, written as a call to action for women to stand up, be seen, be heard and be respected.

The album's title track reminds us to lead with love, and offers an overall perspective that's genuine and calming to the collection's otherwise heavy topics. "What It Is" came about from a dinner Heather had with her husband, who had ordered a dish that was out of the ordinary for him. She asked how it was and he responded, "Well, once you get over what it isn't, what it is, is pretty good". The poignancy of his answer inspired her. "That can apply to almost anything in life", she says." We have all these expectations we put on our friendships, careers, love and ourselves. If we can let go of all of that and appreciate what it is, that is the key to it all".

Heather Stewart is obsessed with exploring and figuring out the human condition, which likely contributes to her stellar songwriting and acting. But music and acting aren't the only ways that Heather finds escape; she is a definite travel fiend. "Travel is a great way to appreciate what you have and don't have, and to experience the surprise and elation of never knowing what to expect or whom you might talk to". She's traveled to 29 countries and counting, including a climb to the top of Mt Kilimanjaro. "From up there at 19,000 feet you can actually see the curvature of the earth. That sort of tends to put things into perspective".

It's that same adventurous and curious spirit that brought Heather into two legendary recording studios to make "What It Is". The album was recorded in two phases, first at the Sound Factory and the second at Sunset Sound, both in Los Angeles. "You cannot help but be overwhelmed by the history and vibe of these studios. It's the real deal", says Heather. "I wanted to record some place where I could soak up the magic of music legends. You become a little better and are challenged to be better, just by being there".
Heavy Water Experiments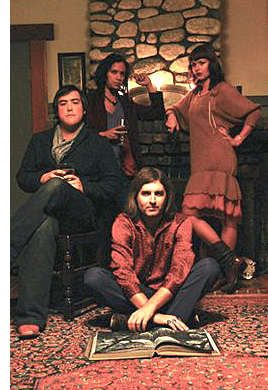 LA-based Heavy Water Experiments passionately resists the tendency of modern bands to revive sounds of bygone eras. While admittedly taking influence from 60's and 70's genres such as psychedelic and progressive rock, this is a group who strives to break new ground according to an avant-garde or art rock sensibility. One of the ways HWE achieves this is through unique instrumentation, such as the use of an 8-string bass along with a regular 4-string bass, keyboards, and drums. However, the band never relies on this approach as a marketing gimmick since it also incorporates electric and acoustic guitars in the usual way.

The sound of the band is eclectic and can range from a dark, heavy quality to a mellower, acoustic-oriented vibe. Certain tracks might seem to fit well in the stoner rock category, for example, while others could be deemed indie rock or some other current genre. In the past, the band has used marriage characterizations such as "Pink Sabbath," "Doorphine," and "Radio Queens of the Stone Head." These are intended to underscore the notion that HWE neither sounds like one particular band nor like any specific combination of bands. Accordingly, HWE has been compared to a vast number of past-to-present artists, and yet there has never been a tendency toward one or even a few in particular.

So far, HWE has enjoyed a laudable degree of progress while still remaining independent. To date, the band has toured the US and the UK (twice) as well as performing a handful of shows in Holland and Belgium. Locally, the band has played a wide range of venues from Spaceland, The House of Blues, and The Viper Room to more acoustic-oriented venues like The Hotel Café, which culminated in being chosen as one of Amoeba Records' local picks. The band's newly released debut album has received enthusiastic reviews internationally, and the album has been accumulating steady international momentum through underground radio airplay and live interviews from DJ's in the US, UK, Europe, and Australia. Tracks from the album have also appeared on popular American TV shows such as 'Friday Night Lights', and the band's promo poster appeared on various sets for an entire season of 'The O.C.'. The band has also self-organized two underground music festivals in the neighboring Mojave Desert with many notable LA bands performing.

The band is fronted by singer, songwriter, guitarist, keyboardist, bassist, and producer David Melbye — an LA native whose past bands/projects include Ludivine. Fuzz Beloved, and Zanzibar. His creative/artistic partner Roberto Salguero, originally from El Salvador, plays drums and percussion. Also joining the live ensemble are Rebecca Black on keyboards/vocals and Rick Staggs on bass.
www.heavywaterexperiments.com

www.myspace.com/heavywaterexperiments
Helldorado
Helldorado was formed in the spring of 2001 in Stavanger, Norway. Most of the members had been playing in the local band The Tramps for several years, and had considerable live and studio experience with that band. They where looking for a much darker and broader musical landscape than they could find in The Tramps, and got together playing punked up surf covers with their new band Helldorado. After a while the band and their sound started to develop. They started adding their own songs to the set, and after a couple of gigs the rumours about the band was flying around town.

In the fall of 2002 they entered the Stavanger traditional Z.O.O.M. week at legendary local rock club Checkpoint Charlie (a full week of local bands playing and battling for a spot at the Z.O.O.M. national finals in Oslo). Helldorado won the Stavanger leg, went to the final in Oslo and won there as well. The band was awarded a full Norwegian tour + a couple of gigs in the U.K. and Germany (Popkomm in Cologne).

In November 2002, shortly after winning the national Z.O.O.M. finale they released their first mini album 'Lost Highway' at the local label CCAP.

The album received stunning reviews in the Norwegian music press. After they finished the extensive Z.O.O.M. tour, they spent considerable time in the studio in the summer of 2003. They developed a more aggressive, heavier and minor based edge. The fall was spent touring and perfecting their skills and their live sound, and in February 2004 Helldorado finally released their long awaited debut album 'Directors Cut' in Scandinavia.

This is an aptly named album by this excellent Norwegian outfit - their echoey, gothic take on rock'n'roll drips atmosphere and attitude, and would be perfect soundtracking some Quentin Tarantino flick. 'Blood Shack's' clattering tale of lust and vampirism sets the mood, and the other 11 tracks are filled with epic quantities of murder, deceit, guts, gore, hellfire and brimstone, all of it leavened with a dark, twisted sense of humour. There's also more than a hint of Nick Cave in Dag S Vagle's songs and voice, and in a fair and just world, Helldorado would find similar amounts of fawning press coverage and sales.

After 'Directors Cut's' release in Europe by Glitterhouse in October 2004, both critics and music lovers all over the continent are discovering the band.

'The Ballad Of Nora Lee' is the 3rd release from the Norwegian quartet. The album shows a band that is still deeply fascinated and inspired by American music and subculture, combining elements from different genres but still managing to sound unmistakably like Helldorado. These guys are no copycats, they mean it! They pick from the best and make it their own. Mighty ballads, stompin´rockers, desert-rock anthems, Mexican trumpets, spooky strings and rocking attitude, Helldorado's got it all.

'The Ballad Of Nora Lee' also saw the band having a surprise hit in Turkey with the album track "The Drinking Song". The track was playlisted by Radio Eksen and quickly attracted a lot of attention. Helldorado has done four sold out tours of Turkey, been covered extensively in Turkish media and gained a new level of popularity when an adapted version of 'Drinking Song' became the official song of the Turkish National Football Team.

Helldorado is a fantastic live band and their gigs are legendary. Combine their abilities as a live band with their natural coolness and a bunch of rocking tunes that other bands would kill for, and you have a success in the making. So get into your 65 Chevy, a few bottles of whiskey, grab some good looking, mini-skirts wearing girls and drive through the night, waiting for what will happen. The perfect soundtrack is already there!

New album "Bones In The Closet" to be released soon!
Henrik Af Ugglas
Background
"The music was always there, even from the very beginning..... First impression: The Beatles' 'I Wanna Hold Your Hand'..... Over and over again..... The love for popular music was born..... Songwriting started at nights, just to keep the fear of dark away….. Came home 11 years old..... First gig as a drummer, 12 years old.....
Youth was spent playing in bands….. With people from Weeping Willows, Bob Manning, Maryland Cookies, etc.... Away from the music scene for a couple of years….. Some session work / gigging with Thåström, Micke Herrström, Eve, and so on.....
Work with the first album has been going on for as long as I can remember..... On and on and on and on..... It hasn't been easy all of the time..... But it's been neccessary….. Telling my story..... Tony Thorén is producing….. It's mostly me playing, but I've had some help from a couple of important friends…..
I hope you'll enjoy the ride....."
www.myspace.com/henrikafugglas
Henrik Cederblom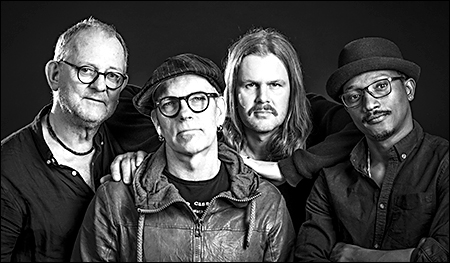 Henrik Cederblom has played guitar behind artists such as Freddie Wadling, Daniel Lemma, Sofia Karlsson and Timo Räisänen, among others, and is also known for his work with the Swedish Grammis-award winning band Den Fule.
Now he has written a collection of songs for an album, "Zobop", that focuses on melody and groove. An urban world music that draws its inspiration from dance in different forms.
"Zobop" brings us new meeting Points. Here are influences from style icons such as Zappa and Jeff Beck, Bill Frisell and Tony Allen, but basically the music is written as folk music for electric guitar, bass, beats, drums and saxophone.
"I have always loved how fiddlers play together in Swedish and Norwegian folk traditions, and I also really enjoy playing for a dancing crowd", says Henrik, "so I wanted to focus on rhythm, melody and interplay".
"Zobop" is a meeting between those elements and improvisation, individual, as well as collective. The soul of a tune, how it orchestrates the beat, the different worlds created by the melodies and interplay, this is what makes "Zobop" an entirely unique place to be.
The quartet consists of Tapha Ndiongue, drums, Viktor Turegård, bass, Sten Källman, saxophone and percussion, and Henrik Cederblom, guitars and lap steel, and was formed in the summer of 2018 after some time of experimentation with different sets and concepts.
Hey Negrita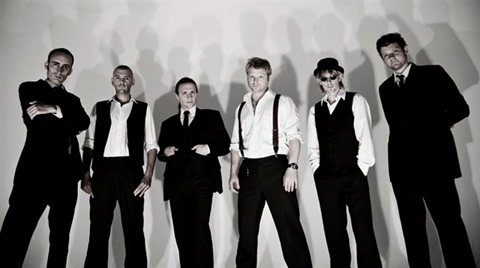 Inspired by the success of their series of acoustic performances for various BBC shows (including Bob Harris on Radio 2), Hey Negrita took time out from their tour schedule in support of their 2008 album 'You Can Kick' and shifted into Miloko Studios in south London for a spur-of-the-moment session.

"The idea was to cut as many tracks as we could in five hours without any overdubs or edits. So we put down our electric guitars, turned off the amps and stripped down the drums. We just sat in a circle and put some microphones up. We didn't even bother with headphones. We wanted to capture the raw energy of one of our live performances whilst preserving the intimacy of how we sound when we're jamming in the kitchen."

The results may in some ways be a surprise to anyone who has caught the band in recent years on their tours with Alabama 3, The Beach Boys
and Tony Joe White or at festivals such as SXSW, Glastonbury, Latitude and The End Of The Road Festival. Despite being renowned for the kind
of raucous live performances that Mojo, in its review of the band's recent Austin show, call "a joyful sour-mash sodden affair", this album of acoustic tracks sees them shifting down several gears and in many ways this gentler, acoustic approach allows Hey Negrita's deft way with a melody and lyric to shine through like never before.

Backed up by a series of 3 animated videos and a viral game from animation studio PEW 36 and 4 'live in the studio' videos from award winning director Alex Walker (We Dreamed America), Fat Fox Records will be releasing 2 singles around the launch of the album on October 5th.

Hickoids
In the original run of The Hickoids from 1984 to 1991, the band that Trouser Press aptly nailed as displaying a "winningly sociopathic outlook" probably should have been institutionalized. And came damn close to being locked away on any number of occasions.

Today, more than two decades after shattering and then returning to active duty nearly 15 years later, The Hickoids are now an institution, cult legends in fact; Cheeky Dadaist punk-country pioneers who command respect for not just what they forged in the past, but even being alive now and able to make music at all, much less now their best work yet.

And the band's latest as well as long-threatened and patiently-awaited 3rd studio album of largely original material, "Hairy Chafin' Ape Suit", underscores what the Austin Chronicle observes of The Hickoids, Version 2; "They sound as big and badass as ever". Still punks even as they qualify to join AARP, the band remains a formidable force of frequently unexpected and regularly mind-bending musical adventurousness. And in between the slams, crunch and howls plus underneath the quips, japes and punchlines, the perceptive listener will also detect some serious business going on, as monkey business as it all sometimes may seem.

The 10 song set begins with the psychedelic rock'n'roll squall of "Fruit Fly", followed a full-out balls-to-the-wall blast, "TJ", that's something of an echo from the past, its first snippet written at the tail end of Hickoids v.1 by singer and primary songwriter Smith and his hermano de musico Pepe Lopez of Dallas's Loco Gringos "on a three stringed guitar while romancing two young ladies one night". Showing up in the set list now and again since then, in final fruition it's a bracing slice of the killer rock'n'roll that underlies most everything The Hickoids have done.

Yeah, there's the country the band has always sent up and mutated as well as bowed to in honor on the loping and crackling shuffle "You Kneed Me" (inspired by drunken fistfights on the road), the Waylon on crank march into dead run of "If Drinking Don't Kill Me, Kill Me", and the Hicky-tonk of "Side By Side Doublewides" (a romantic survival guide written and sung by tentpole Hickoids guitarist Davy Jones). But one also gets seduced by the punky yet authentic proletarian blues of "Working Man's Friend" and wailing ode of "Talking Hot Pants Blues" – both tributes to late 80's band bassist Dick Hays that shine a strobe light on Jones's six-string ferocity.

The Hickoids don't just nab and adapt styles but also mate roots sounds to serve the combo's perverse purposes. They mash-up cheesy Tejano pop and picturesque old-school Texan steel guitar on "Cool Arrow" (which not so coincidentally rhymes with the Chicano slang for asshole), and "Mo' Hair" has the greasy Southern soul groove and feel of a boozy summit of Mick'n'Keef and the brothers Allman down in Muscle Shoals. And the cover songs on this outing that the band makes their own are from pals and peers; Opener "Fruit Fly" from the notorious Loco Gringos, and the garage punk punchfest of "Stop It (You're Killing Me)" borrowed from the group's San Anto scene mates The Happy Dogs that takes the libido down to that city's lost but legendary rebel rock temple Tacoland.

And if we may be so bold as to say so – because what the hell, The Hickoids have always been fearless – "Hairy Chafin' Ape Suit", for all the stylistic twists, turns and trips the band injects into their music, is in the end simply one badass mofo of a real rock'n'roll album. So don't blame us if you find yourself binging on it if not addicted to its potent if perverse charms.

Hidden Treasures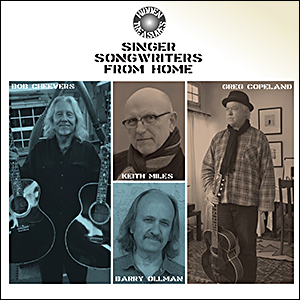 Folksingers. Protestsingers. Troubadours. That's what we used to call them before Jac Holzman's Elektra Records put out "The Singer Songwriter Project" in 1965. The album featured four different US singer songwriters, with a style completely their own. David Cohen (aka David Blue), Dick (Richard) Farina, Bruce Murdoch and Patrick Sky. It took a while until the phrase was commonly used, but when Jackson Browne, Carole King, Joni Mitchell, James Taylor and others came along, in the late 60's, early 70's, everybody knew what a 'singer songwriter' was.

On September 4th, 2015, Hemifrån pays tribute to both the phrase and this classic and historic album with "Hidden Treasures – Singer Songwriters From Home", featuring Bob Cheevers, Greg Copeland, Keith Miles and Barry Ollman, four highly acclaimed US singer songwriters who's been around for years, yet still are some what 'hidden treasures'.

Taking this full circle, on the very first song on the album, is Greg Copeland, from Los Angeles, CA, who managed to persuade Patrick Sky (one of four performers on the original 'singer songwriter project'!) to add some beautiful uilleann pipes. Other famous friends helping out on Greg's tracks are Jackson Browne, Bob Glaub, Greg Leisz, David Lindley and Gabe Witcher.

Keith Miles, who had his tracks recorded in his hometown of Nashville, TN, by Jack Sundrud (Poco) and legendary producer Bill Halverson, are assisted by Music City's best session musicians, such as Dennis Crouch, Russ Pahl and Tammy Rogers.

Bob Cheevers, formerly from Memphis, TN, now residing in Austin TX, has both Spooner Oldham, as well as Mike Botts and Larry Knechtel, both from Bread, backing him on his tracks.

Last, but not least, is Barry Ollman, who recorded his contributions in his hometurf of Loveland, CO, with a little help from David Amram, John Fullbright, Tim O'Brien, James Raymond (the son of David Crosby), and Garry W Tallent of E Street Band fame.

Folksingers, protestsingers, troubadours, singer songwriters. 50 years, this year, we celebrate them all with 18 exclusive songs on a brand new album out on September 4th, 2015.
Hilary York

In a way, we have David Bowie to thank for Hilary York's delightful sophomore album 'In the Dark', soon to be released on Hey Miau Records.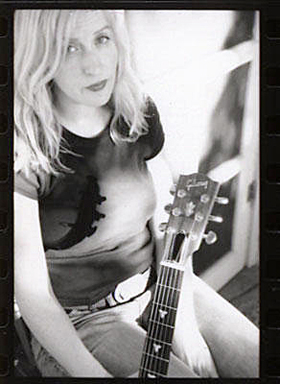 York came from a musical family; her parents had owned a record store before she joined them. She's always been talented, singing for her family, taking piano lessons, writing poems from a very young age. As a young girl, she lived in America, Germany, Bolivia, and Australia, so there wasn't much opportunity to see live music, just the occasional artist on live television and many music videos. But when Bowie appeared on local television, performing an oldie, his first hit "Space Oddity," the young girl was hooked. She knew then and there that she wanted to write and sing, and her ambition to be the next Richard Pryor got tabled.

York spent time in Europe and practiced her songwriting, graduated college, and eventually settled in Austin, Texas, where her musical career took root. After years of songwriting, her debut album 'The Moon' was released in 2006, and garnered her a lot of local attention, along with showcases at SXSW and regular weekly club residencies.

With the release of 'In The Dark', Hilary York's songwriting and singing have reached new heights. The record was produced by York with her musical foil Kullen Fuchs, a classically trained multi-instrumentalist. Featured on the record are an all-star group of local musicians. Among them are: Scrappy Jud Newcomb, one of the best guitarists in a town full of guitar players; Ian Moore, a former Austinite, and an outstanding guitarist and singer; Gene Kurtz, bassist with Dale Watson's first-rate country band; Joey Shuffield, drummer of Austin hitmakers Fastball; and Julie Lowery, York's long-time singing partner.

But it's her songwriting and singing which have taken a significant leap. Listen to the warm confessional sound of album opener "Jaded," which turns into a horn-driven rocker. "I Look For You" is an instant grabber, a catchy heartfelt country shuffle. "Carnival" is a jazzy blues, perfectly suited for a smokey late-night club. "Cover Me Up" is a seductive, radio-ready hook-filled hit to be. York also includes her first-ever recorded cover, Randy Newman's "Baltimore," which she first heard and fell in love with on a 1987 Nina Simone album (a big influence, not to mention which York's father has lived in the city for a long time, so there's personal relevance too). Intimate, confessional, warm, sexy and sassy, that's Hilary York's 'In The Dark'. We hope it's going to be a new favorite of yours, too, like it has for us.
www.hilaryyork.com

www.myspace.com/hilaryyork

www.cdbaby.com/cd/hilaryyork

www.sonicbids.com/epk/epk.aspx?epk_id=15582
Hion Martell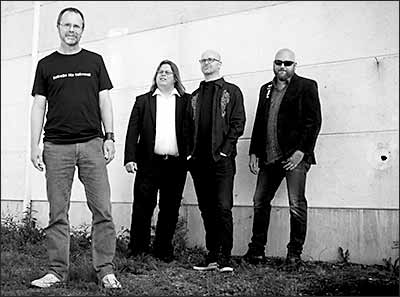 Hion Martell is a 4 piece band from Sweden. The band has been around with various lineups since 1992. The band's music is influenced by the british blues rock, american southern rock and 70's glam rock, as well as giants such as Elvis Presley and Chuck Berry. All boiled down to a distillate that satisfy the most demanding rock'n'roll connoisseur.....

Hole Hearted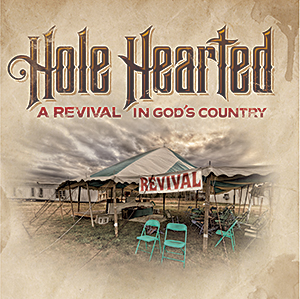 "Hole Hearted – A Revival In God's Country" started as an idea. What would happen if you where to take country music into a church environment? This is nothing new, it has been done, and in many ways, still is done, all around the world. But we wanted to put country music in the context of a church service. Country music is somewhat regarded as being music for everyday people. On the other hand, some people derogatory call it 'horse jazz'. As there are many styles of music, there are many way's to worship. We decided that a good match would be a service in the form of a tent revival. "Hole Hearted" is a concept album and the thing that connects all the songs is the idea of living water that Jesus says flows from our inner well. Water that fills the nagging hole inside us, and makes us whole.
The result is a 7 piece band and a choir of 30 people. The country sound of dobro, fiddle, mandolin and pedal steel, combined with the power of the choir, creates the country gospel sound that we wanted to achieve, and a profound experience that puts you in contact with your inner self, and with God, fingers crossed.
www.facebook.com/paraplyrecords
Holmes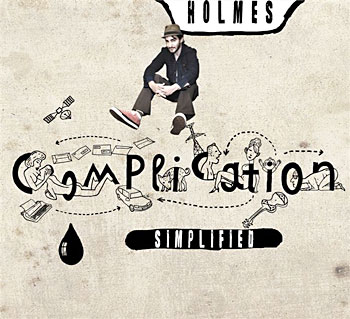 Holmes can often be found buried under a mountain of vintage recording gear in his cozy Silverlake, CA, home studio, cooking up tracks for himself, other artists, television and film. Roy Shakked, under his moniker Holmes, distills an array of influences, both musical and simply from life, with his 4th release, "Complication Simplified".

Holmes' only permanent member is Roy Shakked, but the list of musicians that have played with him is astounding. Some of LA's finest musicians have formed a revolving door of players who have participated in the recording process and live performances. Lyle Workman (Beck, Sting), Chris Bruce (Meshell Ndegeocello, Sheryl Crow), Michael Jerome Moore (Blind Boys of Alabama, Better Than Ezra), Joel Shearer (Damien Rice, Alanis Morissette) and Brett Simons (Brian Wilson).

Shakked was born in Israel and moved to Boston when he was eleven. Much of the music he found influential came from the records he listened to as a teenager, though jazz and classical music had a place, too. When his family moved back to Israel, Shakked was enlisted to a mandatory service in the military for three years. These late teen years, when many of us are forming unbreakable bonds with music, found Shakked unable to play piano with limited time and access to hearing music. "I think it ignited in me a desire to make music when I got out", he says. "Also, a desire for escapism. I was on a plane back to Boston immediately after getting out of service".

After graduating from Berklee College of Music, Shakked worked as composer for obscure video games in NYC. A year later he found himself in Los Angeles producing albums for the Delta Music and Yamaha labels. Later he started his own – Groove Gravy Records. A series of aliases followed: Jazzelicious (remixing Sarah Vaughan, Jimmy McGriff, McCoy Tyner, Carmen McRae and producing cuts for Shihan and Ursula Rucker), The Tao of Groove, Zigo and RioListic. In the process, his eclectic style caught the ears of music supervisors who have featured his tracks on television shows "C.S.I. Miami", "Sex & The City", "Nip/Tuck", "Without A Trace" and "Suburgatory", as well as numerous films.

By 2007 Roy decided to return his old influences. Holmes, an old band name, was reborn. He has since released 3 other albums under this moniker: "Stop Go" in 2007, "Holmes" in 2009 and "Covers", featuring renditions of songs by artists as varied as Ice Cube, Elvis, Massive Attack and Inxs in 2011.

"Complication Simplified" shows a great variety in tone and instrumentation, while still focusing on Shakked's great arrangements and songwriting. The jaunty, syncopated "Mosquitoes", brings the frustration of the one-sided conversation alive with banjo, whistling and snappy lyrics. "Pressing My Luck", is a modern take on the 80's driving song, with a catchy chorus, and arpeggiated guitar that invite the listener to see how far good luck can go. Showing equal aptitude for moodier songs, Shakked duets with Jesca Hoop on "Revolving Door". Melancholy strings, horns and a sweeping cinematic sound surround their well-matched voices on this track. Gliding effortlessly from simple hooky fun tracks to darkly sophisticated ones, the album incorporates classic influences like Bowie, The Cars, Prince, Pink Floyd, and Howlin' Wolf. Coupled with modern eclectic sounds ranging from Sea Wolf to Fountains Of Wayne, Shakked puts his own musical spin on the album.

Despite the musical diversity, the album is, at its heart, about simplicity. "It's about a return to simplification of musical ideas for me, and the simplification of life's problems", Shakked claims. "It's about getting to the point and clearing out what's unnecessary".
Holy Sons
"Decline of the West" represents a vital intersection of style and method in Emil Amos' songwriting and production. The record combines his genre-hopping tendencies and no-rules mixing methods with the more hook-driven, straight-to-the-jugular phrasing that he has been honing over the last several albums. This makes "Decline.." his most stylistically varied effort to date while balancing a perfect mix of his more challenging sentiments with bigger hooks.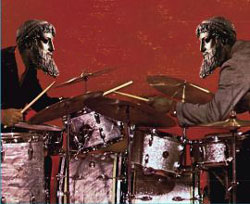 HolySons has existed in obscurity for 15 years now. Listeners have only heard of the project through word of mouth. Any and all attempts to make HolySons a more palatable, commodifiable 'music act' for a larger audience have been foiled by one hurtling asteroid or another. Most of the asteroids have been thrown by it's creator. The project remains to be a wormhole into the inner world of E.Amos who produces and plays all holysons music. Each HolySons album has a different sonic identity; experimenting with mutiple genres and recording formats. Each record meditates on a different aspect of a mind immersed in the attempt to appreciate life and the obsession with the failure to do so. E.Amos began home recording at the end of the 80's with his high-school hardcore band. Hardcore's commitment to it's own language of individualism, freedom, inner-strength, rebellion and radical no-rules expressionism formed the basis of HolySons' artistic template.
"Decline of the West" is named after and conceptually began with Oswald Spengler's pessimistic assessment that the Western culture is revealing the classic signs of a societies' decay and end. The record was recorded at Amos' home studio in late-night recording sessions that stretched over 3 years where he played every instrument and then mixed and re-mixed each track. Influenced by the avant German bands of the 70's he used nature recordings, radio transmissions and old Halloween tapes as source material to create slabs of musique concrete-style texture to surround and inhabit the songs. The basic message is an apocalyptic one, with the songs investigating the tensions between 'human nature', capitalistic culture, conformism, the inner self and the inevitable destiny of a society that has values such as ours. The record's production takes Holy Sons' minimalist avant-folk sound and journeys through formats as varied as dub, church-hymn, slow-jam, tape-collage and paranoid beats over-run by obtuse banjo-sitar runs... all performed with an inspired punk spirit.

Hometown Marie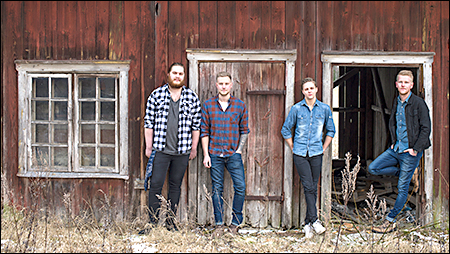 Hometown Marie is a band from a small town called Mariestad in Sweden. The band started up around 3 years ago by singer songwriter Oskar Östman and drummer Simon Peterson.
Hometown Marie has not been lazy during these 3 years. They've been of doing a lot at home in Sweden, but during their 1st year as a band they have been off to Glasgow and London playing venues, and after 2 years they traveled all the way to Nashville to write songs, play and meeting people.
During 2016 Hometown Marie did over 30 shows in Sweden, released a new EP called "Wild Side", and also returned to Nashville for some more networking and playing.
Their music is described as very wide, with influences from old to new rock, with a big touch of country.
www.facebook.com/hometownmariesweden
The Honeydogs
The story of the Honeydogs begins in Minneapolis in the early 1990's with two combative yet musically harmonious brothers, songwriter/guitarist Adam and drummer Noah Levy who wanted a band in which their favorite music-soul, American roots music, British pop, and punk--could coexist.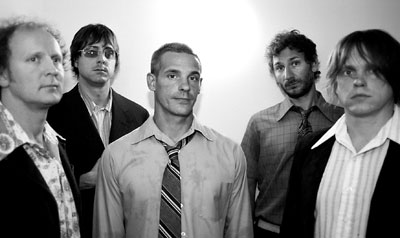 The band name has it's origins in the Levy brothers' Dickensian childhood. Mrs. Levy grew tired of caring for the demanding, precocious younger brother, Noah. He spent much of his lonely toddler-hood being babysat by the bee farm in their backyard and watching elder brother Adam play cardboard guitar to KISS records. Noah's earliest friends were bees—and what was the bee hive rack called in which those buzzing surrogate nannies made their home?...A honeydog.

The Levy brothers found a kindred spirit in bassist Trent Norton who had recently returned from a couple years touring the former Soviet Union and Western Europe in various bands. Together with John Fields and a few guests, Trent, Adam and Noah made the exuberant, eponymous debut, The Honeydogs (1995).
The band toured extensively in those early years, with the brothers Levy beating the fraternal crap out of each other across the Lower 48.
Guitarist Tommy Borscheid's union with the band in 1995 helped fashion the band's rough-and-tumble early signature sound on Everything, I Bet You (1996) for which Billboard magazine hailed them as "Alt Country's Next Big Thing" in the mid 1990's. "But Country was only one facet of what we are doing or interested in," Adam says. "We liked Bowie and Jobim as much as the Flying Burrito Brothers and Merle Haggard."
In the early days, Levy penned tunes like "Miriam," a tribute to his late grandmother and her life immersed in social justice work. In "John Brown" Levy imagines how the abolitionist, if still alive, would view our current state of race relations. "Freak Show at the Fair" tapped into the alienation of people with disabilities and reflects on the society which excludes them.
Courted and signed by the majors, The Honeydogs produced Seen A Ghost (1997), their largest selling record. They were strange halcyon days, recalls bassist Norton "We toured with INXS weeks before Michael Hutchence's death. We were feted and flown around the country and promised the moon."
But their creative wanderlust and Levy's ever-expanding songwriting and stylistic vocabulary led them down more obscure, albeit fertile, musical paths. The follow up to Seen a Ghost was Here's Luck (2000), recorded immediately following two tragedies in the band—the departure of guitarist Borscheid and Trent Norton's near death seizure. With howling guitars, soaring strings, melotrons, and dark psychedelia, Here's Luck was a paean to the music business sausage grinder and the band's indefatigable spirit.
With the addition of the angular, modernist/minimalist guitar work of Brian Halverson and the colorful, unfettered genius of Jeff Victor's keyboard playing, the band's live and recorded sound began to evolve.
Their 2003 release, 10,000 Years, received widespread critical accolades as "the Sgt Pepper of the new millennium, "Levy's masterpiece" and "a rock opera that would make Peter Townsend cry". Its conception and creation in 1999 predated 9/11 and eerily anticipated terrorist attacks on the West. Inspired by Levy's 17 years of work with youth offenders, welfare-to-work participants and immigrant populations, 10,000 Years created a fan in Aimee Mann who released the record on her label and brought the band out on tour.
On their newest effort, Amygdala (pronounced uh mig' dull uh), the band again teamed up with long time friend, collaborator and producer, John Fields, recording a marathon 5 day session in Minneapolis in fall of 2005. Guitarist Brian Halverson describes the session as "more raw and organic than the last few records."
The amygdalae are almond-shaped groups of neurons in the brain which regulate emotions, specifically fear. All of Levy's songs on Amygdala explore fear, obsession, addiction, and the idea that emotional experience forms human memory.
Amygdala continues the Honeydogs' expansion of their sonic and stylistic palette record-to-record and features a revitalized lineup, including keyboardist and sonic wizard Peter J Sands and Minneapolis veteran drummer Peter Anderson. Halverson, along with Sands, create an eerie Stockhausen/Eno-esque sonic backdrop for Levy's acidic lyrics and undulating melodies. Drummer Anderson brings a combination of rock raggedness and artful cadence to Amygdala.
Among the guests on the new album are Aimee Mann and Dan Wilson (Semisonic).The journey for the Honeydogs from one-time American roots music torch bearers to contemporary art rockers has been a long and fruitful one and Amygdala is the Honeydogs' most experimental yet accessible work to date.
Horsehead


The second release from Horsehead builds upon the sound of its predecessor "Record Of The Year" without abandoning the hooks and harmonies that made that album successful. Containing the streamlined fusion of Tom Petty & the Stones, "Welcome To Horsehead" is filled with great songwriting, something that's as difficult to achieve as a distinctive sound. It is with this second release that the band as a whole has been able to truly blossom into a modern yet timeless level of originality.

Many of the songs have a deep melancholy undercurrent but all the songs contain a cohesive element of hope, leading the listener on a journey through the record as a whole, not a just a collection of singles. The opening track "Heartbeaking Songs" masks a painful relationship and subtly sets the table for the story to unfold; "Walk It Off" is a powerful piano driven rocker that could fit on any Springsteen record from the late 70's, "Lost Love Line" is a scornful, blistering number that will have you hitting repeat to play it over again and again. "I Need A Good Day" is presented as an optimistic silver lining that most heavy-hearted stories neglect to contain.

It is the passion and purpose behind "Welcome To Horshead" that makes for an invigorating listen that you will keep coming back for more.
www.horseheadmusic.com

www.myspace.com/horsehead
House Jumpers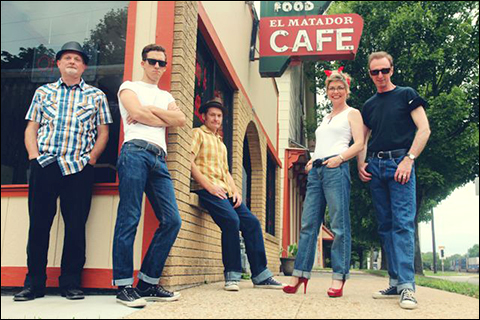 The House Jumpers were born of Midwest USA grit from Kansas and Illinois. Created just down the road from the home of Big Joe Turner (Kansas City, Missouri), Jesse Stone ("Shake Rattle and Roll" from Atchison, Kansas), and a short trip from Chuck Berry's home in St. Louis, the House Jumpers reach into that fertile territory to find a unique place for their sound. They offer authentic post WWII jump blues with West Coast influences. The band creates a powerful and fresh connection to BB King's Chitlin Circuit music while re-gendering the music for Cathy Hunt's refreshing vocal work. Other artists, including Ruth Brown, have obviously influenced Cathy's work.

Husband Marvin Hunt anchors the music with a big guitar and the Hunt team writes the original material ('Chicken Ain't Nothing But A Bird', 'Sure Footed Baby', 'Esplanade', 'Bump Jump' and others) on their first album "Sure Footed Baby", on House Rent Records. The House Jumpers capture the humor and the irony of the 40's and 50's in their lyrics, while proving that their musicianship should be taken seriously. They call their music "jumpabilly" because most songs jump ('Chicken') while others reveal the slapback rockabilly feel ('Sure Footed').

The House Jumpers also include Jason Jones (upright bass), Chris Millspaugh (harp), Paul Matthews (drummer). The honest connection between this multigenerational band and the roots blues music they deliver is undeniable and consistent, regardless of the amazing age span of these musicians.

The House Jumpers have performed primarily in clubs and concerts in the Midwestern USA, but radio stations in the USA and Europe have praised their first album release. A second album is scheduled for release in Spring 2014 on House Rent Records, a division of EsDeca Media.

Howard Simon
"I am a San Francisco based singer songwriter. My, mostly, acoustic music is based in folk and blues, with fingerstyle and flatpicked guitar accompanied by a small band. I have been writing songs most of my life and I feel incredibly fortunate to have had the opportunity to have worked with exceptional musicians and a phenomenal recording engineer in bringing my songs to life on my 2 albums, "The View From This Horizon," released in 2014, and my new album, "Visitors," just about to be released.
My songs are about love, romantic and otherwise, family, morality and mortality. The writing spans many years, from my 20's to my 50's, and thus the songs consider these things in many lights and through the widely differing lenses of a young man and one somewhat older, though in my case, one probably not much wiser. If there is a common thread to my songs, it is the people we love, the desire to do right, and the hope and fear, the peace and the struggle that constitute life bring wonder in addition to its joy and sadness, and sometimes loss. My music is an attempt to capture and communicate some of that wonder as I have known and imagined it throughout my life. I hope you enjoy it." ~ Howard Simon
The Humble Servants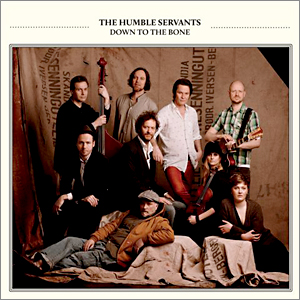 With two of Norway"s finest singers and a superteam of musicians The Humble Servants is now ready to release their debut album "Down To The Bone".

The background for this project comes from a time when Lars Beckstrøm (De Lillos, Beckstrøm Kvartett), Paal Flaata (Midnight Choir) og Gøran Grini (Haddy N"Jie, Few Good Men, John Peter & His Collaborators) toured together in Germany, and since then the trio wantet to make music together. The result became an album with Lars Beckstrøm"s songs, which for the first time is writing English lyrics.

With beautiful, strong melodies and lyrics, The Humble Servants are serving music that conveys many moods performed by two of Norway"s finest vocalists. The band is inspired by Celtic-British folk and pop, but also by country music and Americana.

The Humble Servants started out as a studio project, in which Lars F. Beckstrøm invited good friends to the studio. The project has evolved to become a band consisting of Paal Flaata and Live Miranda Solberg on vocals, Lars F. Beckstrøm on various string instruments, Marius Kristiansen on guitar, Tov Ramstad on dobble bass, Gøran Grini on piano, Jørn Raknes on pedal steel, Lise Voldsdal on fiddle and Rune Lindstrøm on drums.
www.youtube.com/watch?v=eksCrImF7N8

naxosdirect.se/items/down-to-the-bone-35145
Hungrytown
Hungrytown, which is the musical and married duo of Ken Anderson and Rebecca Hall, have been making music full time since swapping their midtown New York cubicles for the hills of New England in 2004. Since then, the couple has been touring extensively, and has released 2 CDs, the self-titled "Hungrytown" (2008) and "Any Forgotten Thing" (2012), both of which receive high critical acclaim and much airplay in North America, Europe and Australia.

Before Hungrytown, Rebecca made two well-received CDs under her own name (with help from Ken behind the scenes), "Rebecca Hall Sings" and
"Sunday Afternoon". Rebecca learned to sing in church when she was five years old, and had developed into a skilled interpreter of jazz and blues standards by the time she was in her 20's. Her discovery of roots music coincided with the reissue of the "Harry Smith Anthology of American Folk Music" in 1997, and inspired her to write her own material. She soon developed a reputation for creating simple, melodic and achingly beautiful songs, weaving modern themes into traditional song structures. "Hall's original compositions hark back to the earliest traditions of acoustic Americana, tracing a sepia-tinged line from the Carter Family to the contemporary lo-fi classicism of Gillian Welch," wrote Steve Bennet of 'Acoustic Magazine'.

Ken is an accomplished multi-instrumentalist as well as a talented producer and arranger. He learned to play drums and organ as a child, and has since moved on to bass, guitar, mandolin, banjo and harmonica. He also has a remarkable gift for musical harmony, and is responsible for Hungrytown's luxuriant vocal stylings. Having produced all of their recorded works, his artistry has been singled out for praise: "Anderson has a knack for crafting rich arrangements that don't clutter things up", writes Casey Rea of 'Seven Days' magazine. When not touring with Rebecca, Ken is often upstairs in their home studio, called Song Catcher Recording, working with other songwriters and instrumentalists.

Hungrytown tours both the United States and abroad. Their recent overseas travels have included the UK, Holland and Finland. On their home turf, Rebecca and Ken tour the country in the notorious Blue Meanie. This remarkable, fuel efficient, solar-paneled and, well, blue customized camper van was designed by Ken to serve as a fully-equipped, four-season home, office, studio and Conestoga wagon for their instruments and sound system–all in under 22 feet!
Humphrey-McKeown
"Paving an americana lane all their own", this 5 piece modern americana folk rock act, Humphrey-McKeown, engages listeners in with organic melodies, originality of sound and soulful lyrics. Writing together since 2006, Humphrey-McKeown delves deep into universal human experiences and captivates live audiences with their high energy music, atmospheric gypsy taste, melodic colors and first class storytelling.
They have created a buzz for themselves with their personal concerts to unsuspecting fans during tours, are on rotation on 120 independent radio stations across the US and Canada, and have released 5 albums in 6 years, self produced by Tom McKeown and Heather Humphrey. 'Tuned Loud' states, "It's not too much to say that Humphrey-McKeown is one of the most promising figures in contemporary folk rock music". Given much acclaim across varied press, their 5th album, "Tapestry Of Shadows", is available on Spotify, iTunes and wherever digital music is sold.
The band's songwriters and lead vocalists, Heather Humphrey and Tom McKeown, met in their current home towns of Schaumburg, IL, in 2006, when they joined forces to write for publishers in Los Angeles, Chicago and Nashville. By blending New York native, Heather's innate sense of melody, and Chicago based Tom's pursuit of something new and unexpected, the partnership wrote for any occasion and in any style always seeking to better themselves and their craft. After peddling their songs for the success of others, they realized they wanted to find success for themselves and write for their own musical voice.
In 2011 they formed the Humphrey-McKeown Band, subsequently released 4 studio albums from 2012 to 2015, and honed their unique take on americana folk rock. By bringing Tom and Heather's dual lead vocals to an americana style with unexpected progressive sense, broad sweeping melodies, a big beat, and a touch of Brill Building sensibilities, the Humphrey-McKeown sound was born.
On their 5th album, "Tapestry Of Shadows," bassist Tony Meadors, violinist Gary Jacklin, and drummer Jim Livas, join Tom and Heather on the recordings. Unlike previous albums, this is truly a band album where everyone has a key role in the creation and execution of the music. "Tapestry Of Shadows" is a milestone for Humphrey-McKeown and is sure to garner even more national and international recognition for them as songwriters. The entire band is actively touring across the US and Canada.

Husky Tones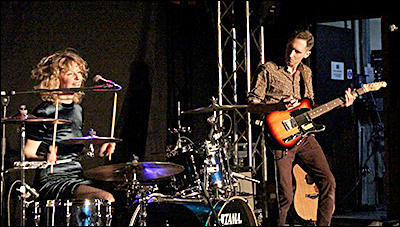 Husky Tones' punk blues style favours the common rawness, simplicity and emotion shared between the punk and blues genres. Live it is delivered by the unique set up of a female drummer and singer Victoria Bourne and guitarist Chris Harper. Their approach to punk blues mirrors what they love as audience members, inventive, individual and fully aware of tradition, without being a slave to it.
African and punk drumming patterns as a basis, fuzz boxes, guitar through guitar and bass amp this is how the Husky Tones create their full sound. Since the release of their critically acclaimed debut album 'Time For A Change' in 2015 they have been making new friends and fans performing around the UK and songs from the album have been played on national and international radio. They have built a reputation for intense live shows performing at places such as London's 100 Club and Blues Kitchen, Brighton's Latest Bar, The Fleece in Bristol and national UK festivals.
Rock, blues, punk and folk. These are the core elements of Husky Tones' 'Who Will I Turn To Now?'. The album takes you on a journey with songs that scream and cry, lush vocals drifting on a sea of heavy guitar riffs, 'Who Will I Turn To Now?' combines songs of protest, despair and love, tales of the benefits system, climate of cuts and the disintegration of capitalism. As well as reference to modern day politics, it has historical roots with a ballad, 'Island Of Barbed Wire'. The song is about Victoria's great uncle who was interned on the Isle of Man as a German prisoner of war just for being a German living in the UK when war broke out. He was married to an English woman, and the song tells their story, an expression of powerlessness in the face of terrifyingly sad global events, which is as relevant today as it was during World War 1. Husky Tones are ready to protest and have an attitude that music is a force for change.