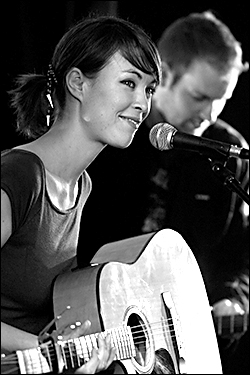 "Maslow's Songbook" is the debut album from Irish singer-songwriter ODi, whose music combines folk, acoustic, pop, rock and indie. ODi spent her early years in Wexford listening to the likes of Bruce Springsteen, David Gray, Frames and PJ Harvey and was inspired to write her own songs. After posting some early home recordings on MySpace people began to listen, liked what they heard, and asked when ODi's next gig was. Armed with a cheap guitar won in an auction on eBay, she headed to her local venue to blag her first gig.

ODi combines stunning vocals and harmonies with incredibly engaging songs. ODi manages to blend elements of Joan Armatrading's pathos, Beth Orton's eye for the quirky and deep with a touch of Dido's bed-sit romance.

In the 6 years since playing her first gig, Irish songstress ODi has played over 600 shows across Ireland, the UK and Germany, supporting the likes of Portico Quartet, Brian Kennedy, Paddy Casey, Luka Bloom and Eleanor McEvoy. ODi has taken her captivating live show to an array of venues ranging from intimate house concerts, to the live stage at the London Olympics 2012 and Paralympics, Electric Picnic Festival (IRL), and was awarded Best Female Act in 2011 by EMAs (Exposure Music Awards-UK).

The musicians on "Maslow's Songbook" include Claire Odlum on vocals, guitars, piano and percussion, Dave Redfearn on guitars, vocals, piano and percussion, Karl Odlum on bass, guitars, piano, double bass, percussion, cello, synths, banjo, dulcimer, bazouki, and vocals, Sean O'Leary on drums and percussion, Ronan O Snodaigh on percussion, and Colm Mac Con Iomaire on violin and viola.

With "Maslow's Songbook" ODi trammels the listener with her distinctive voice and engaging melodies. "Maslow's Songbook" has already been playlisted on Irish national radio RTE1 and is already a favourite of BBC Radio 2's Bob Harris.
Oh My Darling
"Venez Danser" is the latest release by the stellar Canadian all-female roots quartet Oh My Darling. After returning from a busy summer of festivals, headlining two international tours, and releasing their 2nd full length album, "Sweet Nostalgia", Oh My Darling is happy to announce the release of their very first album comprised of entirely French material.

The 6-song EP is a collection of the French material the gals have been performing and recording over the last four years, and features Oh My Darling's unique talent for combining beautiful original material with intricately arranged traditional music.

"Venez Danser" is Oh My Darling's way of giving back to the French and Métis communities that have been a wonderful support to the girls over the years. With the hopes of exposing the beauty of the French music to audiences of all languages, the girls are excited about bringing the album to their fans at home and abroad.e members of Oh My Darling, and each is a musical prodigy in her own right.
Old Californio
A few years ago, Old Californio self-released their debut album, 'Along The Cosmic Grass'. It was an effortlessly charming album, clearly grounded in a quintessentially West Coast California musical tradition that combines the very best in folk and rock and country. Alas, too few actually got the chance to hear that album, even as the band were drawing relatively large crowds to their frequent L.A. area gigs. Sometimes the best things just go unheard, unless you're lucky enough to stumble across it.

Well, that was then, and this is now, and Old Californio have returned with their sophomore effort, although there's certainly nothing sophomoric about 'Westering Again', if you'll pardon the obviousness of such an overused rock cliché.

You may already be a fan of some of the bands Old Californio might likely name as influences - particularly the counter-culture Bay Area bands like Moby Grape, Grateful Dead, Quicksilver Messenger Service... Or a handful of the smokier Topanga Canyon bands further down south, like Canned Heat, Neil Young & Crazy Horse and Spirit - and yet... Well, they don't really sound like any of these bands if you want to know the truth.

Like many of the best bands who released LPs some forty years ago, this new album, (and like 'Along The Cosmic Grass' before it), finds its roots in sounds that once gave California it's own identity at a converging time and place, the late sixties and early-to-mid-seventies. Try to imagine a musical interstate stretching and twisting like overgrown Napa grapevine, snaking along the foggy Bay Area coastline to the golden San Gabriel Mountains, all the way down to the sparse desert of the Inland Empire.

Now imagine that interstate leads right to 'Westering Again'.
What we're talking about here is bright guitar-driven melodies with complicated and earthy arrangements, mixed in with a little down-home country twang and dovetailing instrumental jams, providing ample evidence that they also have a tacit understanding of what made those great classic rock outfits of yore so exhilarating and memorable in the first place.
What we're talking about here are really great songs (remember those?). There's no real dross or dead weight on this ambitious work. It's a melodically complex and accomplished effort, hard set with a blast-furnace production that reveals the considerable talents of the band's membership.
Speaking of membership, at the focused core of these efforts you'll find the very talented Rich Dembowski, who plays guitar and sings with a heartfelt voice that might remind some of the Band's Richard Manuel. His lyrics are inspired, to say the least, evoking winsome images of riparian vistas and wine stained front porches. These are songs with thoughtful lyrics that fill the air.
In the same breath we should also mention the two other orbiting full-time members of the band - drummer Justin Smith and bassist Jason Chesney - who combine both explosive drumming and propulsive bass elements that expose the kind of prowess that few bands seem to have these days. And we would be remiss if we didn't mention Levi Nunez, who adds wonderful sparkling keyboards when they're needed to flesh out the proceedings.
This is spirited music, friends, and the perfect soundtrack for the interregnum, this wonderful shared experience of renewed hope and peace that seems to be sweeping across the country right now. Westering Again is liable to stir up something inside you, and to my ears, it sounds like music that could have only been created in Southern California.
Remember how the great Raymond Chandler once described the warm Santa Ana, coursing along the mountain passes and drifting across the chaparral, whining through the eucalyptus windbreaks. Chandler said this oven-hot red wind was the kind that could "curl your hair and make your nerves jump and your skin itch."
Well what I'm saying is that the music Old Californio makes stirs up a presence you can actually feel, just like Chandler's red winds, a kind of palpable sensation, like the warmth of the sun on your face. It won't actually make you jumpy and itchy, you understand, unless you're naturally prone to that type of response, that is.

Old Reliable
A fixture on the independent music scene for ten years, Old Reliable has earned a name making gritty honest roots music combined with the fire of rock and roll and the howl of bluegrass. Centered on the songwriting of Shuyler Jansen and Mark Davis, Old Reliable's unique style is combined with lyrics that are unafraid to explore the darker themes of traditional country music. Multi-instrumentalist Shawn Jonasson, bass player Tom Murray and drummer Scott Lingley round out the band. The key to the group's success is their ability to sound utterly natural; nothing appears forced or artificial, and no one raises an eyebrow at the bubbling synthesizers lurking behind the fiddle or the fuzz guitar solo.
Old Reliable's third recording, Pulse of Light Dark Landscape, showcases the songs of Shuyler Jansen. Tinged with violin, cello and pedal steel guitar the record moves effortlessly from winsome ballads to galloping rock songs. Pulse of Light Dark Landscape features the work of famed rock photographer Elliott Landy (Van Morrison/Moondance, The Band/The Band, Bob Dylan/Nashville Skyline) and guest vocalists Mike Caldwell (The Smalls) and Corby Lund (Corb Lund Band). Pulse of Light Dark Landscape has charted across Canada, reaching the top ten in several college, co-op and country radio markets (CKUA, CJSR, CKER, CBC Radio Sonic).
The Gradual Moment, Old Reliable's sophomore effort, features appearances by the members of Calexico and Giant Sand as well as the multi- instrumentalist Bob Egan (Blue Rodeo, Freakwater, Wilco, Billy Bragg). The Gradual Moment was composed by Mark Davis and chronicles his girlfriend's battle with breast cancer from her initial diagnosis to her tragic death at age 31. The Gradual Moment drew widespread acclaim for its atmospheric sound and reached number one at CKUA and CJSR. The album has also been featured on CBC's Radio Sonic, In the Key of A, and Definitely Not the Opera.
Old Reliable's first three albums, including their debut Gone Are the Days, were recorded by Scott Franchuk at Riverdale Recorders of Edmonton and were mastered by Peter J. Moore at the E Room in Toronto. Their latest and fourth album, The Burning Truth, was recorded by Scott Franchuk, Al Irving and David Alcock at Sundae Sound Studios in Calgary, and was mastered by Jim Wilson of Yes Mastering in Austin, TX. Featuring songwriting by both Jansen and Davis, The Burning Truth were released in the spring of 2005, following their first-ever appearance at the renowned South By Southwest festival in Austin. 2005 will also see Old Reliable performing at the Alberta Scene showcase in Ottawa, as well as a United Kingdom release compiling songs from all four of Old Reliable's albums.
Old Reliable's mesmerizing live shows have made them a number of notable friends over the years. The band has shared the stage with Guy Clark, Gord Downie, Alejandro Escovedo, Oh Susanna, Ray Condo, Giant Sand, Richard Buckner, the Corb Lund Band and many others. The members also maintain active careers outside of Old Reliable; these have produced Jonasson's old-school country project The Swiftys (whose self-titled debut came out in 2003) and Jansen's psychedelic-folk solo album The Hobotron (released November 2004).
The band is currently working on a new album for release in 2008.
Ollie Vee
The Canadian 4-piece americana-roots band Ollie Vee recorded their new album 'Lonesome Girl' through a 60's rev Neve mixing console, straight to 2" tape, with no edits and minimal overdubs, aiming to replicate a vintage feel.

"We wanted to capture a rich and dynamic sound without the use of digital equipment", describes frontman, and primary songwriter Jesse Adamson, who has been described as "The bastard child of Elvis Presley and Bryan Ferry".

'Lonesome Girl' has hints of honkytonk with deep roots in traditional Memphis rockabilly and although Adamson is the primary song writer, Johnny Vassos (lead guitar) and Howard Linscott (double bass) have a heavy writing presence on the album.

"We made the record after playing together for about 5 months, so we caught the songs while they were still raw. Sometimes you can overthink or overwrite a song if you polish it before tracking it", claims guitarist Johnny Vassos.

Ollie Vee has recently recruited Adam Perzia as a full time drummer to join the band.

'Lonesome Girl' was recorded in Toronto, mixed in both Chicago and Los Angeles, and mastered by 5-time Grammy award winner Gavin Lurssen, at Lurssen Mastering in Hollywood, California.

Adamson concludes: "Both of the engineers, Jon Lemon and James McCullagh, who mixed our album, are incredible. Jon works with The Smashing Pumpkins and James with Lucinda Williams. It's nice to know that you are in such good company. When you hear their work, it is so lush yet they still kept a vintage sound. We're really proud of the record and the songs have great energy when we play them live".
One-Eyed Mule
One-Eyed Mule is a band that has been strumming its chords to its own unique beat since 2005. They have been featured on the American television show 'The Cleaner' and played their very first US shows at the 2010 SXSW Festival.

One-Eyed Mule was formed in Copenhagen by Rasmus Dall (guitar/lead vocal) and Uffe Ipsen (double-bass/organ/saw). Before this, Dall had learned himself to fingerpick and rambled Spain with his guitar, and Ipsen had traveled Europe in a van for six months, playing the streets for a living.

One-Eyed Mule started out as a country-blues outfit playing songs hailing from the twenties and thirties in smoke-filled bars and taverns. In 2005 the band started writing their own songs, got a record deal and released the first album "Hobo In The Land Of Love" in 2006. For those recordings Søren Andersen (guitar, banjo, jaw harp, sitar) joined the band and brought his drumming roommate Mads Tønder.

In 2008 One-Eyed Mule released their 2nd album "From The Beats To The Bible" that had a more electric country rock feel to it. Now the mule-cyclops has put together a new album "Drifting To A Happy Place". Recorded in three days in a Swedish country house, this new album showcases a more lively and folkie sound, with small drips of Nordic mournfulness.
http://one-eyedmule.com

www.myspace.com/oneeyedmule

One Of The Boys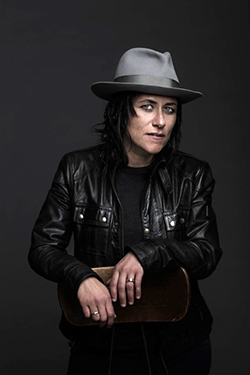 Acclaimed rock-and-roll front woman Tina Schlieske is debuting her newest band, One Of The Boys, and releasing a 6 song album titled "Pinned Up". The offering is a collection of covers by Soul Asylum, Husker Du, The Jayhawks, Prince, The Replacements and Bob Dylan from a uniquely female perspective.

"I wanted to pay tribute to the musical era I grew up with", says Schlieske. "When I first started out the Minneapolis rock scene was very male dominated. It wasn't easy competing on the sacred ground that all these men had established. I respected and admired all of them. When Patrik and I sat down to talk about this record I knew I wanted to bring a femme fatale type of feel to the songs, something that would be the antithesis of who I am when it comes to music".

Tina flew from Santa Barbara to Minneapolis, home of her first band the award winning B-Sides, to cut "Pinned Up". She partnered with friend and musician Patrik Tanner (guitars, drums, percussion, piano) who produced, recorded and mixed the album at Dark One Studios. Fellow local musician Jon James joined on bass and Wurlitzer piano.

"I wanted to sing in a higher key so I couldn't rely on old vocal habits, and we kept the overall production very minimal", says Tina. "It's a very different album for me in look and sound, one that I'm really proud of. You could say it turned out to be my love letter to Minneapolis".

Tina, a successful solo artist and front woman in multiple bands has toured with Double Trouble and has opened for artists such as Lenny Kravitz, The Wallflowers, Indigo Girls and Etta James. She has collaborated with Stewart Copeland and Me'Shell Ndegeocello, and has had multiple songs featured in commercials and major movie soundtracks.

With music as her lifeblood, and two states she calls home, Tina currently plays with a wide range of local bands and high-profile colleagues, including: the reunited Tina & The B-Sides (who are releasing their new album in early 2014), Lola & The Red Family Band, and Tina Schlieske & The Graceland Exiles.

She also contributed a killer rendition of Joe Cocker's "With A Little Help From My Friends" on the new "Sweet Relief III: Pennies From Heaven" on Vanguard Records, which features Ben Harper, Jackson Browne, Shelby Lynne, She & Him, Ron Sexsmith, Rickie Lee Jones, Joseph Arthur and founder Victoria Williams. Providing a fresh take on songs old and new, Tina Schlieske has not only become one of the boys, she continually pushes the boundaries of music.
Orango
Orango is still firing on all cylinders. On March 26th, 2013, Norway's hardest-working rock trio releases 'Colonial Militia Vol 2' on Division Records.

With the 2nd installment of this double album, the band delivers its best album yet. In the wake of its release, Orango also heads out on a long tour.

Following Division Records' release of 'Confessions' (January 2011), Orango has hammered out its characteristic and catchy combination of dirty rock, delta blues, soul and harmony-vocal-heavy west coast music at festivals and venues all across Norway.
Oria Aspen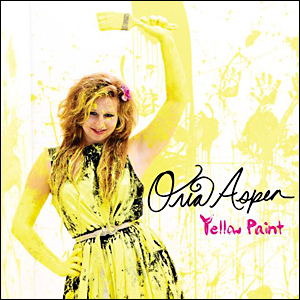 With her remarkable debut, "Yellow Paint", 17-year-old Oria Aspen bursts onto the scene and proves she is a musical force to be reckoned with. A collection of 14 songs, all but one composed by Oria, "Yellow Paint" is her amazingly mature and deeply personal journey through everyday life.

A labor of love three years in the making, Oria has composed straight-up songs like the first single, "Be My Rock Star", and the title track, "Yellow Paint", punk vibes like "Party Song", "Get Back", a defi-ant soul-rap groove, as well as darker ballads like "Scars", "M3NT@L" and "Forbidden Love".

Also included on the CD is Oria's duet with legendary New Jersey soul man and rocker, Southside Johnny, and their inter-pretation of the Louis Armstrong classic, "What a Wonderful World".

"Yellow Paint" not only showcases Oria's impressive vocal ability and masterful flute skills, but also reveals her exceptional songwriting talent.

On "Yellow Paint", Oria — the daughter of an acclaimed jazz-rock-blues guitarist — teams with some of the East Coast's premier musicians, session ace and multi-reed man Bob Magnuson, world-renowned drummer Shawn Pelton (Shakira, Pink, Kelly Clarkson, Sheryl Crow) and Van Romaine (Enrique Iglesias, Naughty By Nature, Deep Purple), The Asbury Jukes' Jeff Kazee (keyboards), The General (guitar), John Conte (bass), Chris Anderson (trumpet) and Neal Pawley (trombone), Scott Healy on keyboards (Conan O'Brien), producer and keyboard extraordinaire Michael Mancini, as well as Nashville's top session aces Mike Durham, Tony Harrell, Greg Morrow and Steve Mackey. The production and lush arrangements of "Yellow Paint" are courtesy of Oria's producer, guitarist and musical partner, The General.

Oria has wowed audiences across the United States — including headlining gigs in New Jersey, and as the opening act for James McCartney at New York's Gramercy Theatre — with her raw talent and disarming stage presence.

Sometimes sassy, sometimes heartbreaking, sometimes raucous, but always passionate, "Yellow Paint" conveys the hopes, fears, frustrations and joys that we all experience. With "Yellow Paint", Oria has managed not only to paint a picture of her world, but has invited us be a part of it.
Osborne Jones.....
Osborne Jones brings together two old friends, David Osborne and Gwyn Jones, with some of the best pickers from Los Angeles and London to create something really special. With a simplicity and style that's reminiscent of a different time and a desire to create clean, classic, soulful country music.

"We've worked hard to make something that will stand alone, that will last and will mean something for a long time. We're not about fashion, we're not about today. We're about truth and forever".

"In The Moment" is the 3rd album by Osborne Jones and continues the momentum of the previous two, "Long Night Moon" and "Out Of Blue Yonder". Strong melodies and strong themes about the joys and the sorrows of life are the mainstay of these songs, whilst not being coy about confronting the issues of regret and mortality.

With musicians gleaned from the best available and a top flight production "In The Moment" represents the finest collection of contemporary country and americana original tracks that you are likely to come across any time soon. So sit back, with your soothing brew of choice, and contemplate the fleeting nature of the finer aspects of this existence, but most of all, enjoy being "In The Moment".