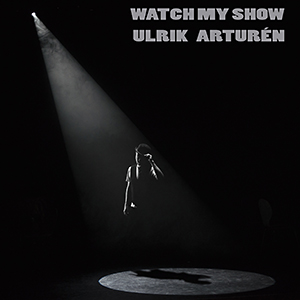 Born in 1963 in Borås, Sweden. Raised in a musical family by a drumming father and a humming mother. The results of this love making combo are five music making siblings in various genres.

Ulrik's musical career has always been about; Try everything before you even say a word... and so has now been made. Ulrik has dabbled in ballads, cabaret, children's theatre, coverbands, dance music, heavy metal, musicals, variety shows and much, much more...

Ulrik has also perfomed with a variety of Swedish artists; Lasse Berghagen, Jan Johansen, Jill Johnson, Sanna Nielsen, Tommy Nilsson, Magnus Uggla, Jerry Williams and lots of others.

50 years on it was time to gather all of these experiences, trying to stand on his own two feet. Inspired by by his friends' music, and his own favorite artists, he took place in the producer's chair and began. The result is this 4-track EP you now hold in your hands, where nothing has been held back, neither vocals nor any of the musical instruments.
Utah Phillips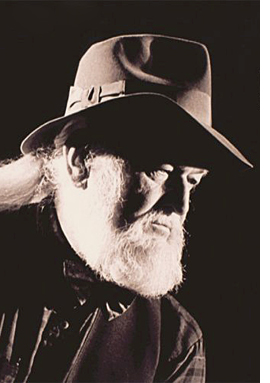 In February of 2008, at a musician's gathering in Maine, folk musicians Dan Schatz, Kendall Morse and Jacqui Morse began talking about a CD to celebrate the life and music of Utah Phillips. Within weeks dozens had joined in, and after Utah's death the project became a two disc memorial, with some of the world's most respected folksingers recording songs by and for Utah.
Musicians include Emmylou Harris and Mary Black, Pete Seeger, Rosalie Sorrels, Tom Paxton, Jean Ritchie, John McCutcheon, Magpie, Gordon Bok, Emma's Revolution, Ani DiFranco and many others. Proceeds from the sale of this 2-CD set go to suppot Utah's family.
"Singing Through The Hard Times - A Tribute To Utah Phillips" is released by Righteous Babe Records March 3, 2009.

Available here.
Vic Chesnutt

- The Vic Chesnutt album, and why me and Tommy wanted to do it - By Jonathan Richman -

"My drummer Tommy Larkins and I were driving in the van across the United States as we do two or three times a year on our tours of clubs and I said, 'Y'know, we should produce Vic's next record!'. And he said he thought so too. We both were thinking that the way to get the feeling for Vic as a listener was to hear just Vic - no arrangements, no guest guitar solo guys, no 'ironic' touches or anything else to cloud his voice or his poetry. His guitar playing is also the guitar playing on this recording because we think no help is needed. Tommy and I have toured with Vic several times and he's long been one of our favourites. So we're both proud of this record & glad for the chance to make it our way. A lot of it was brand new stuff, a few hours old or becoming a song right there as he sang".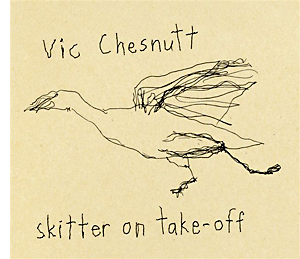 Vic Chesnutt has recorded with many different people for all kinds of labels, but he's never made an album like his debut on Vapor Records.

Chesnutt's first two releases were produced by REM's Michael Stipe, and from there he was featured in the PBS documentary 'Speed Racer' and his songs were recorded for "Sweet Relief II: Gravity of the Situation". A wide range of artists including Garbage, Madonna, Smashing Pumpkins, REM and Live, all covered Chesnutt originals. He has recorded with groups like Widespread Panic and Lambchop, and musicians as varied as Bill Frisell and Fugazi's Guy Picciotto. Chesnutt recently performed on Cowboy Junkie's "Trinity Revisited", with others and over a dozen different releases of his own.

"Skitter On Take-Off" allows Vic Chesnutt to create his most dramatic album yet; recording devastating songs like 'Rips In The Fabric' and 'Dick Cheney' live with no overdubs. This album becomes a unique addition to his history, and allows the singer-songwriter the chance to collaborate with an important influence. "I'm honoured to work with Jonathan Richman. Over the years he's taken me under his wing and mentored me in a very meaningful way, truly shaping me into the songwriter and performer I am today. And it is an ongoing process". Chesnutt and Richman's work together is one for the ages. "Skitter On Take-Off" features Vic Chesnutt, Jonathan Richman & Tommy Larkins. Produced by Jonathan Richman & Tommy Larkins.
www.vicchesnutt.com

www.vaporrecords.com

www.myspace.com/vicchesnutt


Victor Camozzi.....
"It's been said popularity is the hallmark of mediocrity. If that's true, I must be freakin' amazing, cause I ain't remotely popular", and with that, Victor Camozzi let's fly with a weathered cackle that seems almost Nietzchen. With two critically hailed albums already under his belt, Camozzi has emerged from the outskirts of Austin once again to release his latest album, "Cactus & Roses". Where his previous outings proudly displayed musical influences across the full breadth of Americana, "Cactus & Roses" finds Camozzi locking in on a tighter sound.

"I got a big ol' stack of vinyl albums - and one cheap little record player - and the records I go back to again and again are the ones where the mojo of the entire song-cycle has been tuned to a specific frequency. So for this album, I invested in a mojo tuning fork". The "mojo tuning fork" he winkingly refers to may well have been legendary drummer Gary Mallaber. Mallaber has backed iconic American artists from Bruce Springsteen to Bob Seger to the Beach Boys, and "Cactus & Roses" finds him in classic form. Providing an inventive yet never intrusive backbone for Camozzi's unique lyrical touch.

Just as on his first 2 albums, Camozzi serves up a well-honed sense of human frailty and the inescapable failings that unite us all. It's tight hooks blended with reckless hopes and a healthy dash of regret, shaken and poured over a glassful of 1970's Texas songcraft. Raised by a father who was a prison psychologist and a mother who taught severely retarded children, it's not difficult to see where Camozzi's formative years found a foothold in the future songwriters mind. In the landscape of his songs, no one is perfect, and no one is bragging. We're all just struggling to survive. It's finding the beauty in that struggle that's the challenge. And it's a challenge Camozzi takes up with gusto.

Considered reclusive even by his most fervent fans, Camozzi betrays no regrets when asked about any future plans to perform more often. "Hell, I dunno", he shrugs as he knocks back another beer. "First and foremost, I'm a songwriter. I'm a lyric geek. I spent my youth reading the liner notes of every album I ever loved again and again and again. Now that I'm an artist, should I put more time into stepping onstage and shaking my ass? Maybe. But I'll have to consult with my ass first". And with that, the same cosmic laughter spills forth from behind his grizzled beard. For a moment, it feels like the jokes on you. But knowing Camozzi's song catalogue, it's clear, he knows the jokes on all of us.

www.facebook.com/victor.camozzi
https://myspace.com/victorcamozzi
Victoria Vox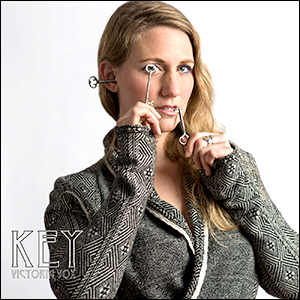 "We spend a lot of time in search of keys. Maybe it's the key to success... to happiness... or to someone's heart. As I searched for the right key, I found keys to songs, which opened the door to my own heart. I entered into a year of songwriting ("The 52 Original Song Project") where I unlocked my senses in order to create. I let music in and out. This collection of songs was chosen by producer, Geoff Stanfield and me. Each song holds a special place in my heart. This is simply a record of the time. Thank you for supporting my quest to grow, evolve, learn inspire and be inspired." ~ Victoria Vox

The Vignatis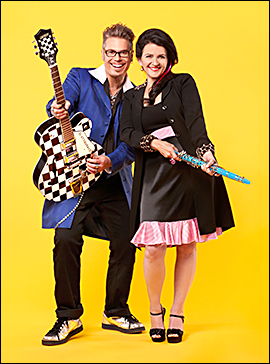 What happens when you mix the passion for rockabilly and gypsy music with the love for jazz and country music? You get a whole new genre called gypsybilly. The Vignatis have been rockin' their gypsybilly style for 3 albums. The aurally and visually colorful Los Angeles based group's dynamic performances charter audiences on a journey from nostalgic times to the unknown future. They innovatively fuse american and european traditions, musicianship and a sense of humor cleverly expressed in their songs. Their unmistakeable, neo-nostalgic sound is a natural musical union so diverse it avoids strict categorization.

Their latest album release, "Let's Hit The Road : Gypsybilly Vol 3" is a palate of american and european cultures combining an innovative, fresh approach with a solid rhythm section and even some beats, vocals, guitar and clarinet. The overall sound is seasoned by other distinctive instruments that paint a musical picture leaving audiences singing along, tapping toes or on their feet. The lyrics consist of topics from culture, geographic location, to overcoming personal struggles.

As prestigious voting members of The Recording Academy And Grammy Awards, The Vignatis have performed at many esteemed events and venues including The Grammy Museum, Emmy Awards Parties and recently opened for the renowned swing band, Big Bad Voodoo Daddy. Music is their lifestyle. Their goal is to share gypsybilly with the world by passing on to others the same joy they receive in creating it. Whether paying homage to their great musical influences or exploring the future, The Vignatis continue to blend the old continent, Europe, with the new continent, America, from studio to stage.
Vince Melamed


Vince Melamed has covered a lot of territory as a sideman and session player throughout his illustrious career. Now this world-class musician has finally settled in to record and release his debut solo album, 'WHAT MATTERS MOST', on Adroit Records.

Vince grew up in Los Angeles, and caught the show business bug at an early age. He formed a band at 14, and signed a record deal at the tender age of 16. His band, the Mugwumps, played every love-in and Sunset Strip-club in L.A., as well as appearing in and providing music for some low budget teen flicks.
But after a short-lived brush with success, Melamed decided to enter music school at CSUN Northridge. After graduating from college, where he co-hosted a radio show, Vince was back on the road as a sideman for Danny O'Keefe, then continuing on with Bobby Womack, David Ruffin, JD Souther, The Eagles, Rita Coolidge, Karla Bonoff, Glen Frey, Jimmy Buffett, Bob Dylan, Rosanne Cash, Rodney Crowell and Dan Fogelberg.

"I had been writing in L.A. whenever I was off the road and enjoyed some success," says Melamed, who during that time had cuts with Cher, Tina Turner and Phoebe Snow.

"I originally came to Nashville to work with Rosanne Cash, and that's when I began to write music seriously, and was fortunate to find a niche in this community of highly supportive and creative music people," recalls Vince about his decision to relocate. So in 1986, he packed up everything and moved to 'Music City'.

Success soon followed with a flood of songs recorded by Trisha Yearwood ('Walkaway Joe'), John Anderson ('Hillbilly Hollywood'), Jill Sobule ('Too Cool to Fall in Love'), Boy Howdy ('She'd Give Anything'), Restless Heart ('Tell Me What You Dream'), Ty Herndon ('What Mattered Most'), Gerald Levert ('I'd Give Anything'), Jimmy Buffett ('Souvenirs') and most recently, Phil Vassar ('I'll Take That as a Yes').

Vince is also is a founding member of the MCA Records' group Run C&W.

Now, Melamed's newest effort, 'WHAT MATTERS MOST', includes some of his country hits, but with a different twist. "I'm basically a rock 'n' roll guy, and Jim Tract (the CD's producer) at Adroit gets that," Vince says. "Jim brought in some great musicians for the sessions. The result is a CD that is infused with an alternative sound that is contemporary and dynamic and includes some of Melamed's favorite compositions that have yet to make it to the radio.
www.adroitrecords.com

www.vincemelamed.com

www.myspace.com/adroitrecords

www.myspace.com/vincemelamed

Vinny Fazzari
Rhythm has always been part of Vinny Fazzari's life. He started his musical journey on Catalina Island where his mother owned a nightclub. Early on, he realized a knack for bringing you into his musical landscape.

It has become increasingly difficult to come across something original in today's repetitive music world. Listen to Vinny Fazzari's music and you will be transported to a world all his own. The simplicity and the arrangement of the songs feel as though every instrument is in it's rightful place.

His new album, "Live Life Long", stays with you. From the infectious riff of the title track, to the ethereal storytelling of "Your Dress" and the devotion of "Hold Me Close Tonight". Vinny captures elements of his past, present and future. His 'singer songwriter with a twist' style takes you on a musical ride starting with the whistle of the train through the swampy blues, all the way to the closing farewell.

Vinny sings about living life longer through love, taking road trips and dreaming dreams, enduring challenging moments and coming home. Vinny's music digs deep inside revealing heartfelt emotions. One listen won't be enough as your heart will most likely ask you for more.
Viva Voce


Vanguard Records is excited to announce the signing of alternative indie rockers, Viva Voce - also known as – Kevin and Anita Robinson - and the release of their label debut, "The Future Will Destroy You" on June 21st, 2011. All songs on this new recording were written, produced and mixed by the Portland, OR, duo in their home studio.
"Viva Voce will continue to record, produce albums and tour until a force majeure keeps us from doing so. It is our great joy to now finally be on a label that has a history and lineage to match. We're lifers and it feels good to finally be at home", states Kevin Robinson.
Known for their hazy atmospherics and soaring guitars, the 10 tracks on "The Future Will Destroy You", represent some of Viva Voce's strongest songwriting and musicianship to date. "The Future Will Destroy You" marks Viva Voce's 5th recording overall. Kevin and Anita Robinson previously worked with Vanguard when they recorded under the moniker 'Blue Giant', featuring Chris Funk (Decemberists), Evan Railton (Swords) and Seth Lorinczi (Golden Bears) in 2010.
www.vivavoce.com

www.vanguardrecords.com/publicity
Wallis Bird

"The sheer visceral energy of Wallis Bird could kick-start an entire economy" ~ The Irish Times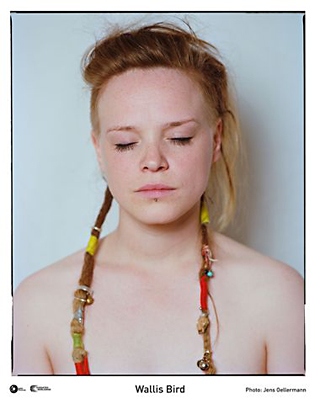 Wallis Bird is wild. Wallis Bird is unpredictable. And she is contradictory. The best way to sum-up an artist who combines so many different styles is with the person themselves - hence the reason for self-titling her new upcoming album.

A musical magpie whose mature, self-affirming songs display an unusual emotional breadth, Wallis defies categorization. The Irish artist has paid her dues, shredding her fingers and breaking string after string from the sheer force of playing on stages small and large across Europe, and throwing her entire soul into each performance with a level of energy that makes her an unassailable force of nature.

Wallis Bird cannot - and should not - be pigeonholed easily. Capable of the delicate, gossamer-thin ballads that her tiny 5ft2 frame would suggest, she can also summon up a whirlwind of passion and rage in the blink of an eye. Her performances can transition seamlessly from the defiant anthems that can motivate thousands of festival-goers into a rousing sing-a-long, to the most hushed and fragile ballads that can captivate an audience into a spellbound silence. Wherever you may find Wallis, she stands out as a contradictory, powerful presence, one that can unite audiences anywhere she plays.

"Wallis Bird" was written and recorded in three places that, while geographically separate, were all deliberately chosen to impose their unique atmospheres onto the songs. From the communist broadcasting station in Berlin of the former GDR where the government broadcast its propaganda until the Berlin wall came down; to an isolated ghost ridden cottage on a godforsaken cliff edge in Ireland during the worst snowstorms in thirty years; to her own flat in Brixton, South London against a backdrop of screaming sirens and looting as the London riots threatened to overrun the city. The result is a record that strives to makes sense of the chaos around us all.

A double Meteor Award winner in her native Ireland, Wallis Bird's new album is her third and follows her debut 'Spoons' and 2009's 'New Boots', both of which saw her garner critical acclaim and tour with the likes of Billy Bragg, Gabrielle, The Feeling & Rodrigo y Gabriela. Bird has also played some of Europe's biggest festivals, with her recent appearance at Paris' Rock En Seine Festival prompting one of France's biggest daily papers, 'Le Monde', to hail her performance as one of the highlights of the festival alongside Arcade Fire. An exceptional guitarist, her unique playing style only adds to the intrigue of her performances. Following a childhood accident which permanently damaged her left hand, Bird learned to play her instrument flipped back to front, thus having to create her own bafflingly complex chord fingerings, much to the bewilderment of any musicians in the audience.

The new album 'Wallis Bird' marks another progression, a record deliberately self-titled to mark it out as the defining statement of her career so far. So the confident strut that opens the first single 'Encore' nestles alongside the astonishing vitriol of 'Who's Listening Now', the folky pledge of 'In Dictum' and the almost carefree 'Heartbeating City' – all disparate musical elements that go towards creating the whole that is Wallis Bird as a songwriter. The intimacy of the recordings captures the sound and smell of an acoustic guitar being pushed to its physical limits, the sense of a packed-out local bar being conducted in time and in thrall to the energetic, captivating presence who marshals every element.

This is Wallis Bird, an unpredictable artist who chooses her own path and beckons us to follow.
www.wallisbird.com

www.karakter-worldwide.com
Walt Wilkins & The Mystiqueros
San Antonio-born Walt Wilkins has been called a genius, more than once, and a writer the caliber of John Steinbeck and his voice as comfortable as a pair of old blue jeans, and he is, and has, all of that. His crafting of story-songs, hard-edged vocals to sing them and a plaintive guitar have made him a fixture of the Texas music scene (and Nashville before that). He's put his magical touch on recordings by new and veteran artists, too many to count.
With The Mystiqueros, Wilkins has created something of a "Texas Hill Country super-group" that features five great singers and four great songwriters from the heart of the Lone Star State, all of whom have made their own records and are flush with recording credits.
Onstage and in the studio, Wilkins is joined by Bill Small (bass, percussion, acoustic guitar), John M. Greenberg (electric guitars), Ramon Rodriguez (drums, percussion) and Marcus Eldridge (electric guitars). Live performances around Texas are being likened to both outlaw country and classic rock bands, and they're captured on DIAMONDS IN THE SUN, released July 24 by Palo Duro Records.
Wilkins says this is the most fun he's ever had playing music in a band in 30 years. He describes the music of The Mystiqueros (nicknamed mq5) as highly reminiscent of '70s country rock from Texas and the West Coast and blues and soul that members grew up listening to and features high-quality songwriting and musicianship, rhythm, and vocal arrangements.
Small, who wrote and sings the new album's title track, "Diamonds in the Sun," was born and raised in New Jersey, and lived and worked in New York City, Boston and Nashville before Austin. He had played with both Eldridge and Greenberg and had done a gig with Wilkins. "So we all knew each other," he says, "and once we all got on stage together, it became obvious that it was the thing to do."
Greenberg, a busy first-call guitarist, singer and producer around the Hill Country with four solo records, was born and raised in Oklahoma. He contributed the song "Red River Blues" to the album and describes The Mystiqueros as "the band every kid wanted to be in" back in the '70s music world of rock 'n' roll, country & R&B: "You were generally partial to one, and I was a rocker. But that's the coolest part of being a Mystiquero! There are all three elements on this record, and that's why it was plausible to put a rockin' song like 'Red River Blues' on the same album next to a great country song about Hank Williams."
Eldridge, a well-respected guitarist in Texas born in Tomball who's made two soulful solo records, put his clear tenor voice to Wilkins' "All These Memories" for DIAMONDS. He believes playing in The Mystiqueros is a rare opportunity. "There are no more bands like this left on the planet. … We all do what we do, bring it and blend it with the other talents in the band," he says. "This kind of a thing is not planned, it just happens."
Rodriguez, who grew up in Brownfield and has worked with several young Texas bands and artists, sang back-up on "Big Shiny Cars" and a small part on "Honky Tonk Road" on the album. He calls the band "a powerhouse" and the record a timeless thing, modern but with a vintage feeling. As the youngest member of the band, he jokes that he can still cut his own meat and that he pushes the others with his grooves and his beat to stay up late. "We have fun on the road," he says. "It shows in our shows."
For Wilkins — from his first musical influences as an Air Force brat, to his first band at age 15 to writing his first song (homesick while studying in the seminary) to playing own songs and writing in Nashville to his first album and producing others' — The Mystiqueros might just be about coming home, at last.
Wanda Jackson
"She's like my rockabilly Etta James. I love her, she's so brilliant. I don't think 'Rollin' In The Deep' would exist if it wasn't for Wanda Jackson" ~ Adele

"Wanda Jackson, an atomic fireball of a lady, could have a smash hit with just about anything" ~ Bob Dylan

"There's an authenticity in her voice that conjures up a world and a very distinct and particular place in time. It's not something that can be developed" ~ Bruce Springsteen

'Unfinished Business', the new album from legendary singer Wanda Jackson, will be released October 9th, 2012, on Sugar Hill Records. This is Jackson's 31st studio album and marks the producing debut of fellow renowned musician and songwriter Justin Townes Earle. Of working with Earle, Jackson comments, "From day one I really liked Justin's idea to take me back to my roots and make a record of country, blues and rockabilly songs. The band was extra tight and great to work with during the whole process. The record just sounds terrific and I'm hoping that my fans enjoy listening to it as much as I enjoyed making it".

'Unfinished Business' continues Jackson's unparalleled five-and-a-half decades of influential and groundbreaking music making. Recorded in Nashville at House of David Studios in early 2012, the 10-song album features renditions of "California Stars" (Woody Guthrie, Jay Bennett, Jeff Tweedy), "Pushover" (Billy Davis and Tony Clarke), "It's All Over Now" (Bobby and Shirley Jean Womack) as well as a duet with Earle on "Am I Even A Memory" (Greg Garing).

The new album follows Jackson's 2011 Jack White-produced 'The Party Ain't Over', which received both widespread critical and commercial acclaim. Of the record, NPR Music raved "At 73, she still exudes a youthful sound and spirit, and decorates her unique voice with an effortlessly deep and gravelly swoop at the most unexpected times", while The New York Times noted Jackson "still sounds fantastic, and her gnarled, feisty vocals are a good fit with Mr. White's scrappy production". Moreover, the album found Jackson enjoying her first ever charting on the Billboard 200 chart, peaking at #58. Jack White declared "Jackson is influential to every modern female singer, whether they know about her or not. She broke down those walls in the beginning, when it was the hardest to do".

After performing to sold-out audiences across the country last year, including a 10-city tour supporting Adele, Jackson embarks on a series of performances this fall, including a special show at New York's Highline Ballroom on October 12. Critically praised for her recent live shows, The Los Angeles Times claims "…she's still fired up with power and sass", while the Minneapolis Star Tribune adds "Holy moly, what a powerhouse. This tiny woman in red fringe and jet black hair can still sing with the same power and pizazz of the girl a quarter her age. Her voice still shifts effortlessly from warbly to scratchy to clear as a bell, and still has that girly then sultry then girly then again sultry quality about it".
www.wandajackson.com

http://publicity.sugarhillrecords.com

Won't Be Home For Christmas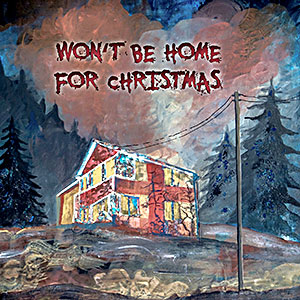 By the time the frost hits the pumpkin, there typically is no shortage of new Christmas albums from the usual suspects singing, for the most part, the same old spiritual carols and secular classics.
And then there's "Won't Be Home For Christmas".
The compilation CD, conceived and produced by Swedish music industry veteran Peter Holmstedt, brings together compositions from 18 different singer songwriters, each of whom approach their assignment to 'write a song about Christmas' in widely different musical stylings.
To be sure, there are no Justin Beiber's here singing "Away In A Manger", no Reba McEntire's twanging out "Joy To The World", there are, however songsmiths from around the globe, from Dublin to Austin to South Australia to Nashville, who weave together a deep playlist, which veers from dark to cheery to twisted tunes, from introspective musings to the tender wonderment of a miraculous life. And there's even a lullaby.
Some of the songs have a retro vibe to them, harkening back to a Dean Martin mood or 50's jump blues jazz or Irish balladry. Some are straight on acoustic folk ballads. There's some soft rock. And some, as are many a good song, are hard to pigeon hole. There are pure Christmas songs and a few that give it a passing mention, while others give emotional snapshots of life stories within the seasonal time frame.
"I'm a big fan of compilation albums, and I had the idea of reaching out to singer songwriters I know and admire and asking them to write a song with a Christmas hook to contribute to the project", Holmstedt said. "I was interested to hear what interpretations they would come up with, and I was delighted at the response".
Holmstedt brings back 3 of the 4 artists featured on his well received 2015 compilation, "Hidden Treasures – Singer Songwriter From Home", Keith Miles (Nashville, TN), Barry Ollman (Greenwood Village, CO) and Bob Cheevers (Austin, TX), and their contributions to "Won't Be Home For Christmas" exemplifies in a roasted chestnut shell the stylistic divergence contained throughout the CD.
Miles, joined again by his partner in rhyme, Jack Sundrud, croons a sweet seasonal lullaby with an infectious tune, "Sweet Christmas Dreams", featuring perfectly understated steel guitar and sleigh bell percussion that makes it hard to resist hitting the replay button, Ollman brings his steely smooth vocals and storytelling prowess to "Winter's Light", about mind's eye memories of simpler times, and Cheevers' take on "The Spirit Of Christmas" is a hauntingly uplifting holiday tale if there ever was one, where he meets a good woman, with teenage kids, 'one's on the pipe, one's on the pole'. Spoiler alert, there's a happy ending. It's Christmas, after all.
The CD opens with Elliott Murphy's hilariously twisted tale of his bipolar cousin Linear coming to visit while being off his medication and having delusional thoughts of murdering the narrator. When they show up at a family Christmas dinner, everything goes awry before a quick slap from mom saves the day.
It ends with Citizen K performing the title track, "I Won't Be Home This Christmas", which starts with a slow build that breaks into 60's style English boy band toe tapper that will leave you smiling ear to ear.
In between there are plenty of jewels, Kaurna Cronin weaves a gentle, almost hymn like landscaping about his homeland Australia's unique traditions in "Pavlova (Too)", Rambling Nicholas Heron provides Irish vibrato about "Wee Lanterns Of Snow", and Paul Kamm's "Where Are You Going Tonight" speaks to the sometimes bitter loneliness of the season, which can be soothed with a helping hand. Annie Gallups' lovely "Christmas On The Train" documents her departing New York on Christmas Eve for a cross country trek that turned out not to be a not so lonely holiday excursion.
There are songs filled with memories of past loves, like Kenny White's well strummed "Christmas Day", Jude Johnstone's heartbreaking "I Guess It's Gonna Be That Way", and Janni Littlepage's emotional "Now That Winter's Come".
Perhaps the most touching song on the CD is "Miracle Mabel", by UK duo My Darling Clementine, which begins "This is not a song for Christmas, there is no manger or a stable, but there is a bright star, and a Miracle Mabel", about the couple's own 'immaculate conception'.
Adding to the warmth of the collection is Mikael Persson's Richard Butler-esque vocals on a beautifully rendered "This December Night", and Jack Tempchin, channeling his inner Perry Como with lounge piano and horns that make you want to snuggle up with a warm hard cider. Likewise, Mudfish's slow walk through a simple tune, "Winter's Come To Life", has you pleasantly reaching for one more nightcap.
But it's not all laid back, The Refugees' "This Christmas" is a rocking number featuring tight guitar licks and 3 way harmonies reminiscent of modern day Andrews Sisters, and Fassoux unleashes a delightful rockabilly number, "Christmas Ain't Christmas", featuring a toe tapping call and response chorus.
"Won't Be Home For Christmas" not only offers a change of holiday ear scenery, it brings a well woven collection of strong songs that listeners will enjoy all year round. For fans of the singer songwriter genre, and fans of authentically good music, it may just become one of your favorite albums of the year.
~ Roger Shirley
Watermelon Slim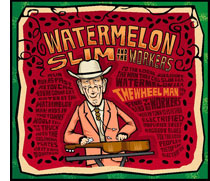 "Watermelon Slim incarnates the deepest and truest roots of American music. Combine Jimmy Rodgers, the Carter family & Bob Wills with Blind Lemon, Sonny Boy Williamson and Wilson Picket - and you have Slim - a one-of-a-kind pickin'n'singin Okie dynamo."

- Jerry Wexler, legendary producer -
Bill Homans, a.k.a 'Watermelon Slim' has a storied past from which he draws experience and fodder for the fourteen tracks on his latest release The Wheel Man on NorthernBlues Music.
Watermelon Slim first appeared on the music scene in the early 1970s as the only Vietnam veteran to record a full length LP album during the Vietnam war, a 1973 protest-tinged "underground" release entitled Merry Airbrakes.
In the subsequent years his original material has been reissued and performed by anti-establishment icons such as Country Joe McDonald. He developed friendships and musical bonds with Barbara Dane, roommate Henry 'Sunflower' Vestine of Canned Heat, and his dear fishing buddy, seminal Chicago blues harp plyer 'Earring George' Mayweather.
In his 30 years of music he has played with Vestine, Bonnie Raitt, Robert Cray, the late John Lee Hooker, in Paris with expatriate New Orleans barrel-house piano player Champion Jack Dupree, Boston's leading blues guitarist and producer Chris Stovall Brown, and most recently with Muddy Waters' guitarist 'Steady Rollin' Bob Margolin.
But not until recently did he fully chase the dream.
Less than six months after leaving his most latest truckdriviing job, hauling industrial waste, Slim is now making a living as a full time touring bluesman. The decision was predominantly the result of a recent and nearly fatal heart attack, and the renewed perspective on mortality that followed.
Logically, why drive industrial waste around Oklahoma to dispose of when one can drive bandmates around the United States to play music and entertain? Pleasingly, the blues community has officially recognized him as one of the best contemporary blues artists with a nomination for a 2005 W.C. Handy Award for Best New Artist Debut.
Watermelon Slim & The Workers received 6 Blues Music Award nominations in 2006 and Slim was inducted into the Oklahoma Blues Hall of Fame on May 26th, 2007.
"The Wheel Man" available here:
www.rootsy.nu

Wendy Waldman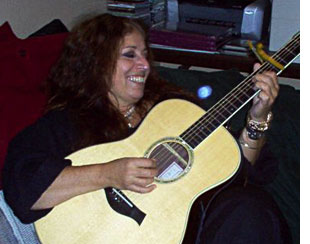 Wendy Waldman is a critically acclaimed recording artist, as well as a writer of multi-platinum songs for other singers in musical genres ranging from country to pop, film, jazz, children's music and R&B. She is one of the first woman record producers to have a major impact in the music industry. Wendy Waldman's career in the music business started with her band, Bryndle, in the early 1970s in Los Angeles. Bryndle was made up of Wendy Waldman and her friends Karla Bonoff, Kenny Edwards, and Andrew Gold.

Waldman's solo career had an auspicious beginning. The first Wendy Waldman album, "Love Has Got Me," was released by Warner Bros. Records in 1973 and proclaimed by Rolling Stone Magazine to be the "singer-songwriter debut of the year." She has made eight critically acclaimed solo albums and toured extensively as well. In 1996, a "best of" collection was released on Warner Brothers, followed by the reissue of all of the Warner albums in 2005.
More than 70 other artists have recorded her songs in fields as diverse as pop, R&B, jazz, country, film, Latin and cowboy music. Among her biggest records are "Save The Best For Last" and "The Sweetest Days" by Vanessa Williams; "Fishin' In The Dark" and "Home Again In My Heart" by the Dirt Band; "Baby What About You" by Crystal Gayle; "I Owe You One" by Aaron Neville; "Heartbeat" by Don Johnson, "I'm Gone" by Alison Krauss, and most recently, "Fishin in the Dark," released on Garth Brooks' new box set.

Her songs have also been recorded by Maria Muldaur, Robert Smith of the Cure, Linda Ronstadt, Kim Carnes, CeCe Winans, NewGrass Revival, Randy Travis, Randy Meisner, Edgar Winter, Jesse Colin Young, Percy Sledge, Kenny Rogers, Judy Collins, Melissa Manchester, Rita Coolidge and Bette Midler to name just a few. Waldman became the first woman to produce country music extensively and was responsible for Susy Bogguss' award-winning debut album, as well as projects for the Forester Sisters, Jonathan Edwards, Sweethearts of the Rodeo, Matraca Berg and the Ozark Mountain Daredevils.
Waldman produced the last New Grass Revival album, "Friday Night in America," considered a tour de force in the acoustic music world. In recent years she has focused on producing independent artists, among them Ronny Cox, Brian Joseph, John Cowan, Arthur Lee Land, Anna Wolfe, Katy Moffatt and Rosie Flores, and has coproduced all three of the Bryndle cds which have been recorded since 1995. The most recent project is a live acoustic album for the Los Angeles based rock band Hypnogaja, and she is currently in the studio with the legendary folk/jazz artists Artie Traum. After many years, a new Wendy Waldman cd is finished and will be released in the summer of 2006.

Waldman is the only female musician in the Taylor Guitars clinician program and is in demand for her songwriting workshops/performances. She also tours extensively as a solo artist and in combination with other friends, all across the country and in all kinds of venues.

As a true veteran of the music industry, Wendy Waldman imparts a sense of great joy and passion about all aspects of music making.

Wendy Webb
American singer songwriter Wendy Webb releases her 5th studio album "Step Out Of Line" on Spooky Moon Records. Songs written under a Nashville skyline with an urban attitude attracted legendary musicians Wayne Jackson, David Grissom, Mark T Jordan, Willie Weeks and Dan Dugmore to record with Webb. The record consists of 9 original songs along with a haunting electric piano rendition of Bob Dylan's 'Girl From The North Country', a stunning tribute that pays homage to her Midwestern roots. The recordings took place in a private residence in Nashville where Webb co-wrote and co-produced with engineer Mark Keller.
Webb says, "Having a house in town made the recording more organic and convenient for studio players to stop by after their day sessions to play on what I thought were some artful demos. Imagine the thrill of hearing Wayne Jackson, founding member of the Memphis Horns, blow that incredible trumpet solo on 'Step Out Of Line' in the living room, and know you captured that performance. Jim Horn played sax on 'Destiny's Muse' in the dining room. I sang and played piano on Dylan's 'Girl From The North Country' live in the living room and Dan Dugmore added the gorgeous pedal steel solo. Each musician's contribution was over the top. It was an extraordinary experience and very exciting".
Originally from Iowa and self taught on guitar and piano, Wendy moved to Los Angeles where she was fortunate to meet Joni Mitchell's engineer, Henry Lewy, who offered her studio time and mentoring. She recalls, "That's when I learned about recording and my own performance".
West Of Eden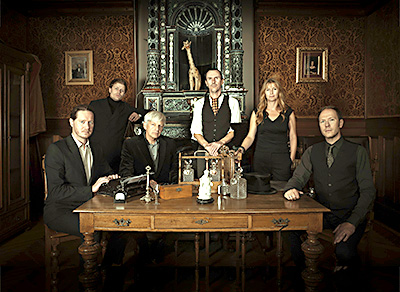 It was in Beijing, China, during West of Eden's 2017 anniversary tour, that the first songs for "Flat Earth Society" were written and plans were drawn up. Why not pack the instruments and travel around Scotland and England to make our next album together with some of the best folk and trad musicians from the British Isles?
And so it was that West of Eden went on a week long road trip last summer, recording new music in places ranging from whisky distilleries to churches, joined by John McCusker Heidi Talbot, Damien O'Kane, Duncan Chisholm and Jarlath Henderson.
When we were sitting there in our tour bus, we often felt like members of a strange, private society, a bit out of step with the times. Ignoring new discoveries and disregarding what's hot and what's not, we keep on stubbornly writing our songs and dragging around our acoustic guitars, accordions and fiddles. We're almost like a "Flat Earth Society"!
17 tracks were recorded, of which 12 ended up on what is West of Eden's 9th studio album. A collection of songs beginning with the title track's litany over love lost, to continue into the folk rocky 'The Dwindling Of The Day' about holding on to the memory of someone who is no longer present.
But, of course, all is not despair. 'Horsehoofs & Primroses' brings promise of new beginnings, and in the first single 'Old Miss Partridge' it is easy to mistakenly believe that Jenny and Heidi Talbot accidentally stumbled across a classic British folk tune.
The record ends with the instrumental 'Rowbotham's Map' where Lars' fiddle meets the Knopfler influenced guitar of newest member Henning, fusing Swedish and Scottish folk music. Everything recorded live in The Old laundry, overlooking Lake Glenfinnan. After that, we packed our gear and went back home, suitcases filled with memories, meetings and the songs that were to become "Flat Earth Society".
www.westofeden.com

www.facebook.com/westofeden

White Owl Red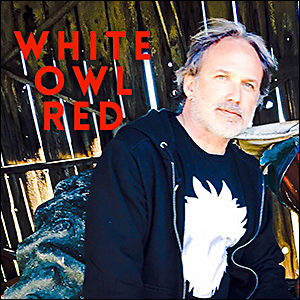 "Delightful. Dylanesque. McManus is a wordsmith. Sweet delivery and the ability to craft memorable language that sticks in your mind", writes music critic Jeff Monk. His songs "take the listener on a fascinating americana trip, recalling young Dylan", exclaims music critic, Cis Van Looy in Written in Music. Joseph Timmons of Indie Pulse Magazine adds, "the modern space cowboy's collection of personal anthems, a blissful selection of roots americana songs with a taste of the Appalachian foundations".

This musical sensibility is the pulse behind the raw and rumbling, incisive yet ultimately hopeful new track "Working Class Heroes", a pre-release from White Owl Red's 4th studio album "Afterglow", set for release in early 2020. Inspired by the reality that musical anthems can make social movements more powerful, singer and songwriter Josef McManus wrote the song "Working Class Heroes". The title gives a nod to John Lennon's song "Working Class Hero".

This song captures the hope and determination that working people have by combining forces 'to make things a little better'. The lyrics of "Working Class Heroes" makes early historical references to the labor movement, from the founding the British Socialist Labour Party in 1903, and the IWW in 1905, to Senator Joe McCarthy's 'Red Scare' political smear tactics and character assassinations of the 1950's. The song goes on to declare 'come on all you working class heroes, let's stand up for truth, love and dignity'.

White Owl Red's unique musical aesthetic, combined with deeply felt social and political awareness fuses alt country, heavy on the alt, and americana influences that at once move the genres forward while paying homage to their diverse roots. As Darryl Sterdan of Tinnitist writes, White Owl Red 'maintains the high standards and timeless traditions of American folk music'.
White Owl Red is the indie music vehicle for artist Josef McManus to forge his lyric driven songs into musical gems that fly over the airwaves in the dialect of hybrid American roots music. He honed his craft on the open mic circuit of bars and cafes from his native Portland, Oregon, to his current home base north of San Francisco. Currently he works with a small team of seasoned musicians crafting the White Owl Red sound. Singer and songwriter Josef McManus began writing folk songs at The Old Town School Of Folk Music in Chicago, with a distinctive alt country flavor reflecting diverse influences ranging from Willie Nelson, Leonard Cohen, Townes Van Zandt, Waylon Jennings, Nirvana and Velvet Underground.
Peter Barbarich of PRVI states that White Owl Red manages to 'capture all the musical innovation of the Californian west coast scene from the 2nd half of the 1960's and put it into an updated form for half a century ahead'. White Owl Red's musical alchemy propelled the recent full length album "Existential Frontiers" to extraordinary critical acclaim garnering crossover airplay on americana, alt county, traditional country, folk, roots and college radio stations throughout the US and Europe. Music Existence called it a 'stunning new album, one of the most uncompromisingly addictive new releases I have heard in a very long time'. The album was hailed by music writer and critic David Masciotra as a 'an album of philosophy meets alt country'. Music critic Bobby Moore wrote, "Existential Frontiers" 'tackles deep questions with a postmodern attitude'. Alan Fitter of Americana UK writes, 'there are certain albums that cry out to be the soundtrack to a long road trip and White Owl Red's Existential Frontiers is one of those'. Marino Serdons of the Belgian music webzine Keys & Chords adds, 'stunningly Beautiful, more powerful than Jack Daniels, so diverse, so emotional, so melodic, so honest!'.
White Owl Red's critically acclaimed current album "Existential Frontiers" is currently spinning on radio stations, and playlists worldwide with all its songs having charted on the Americana Music Association Chart (AMA). "Naked & Falling", the 2nd studio album by White Owl Red received international acclaim and airplay in 2017 and 2018. It charted on the AMA top 100 Chart, the FAR Chart top 10 and the Root 64 airplay chart top 20. "Naked & Falling" was distinguished in the top 100 albums of 2017 by Alternate Root Magazine. "Americana Ash", the 2014 debut album by White Owl Red charted and remained on the AMA charts for 14 weeks.

Whitehorse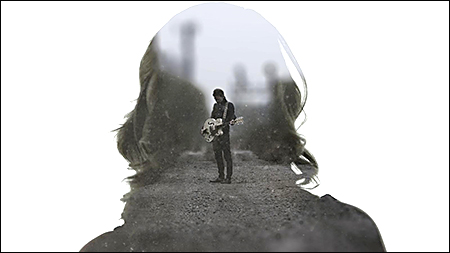 Where there's smoke, there's fire. "Leave No Bridge Unburned" sees Whitehorse shaping a bigger, bolder rock sound. Any lingering assumptions that the two are working within the boundaries of a folk duo should be put to rest. "Leave No Bridge Unburned" is a fiery, forceful and finely tuned album. While there's more in the mix now, more people at the board, more sonic swagger in the ears, Whitehorse will continue to be a story told of intimacy and passion. Two musicians, one band, no looking back.

Opening track, "Baby What's Wrong", is the story of a creepy lover told with an evil twang, an even darker version of Calexico's "desert noir". The mariachi trumpet of "You Get Older", about a human smuggler with an existential side, also conjures the burnt-out border towns, stray dogs and rooster crows that populate spaghetti westerns, southern gothic novels and dusty post- apocalyptic landscapes.

Whitehorse formed in 2010 by husband and wife solo musicians Luke Doucet and Melissa McClelland. The two toured in each other's bands for years, but they put aside their award winning individual careers to build a new band out of their exceptional guitar playing, his and her harmonies and a flair for dramatic, narrative songwriting. Whitehorse has since been nominated for the Polaris Short List (2013) for "The Fate Of The World Depends On This Kiss", played sold out shows across Canada and established itself in the USA as a band to watch with stellar reviews and coverage running in The Huffington Post, Relix, American Songwriter, CMT Edge, Garden & Gun, Blurt and much more.
http://sixshooterrecords.com/artists/Whitehorse

Whitherward
Whitherward is a full time indie folk touring trio out of the United States. It began with the partnership between Nashville songwriters, Ashley E Norton and Edward A Williams, and now the addition of violinist Stephanie Groot. The group decided to hit the road permanently, embarking on several multi week tours, never settling anywhere and living to play music they love for people who love music. Compared to a modern day Simon & Garfunkel, or maybe The Civil Wars, with influences of rock, folk, jazz, classical and singer songwriter. Whitherwrd is touring with their 5th album release and multiple music videos.
Will Hoge


On January 26, 2010, venerated songwriter Will Hoge steps to the fore with 'The Wreckage,' (Rykodisc/ADA), his most impassioned album of rugged and powerful rock and roll to date. The new album, Hoge's first since 2007's acclaimed 'Draw the Curtains,' features eleven new songs of heartfelt choruses and raw, emotive power that curse life's wrong turns and celebrate its triumphs.

Recorded at Nashville's Sound Emporium with producers Ken Coomer (Wilco, Uncle Tupelo) and Charlie Brocco (George Harrison) and mixed by Jim Scott (Tom Petty, Rolling Stones, Johnny Cash), the new album was crafted with a depth of sound and musicality that undeniably breaks new ground for Hoge.

Routinely performing 200 + dates per year, Hoge was temporarily sidelined by a serious traffic accident in 2008 on his way home from a recording session. After spending several months recuperating, he completed the album and recently returned to the stage with a string of sold out hometown shows in Nashville.

Will Hoge will return to Europe in January 2010 for a number of live dates to promote the album.
www.willhoge.com

www.myspace.com/willhoge

Will T Massey
"I traded my shotgun for studio time, to a guy who lived on the edge of town, that was one. Some guys from Austin and I travelled out to West Texas. There was an older fiddle player with me, and a negro woman. That was two. Jesse Taylor and I did some studio work together out in Lubbock. A bunch of other people were involved, that was three. I met Bruce Springsteen, making four, in L.A. I still owe him money for some studio time. 5 and 6 were solo's. The objective was to have some relationship with an audience. I got the Sexton brothers together on 7, back in a big studio. The Eastside Flash and I got together on 8, comfortable, cerebral working, crafted instrumentation, rootsy. Lost a love and made number 9. Lost a friend working on it. Dig it. Others, you know I'm spinning 'em." ~ Will T Massey
Wyckham Porteous
West Coast artist Wyckham Porteous has recorded a new album for Cordova Bay Records that was produced by Andrew Loog Oldham last winter in Vancouver.

Oldham left school at sixteen to work for fashion designer Mary Quant; became a publicist who helped Brian Epstein promote the Beatles in their early days; and helmed the Rolling Stones' rise to glory as their manager. He spends part of his time each year split between Vancouver, British Columbia and Bogota, Colombia.


Porteous, born in Victoria, British Columbia, schooled in Nanaimo and lives in Vancouver but has been a world traveller supporting previous albums that have been released in the US, UK, Canada, Italy, The Netherlands and Germany. Previous releases have reached the Top Ten on the Gavin Report's "Americana" chart and the video for the title track of his last release was in the National Canadian Bravo Top Ten list for 20 weeks.

In theatre, Wyckham has received back to back Jesse nominations for "Outstanding Sound Design" and "Original Composition".

He and Oldham have created a quiet, comfortable record that mostly features Wyckham's original tunes. However, Oldham remembered his early days in the business when he worked for The Beatles and felt this album should include a cover of "Please, Please Me", but recorded as it was meant to be when it was written. Originally it was a tribute to Ray Orbison and copied his slow and methodical way. George Martin requested that the tempo be upped considerably for The Beatles released version.

Playing a hunch, the track was previewed on two BBC Radio 1 programs in late winter generating a tremendous response from listeners. With just 3 spins each on two shows over 500 emails were generated demanding that the track be released for sale to the public. With the album completed, titled "3 AM", it will be scheduled for release shortly.

www.wyckhamporteous.org

www.cordovabay.com
Zachary Richard
Singer, songwriter, poet, cultural activist, environmentalist, Zachary Richard is best known as recording artist and performer. With 20 albums on his roster, including several gold and platinum albums, his musical career is international.
In 1996, Zachary Richard founded Action Cadienne, a non profit organization devoted to the promotion of the Acadian culture and French language of Louisiana. In March, 1997, he is decorated Officier de l'Ordre des Arts et Lettres of the Republic of France. That same year, he is initiated into the Ordre des Francophones d'Amérique by the government of Québec. In the course of his career he has received 4 honorary doctorates from the University of Moncton, New Brunswick, the University of Louisiana at Lafayette, l'Université Ste Anne, Nova Scotia, and the University of Ottawa, Canada.
In response to the devastation of Hurricane Katrina in 2005, Zachary Richard founded SOS Musiciens to come to the aid of the musical community of Louisiana. In 2009, he is decorated with the Order of Canada, one of very few Americans to receive Canada's highest civilian award. Following the Deepwater Horizon catastrophe of 2010, Zachary Richard founded Gulf Aid Acadiana to help restore the Louisiana coast and support its communities. The Cercle Richelieu Senghor awards him the Prix Richelieu Senghor in a ceremony at the Senat de France in 2013. In 2015, Zachary Richard is named Humanist of the Year by the Louisiana Endowmment of the Arts. The following year he is decorated Officier des Palmes Académiques by the Republic of France and promoted Commandeur de l'Ordre des Arts et Lettres.
Zachary Richard is producer, narrator, and composer of several television documentaries. In 2000, 'Against The Tide', the story of the Cajun people of Louisiana is awarded Best Historical Documentary by the National Educational Television Association, USA. The French version, 'Contre Vents, Contre Marées', is awarded the Prix Historia by the Institut d'Histoire de l'Amérique Française in 2003. Other documentaries will follow, 'Coeurs Batailleurs', a 26 part series that investigates the Acadian diaspora around the world, and 'Migrations', which studies bird migration in North America and is awarded the Liriot d'Or, first prize, at the Festival International du Film Ornithologique of France in 2008.
More recently, Zachary Richard narrated and composed the music for 'Kouchibouguac', which examines the social upheaval that accompanied the expropriation of 250 Acadian families for the creation of a Canadian national park. In 2016, in the award winning documentary 'Cajun Heart', Zachary Richard explores his roots and examines the nature of Acadian and Cajun identity into the 21st century. In 2017, Louisiana Public Broadcasting, LPB, broadcasts Attakapas, the Cajun Story, a multimedia concert with tells the story of the Acadian and Cajun people of Louisiana in song.
Fiercely attached to the French language and Acadian culture of his native Louisiana, Zachary Richard is the author of 4 children's books, as well as 4 volumes of poetry, 'Faire Récolte'received the Prix Champlain and Feu the Prix Roland Gasparic in Bucharest, and the History of the Acadians of Louisiana, UL Press. He is Louisiana's first French Language Poet Laureate.
New album "Gombo" to be released in late 2017.
www.zacharyrichard.com

twitter.com/ZacharyOfficiel
www.youtube.com/user/ralphzachary?feature=mhee
www.facebook.com/ZacharyRichardOfficial?ref=hl

Zan Zone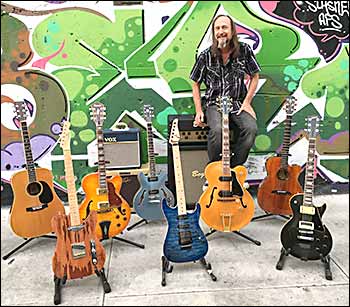 New York City has long been a place to inspire artists. Countless 1000's have tried to claw their way up a slippery slope trying to get some kind of recognition in a city that sets the highest standards for artists, yet also puts up roadblocks at every turn. For over 20 years, under the somewhat international sounding moniker, Zan Zone, songwriter and guitarist Zan Burnham has been putting together various musical endeavors in that city, releasing 3 albums and 2 EP's. Recognition has been slow, yet, still positive. As many have observed, overnight success usually takes years, or decades.
Back in 1995, Zan Zone released 1st CD, "Zan Zone", to critical acclaim. The Musician's Exchange called the eponymous album, "Way cool, truly an original CD, the playing is first rate and so are the grooves and songs, it's wonderful and a definite keeper". Time And A Word said, "This very cool little album is an impressive debut disc". The Music Paper noted its variety and excellent production. Performing Songwriter said that Zan Zone "has something to say", and Rockline's Guinnevere simply stated that, "this is one of the best CD's I've reviewed. The music is solid, the vocals are great, and I think everyone should check them out".
In the 1990's, Zan Zone frequently performed at New York clubs such as CBGB's, New Music Cafe, Kenny's Castaway, Lone Star Roadhouse, Fat Tuesdays, Bitter End, Arlene's Grocery, Pyramid Club, Village Gate and numerous others.
Together since the early 1990's, the band found that a few years after the album was released, incipient marriages and babies caused the band to splinter and re-group a few times. While a 3 song EP was released in 1997, the pressures of everyone's family lives finally put a halt to that version of the group in 1998. Zan continued to practice and write music while gut renovating a 100 year old house in Brooklyn, New York, where he currently lives.
In 2005, he finally released a 2nd Zan Zone EP, 2005's all solo, "Watching The World". He followed that in 2009 with an all acoustic CD, "Time And Materials", which was recorded with a trio that, unfortunately, barely stayed together for 2 years.
Regrouping, in 2013, Zan Zone released the double album length project, "Shorts". The 73 minute project utilized 19 musicians and singers, recording 13 songs over a 3 year period. Critics responded, calling it, "inventive, funny, infectious, intelligent, catchy", "an unprecedented cornucopia of various musical styles, designed for people who are interested in the unusual and enjoy looking outside of the box", "an album with very clever songs that deserve to reach a wider audience". At least some folks got it…..
Now, in 2018, Zan Zone is releasing "It's Only Natural", a true rock'n'roll record in the tradition of many of the great classic rock bands. This is rock you can dance to, sing to and still rock out. It will groove you and move you. "It's Only Natural". Remember when rock was great? Now, it's great again!

Zoe Schwarz Blue Commotion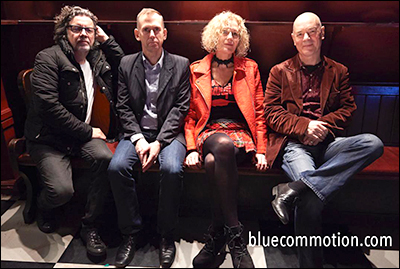 Zoe Schwarz Blue Commotion have been gigging and recording together since February 2012, it's been a very fertile and productive time, with 'This Is The Life I Choose' being the band's 4th studio album, all of which are full of potent and diverse original songs. Add to this two live albums and it is obvious that the musical chemistry and drive of songwriters Zoe and Rob will not let the band stagnate for a moment. The individual CV's of the 4 musicians is second to none on the British music scene. Zoe Schwarz Blue Commotion have made a name and reputation for consummate musicianship, stylish delivery, and a deep rooted, rich and diverse musical vocabulary.