GRAHAM NASH : A MAN IN THE MIRROR

Interview and Photos by Francesco Lucarelli
A couple of years after David Crosby's box set "Voyage", Rhino Records celebrates the career of Graham Nash, releasing "Reflections", the second in the trilogy of three-disc anthologies of Crosby, Stills & Nash. The box set, released on February 3rd, the day after Graham's birthday, features the much-appreciated bonus of twelve new tracks (six unreleased songs and six alternate versions) and it is the appropriate tribute to the opus of a fascinating artist and sensitive balladeer.

The selection is well organized and it reaffirms Nash's talent not only as an extraordinary singer but also as a writer. Often underestimated by critics, Graham's lyrics always come straight from the heart and this innocence is their real strength and, in very few episodes, their weakness, too.

The presence of Joel Bernstein - photographer and archivist of the elite-songwriters of the West Coast - as co-producer along with Nash is a guarantee of quality. Waiting to participate in the celebration of Barack Obama's inauguration of his presidential term, performing at a concert with Jackson Browne during the Health For All Blue Diamond Ball, Graham talks about the box.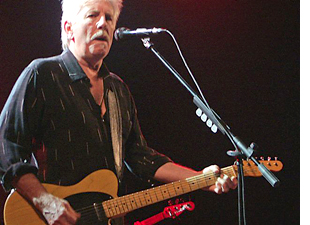 Graham, this is really a beautiful box-set. Which is the main idea behind it?

The idea was to present to the world what I've been doing, musically, since I began my career. I tried to keep it as chronological as possible so that a person can see the 'arc' of my musical output.

On David's "Voyage" all the unreleased stuff is on disc 3…

I much prefer to be chronological if I can. David wanted his box the way it turned out.

Originally - almost a couple of years ago - the box was announced as a 65-song set. Was it a mistake or did you decide to remove one of the tunes?
Originally it was going to be a 65-song set but I left out a song that was a little painful for me. It was written the night my manager Gerry Tolman was killed and it was too depressing to end the box set with it.

Which song was it, if it is not too tactless to ask?

The song was "In the Blink of an Eye"... written the night Gerry was killed...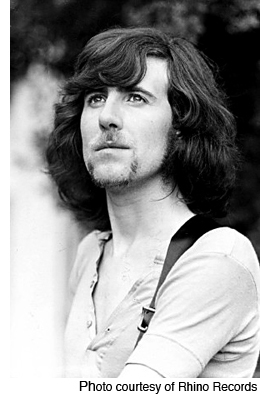 Like David's "Voyage", the first 3 songs come from the pre-CSN band you enjoyed success with. Is it kind of a formula or wasn't there anything else from the Hollies-era representative enough of your early writing?

Joel and I tried to keep the sound of my voice up front and these songs were the ones where I was singing the lead vocal. "On a Carousel" and "Carrie Anne" and "King Midas in Reverse" were obvious choices, no plan really. Originally five mono mixes of Hollies songs had been considered, even including "Just One Look" and "Bus Stop", but the track-listing has been changing all the time.
Speaking of the Hollies, it would have been interesting to listen to the songs you demoed with them but which they didn't want to record because they didn't fit with the Hollies sound…

There is a tape of the Hollies attempting "Marrakesh Express" but I don't believe that it was any good.

Was there any pre-Hollies recording you found, which had been at least considered for inclusion, like tapes of The Two Teens, or The Fourtones?

There is in existence an acetate of the Fourtones singing some songs but they're not good enough to open a box set.

Disc 1 contains an unreleased version of "Right Between the Eyes"…

It's a demo I recorded during some CSN&Y sessions.

Was the song ever considered for inclusion on "Songs for Beginners"?

No, it wasn't.
On "Voyage" most of David's unreleased stuff comes from the 1968 - 74 era, while - apart from the unreleased mixes - most of yours come from the last 20 years or so. You have many outtakes and unreleased songs from your whole career, so this choice is a bit surprising. Do you think the recordings weren't good enough for this set or are you planning a possible "archive" release or a series of them?
I don't have many 'rarities' from the early days. My version of David's "Everybody's Been Burned" perhaps. Maybe I will use it for an expanded CSN box set project. On these sets we were facing the problem of time. Even with CD's you do run out of time, so I couldn't put more unreleased songs on there. The 'archive' idea has been around for a while. Someday perhaps…

(Last year, during a long phone-conversation, Joel Bernstein explained to me they had originally presented a "four CDs per box" project. Rhino wanted a 2-CD set anthology per artist. After some negotiations, they reached an agreement on 3 CDs per box, which made the project more appealing and allowed some room for unreleased recordings.)
While working on this archival set, did you find any interesting material you didn't know the existence of or stuff you didn't remember?

I remember it all. I just came across the tapes of Crosby & Nash with the Colorado Symphony at Red Rocks in 1993. Cool.

Years ago we talked about those "orchestra" shows, as I thought the "Crosby & Nash plus orchestra" combination was a very interesting one. I remember you guys also played in Portland on October 2nd, 1993 with The Oregon Symphony. I hope we will have the chance to listen to those recordings one day…

I always believed that the orchestra was not recorded at Red Rocks but I found out that (luckily) they had been recorded. It needs work but the orchestra was fabulous, directed by Jimmie Haskell, who helped us write the charts. I could see an "orchestral" album being released at some point....
Looking at the track list of "Reflections", I can see many breathtaking ballads. Is the ballad your favourite song-format or is it just harder to write a beautiful rocker and express complex, or deep thoughts, while you rock out?
I prefer music that makes me want to perform it as best I can. I tend to write when everyone in my family is asleep. So... no loud music at midnight...and I began to realize that I wasn't playing enough loud, electric music...

"Reflections" contains several unreleased mixes. Would you hear things on the albums that would cause you to change the mix or did you discover buried details / instruments while listening to the original masters?

The different mixes, especially of "Songs for Beginners", happened because I wanted to get rid of the slight distortion on the master of that album. I found the (original) mixes I made with Larry Cox, before I took the album to be mixed by Glyn (Johns) in London...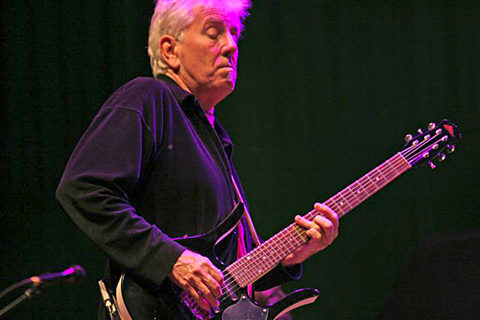 On the CSN boxed-set, there is a fabulous version of "Wild Tales" recorded on August 3rd, 1979 at the Universal Amphitheatre with a brilliant band including Lindley, Doerge, Drummond, Vitale and 3 ladies singing background vocals. You played 6 nights at the Universal Amphitheatre - on a tour of about 15 dates - and I think musically it was one of your peaks as an individual artist. Is there other interesting material you recorded on that tour?

I recorded all the shows. It was a double-bill tour I did with Jackson Browne and I'm going to mix that live album someday. Good music...

Speaking of 1979, this year will be the 30th anniversary of "No Nukes". Are you planning any special expanded edition of the live album? And will there ever be a DVD version of the movie?

I believe that the DVD of the "No Nukes" movie will be worked on soon.

Between 1984 and 1985 you recorded a couple of "moon" songs, which you recorded also in 2000: "Before the Moon is Full" and "Water from the Moon". Were they actually two different songs?

The "moon" songs are different ones.
I remember "Water from the Moon" didn't make the final "Innocent Eyes" track-list and 15 years later you recorded it again for "Songs for Survivors" - at least, that's what my records say - and the song failed again to appear on the album. "Songs for Survivors" is a great record and has a superb sound: why did you decide to use the version from the 80's?

"Water from the Moon" was never on any album of mine. I always enjoyed the song and the track so I used it on this box set.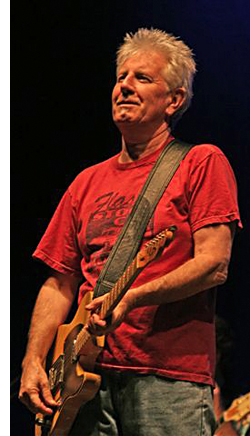 Speaking of the 80's, the album "Innocent Eyes" is represented by "Sad Eyes", which was one of the singles at the time. Why not "Glass and Steel" with all those references to what Crosby was going through at the time?

"Glass and Steel" makes me too sad. I have to stop thinking about those times. I love "Sad Eyes" and a couple of months ago I re-recorded the drums and acoustic guitars. Joel Bernstein and I redid the acoustic guitars, while Russ Kunkel replaced the original drums.

Did you re-record anything else?

No, no other tracks were re-recorded.

I don't have any note yet, so I was wondering who is playing on "Unequal Love" and "Liar's Nightmare" and when did you record them…

"Unequal Love" is played by me and Jeff Pevar at the Berkshire Performing Arts Center in Lennox. Massachusetts on Aug 11th, 1993. "Liar's Nightmare" was done by me, Pevar and Nils Lofgren at the Tampa Bay Performing Arts Center, on Sept. 21, 1993.

"Liar's Nightmare" was finally published on "Songs for Survivors" in 2002. Were you already recording it in the 90's for possible inclusion on "After the Storm""?

Yes, I wrote it for the "After the Storm" album.
"After the Storm" was an excellent album and I still wonder why Atlantic didn't promote it properly...

Perhaps Atlantic didn't believe in the album. Who knows what record companies decide to do in these economic times...
Years ago, while we were talking about "Try to Find Me", I told you that such a wonderful song deserved a place on one of your records. You would have liked to publish it if Neil played a solo on it. I can imagine the reason, as you wrote that song after the first Bridge Benefit. Does a version with Neil actually exist?

There's no version of "Try to Find Me" with Neil. Neil never played on it, unfortunately.
I had never heard of the previously unreleased "Behind the Shades"…

My dear friend Allan McDougall sent it to me. Allan was a journalist who worked for many English magazines in the early to mid '60's who had the earliest written copy of the lyrics of "Teach Your Children". He was a dear friend and will always be missed.

I think "Behind the Shades" is a beautiful song and it sounds like having an older style, like coming from the past, but it is obviously a quite recent recording…

I recorded it at the time of "Song For Survivors" but it didn't seem to fit the album, so now here it is. With this song I wanted to pay respect to Roy Orbison.

Any advance news about some of the songs you will attempt in the studio with Rick Rubin for the CSN cover album?
I can't tell you anything about the Rubin album... yet.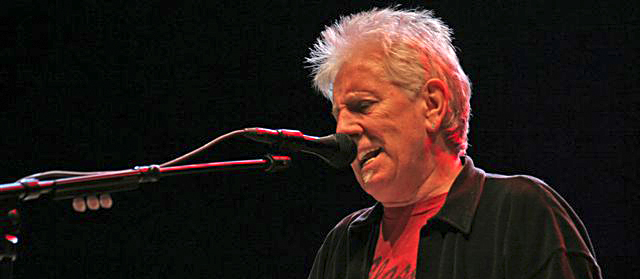 Which are the projects you are busy with now?

Just about to help Stephen with his box set. I'm putting together an album of acoustic music from Crosby & Nash 1993. I'm listening to the CSNY 1974 tour stuff to see if there's an album there. I am also working on a benefit album for The Children's Defence Fund in D.C. It's an album where David and I sang "back up" which is going to be called "Harmony". The "Harmony" album will be all the original tracks that David and I sang on.... can't give you the list yet as I haven't really spoken to the artists about it.

How did you feel looking back at your whole career while assembling the set? Any major regret, especially about what you and your friends could have done differently?

We four have made music together for over forty years. I regret nothing except that we could have made more music together had we kept ourselves more focussed. That's why I wrote "Wasted on the Way".
I think "Reflections" is an excellent set. It gives us a new opportunity to appreciate your song-writing and singing and there's even room for some brilliant tunes we had never heard before - Well done!

Thanks for the compliments. Joel and I are very happy with it.

- Sincere thanks for the interview to Francesco Lucarelli and the kind people at Buscadero.


Twin Sons of Different Mothers.....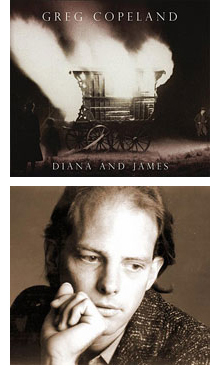 Even if you have a solid knowledge of the artistic life in Southern California between 1965 and 1975, you have a good excuse for not knowing who Steve Noonan and Greg Copeland are. In fact, both had published only one album, in 1968 and 1982 respectively, until they show up again in the fall of 2008 with brand new albums, published under quite different conditions :

Noonan recorded his album in his home studio, while Copeland's is released on Jackson Browne's Inside Recordings label. And while their high-school mate is himself releasing a new album these days, here is a unique opportunity to meet these two Californian songwriters with somehow chaotic paths but who share several common points: first, if you look closely, both have played quite a part in launching the career of the man-on-whom-Time-the-Conqueror-seems-to-have-no-impact; second, their songs have been covered by famous artists such as the Nitty Gritty Dirt Band, Nico, David Lindley and of course Jackson himself; and last but not least, their new albums deserve the attention of anybody who's interested in superior songwriting.

Ladies and Gentlemen, please welcome Steve Noonan and Greg Copeland!

Your names are often associated with Jackson Browne. How did you meet him? What is your story with him?

GC - I met Jackson through Steve and Jackson's sister. Steve was the hub for the musical wheel at our high school, along with the late Steve Van Gelder, who played great banjo to Noonan's guitar. In fact, Noonan was the first person I ever saw playing a guitar live. I can still feel the impact of him sitting in the passenger's seat of my '57 Ford, playing what was probably a brand new Martin D-18 about two feet away from me. It went right through my body and apparently shook up my DNA. Before that moment I had no desire at all to write songs, but Noonan changed all that. Then Jackson started writing and the jig was up.

Jackson was really something special?


GC - Anybody with any sense could hear that he was special, right from the beginning. Even his early songs were way ahead of what was on the radio or in the clubs at that time. A couple of years later, he and I drove straight from LA to New York with Adam Saylor, for whom he wrote Song for Adam, to see Noonan, and that drive was peppered with great fragments of songs that Jackson was working on. I remember pulling off the road to take a break way out in the middle of nowhere and Jackson took out his guitar, stood right by the side of the road and played an early version of "I've Been Out Walking", that was to bebcome "These Days". That was it for me. I could tell he was going to be just fine. And all three of us have been joined at the brain ever since.

SN – Actually, it was my first guitar, a D-28 I bought in 1963. Greg and I were writing together in high school in 1963-4 and "Jackie" was in a couple grades below us, and just starting his pursuit of music, guitar and writing. I was going out with his sister and he sort of "tagged along" when we went and played at venues around Orange County and Los Angeles. Jackson watched what we were doing and felt he could do it as well.

The "Orange County Three" tag dates back from that period?

SN – A little later, in January 1968. The Orange County Three was an invention of Tom Nolan, a writer at Cheetah Magazine and it was pretty cool – Tim Buckley, Jackson and me – not a bad idea – perhaps some record company should have DONE something with it?

Instead, you have released a solo album…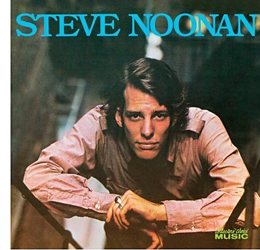 SN - In 1967 Elektra Records thought it was time to put out an album – I perhaps wasn't quite as knowledgeable, or as ready as I might have been – and I am much more a-tuned to what I need to do now to present my music in the right light than I was then, but when opportunity knocks you must answer. The Elektra deal was a one record deal, and when they lost interest in the first album, and let it "die on the vine" I had no interest in moving further with them.

You have written many songs together. How did your songs end up being recorded by famous acts such as the Nitty Gritty Dirt Band, and even Nico.

GC - The NGDB probably heard "Buy For Me the Rain" from Noonan singing it in a club. The Dirt Band, Noonan, Jackson, Tim Buckley, etc., all sang in the same network of folk clubs during that time period, and "Buy for me the Rain" was a mainstay in his set, so I would guess the Dirt Band heard that song several times before it was recorded by anyone. Nico undoubtedly heard "Fairest of the Seasons" directly from Jackson. The Jackson/Nico drama happened in NY while Adam and I were out traveling, so I missed the entire thing. I guess you never know where a REAL adventure will happen.

Didn't you ever think about recording an album together?


GC - We've always been really close. Noonan is like my brother, but we've been writing in our own rooms.

SN - We had a wonderful time working together all the way through the Elektra LP (1968) and little after – then we just went on to other things (we both were married in the years following our returns to the LA area) and still appreciate each others projects with great respect. We have not had any discussions about doing an album together – it seems we are doing pretty well separately, and have had a good deal of success writing separately about whatever issues we find in life to write about.

GC - I didn't really write many songs between high school days and the early 80's. I travelled a lot, worked a bit, travelled some more, then went back to university to study English and American poetry, and then went to graduate school. After I left grad school I started writing songs again as a kind of exercise. I wanted to write, but I didn't know what form it would take. I have this thing about singing – I have a really hard time singing if the song isn't about something that comes straight out of my spine. So I decided to test what I was writing by writing songs and not just poems. I figured that if I could actually sing it out loud, it was probably the truth (at least for me); and if I couldn't bring myself to sing it, it was probably something less than that. So I wrote some songs in my head and made little a cappella reference tapes sitting in my car in a parking lot.

This is the way 'Revenge Will Come' was conceived?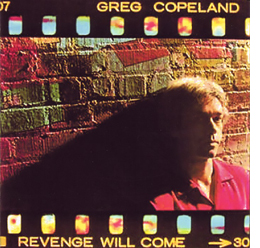 GC - "Revenge Will Come" was sort of a fluke. When I sent the my a cappella tapes to Jackson just to see what he thought of the songs, David Geffen was just starting up Geffen Records and was signing new artists. Jackson is a pretty persuasive guy, and he somehow talked Geffen into signing me. He called in people from his own band to play. We rehearsed for one day and then started recording. I pretty much just showed up and sang. The critics liked the record a lot, but it was not a commercial success by any means. Paul Nelson of Rolling Stone was a real fan of that record. We did a long interview, which he apparently intended to publish in Rolling Stone, but he left RS shortly after we spoke and his article never appeared. That might have made a huge difference, but it was not to be. This was all happening at the time that MTV was starting to come into its own, and disco was the big new influence (remember, the biggest band in the US at that time was Kajagoogoo), so "Revenge Will Come" was completely out of step with what the "industry" was interested in, and it died a quiet death. The record has never come out in CD format, only vinyl, and there can't be more than a dozen copies out there on the market. Talk about obscure.


You are both releasing a new album in 2008. What made it possible that you're back in the saddle so many years later?

SN – I felt pretty useless - music-wise for much of the time between 1968 and 2008 - with a few months every few years or so when I would write or perform - but I couldn't really get a handle on new material that I thought was GREAT. I worked in just about ever kind of sales job - and hated every minute of it. After the Paradox Reunion Concerts in Sept 2007 (where I rocked!! - see videos on myspace.com - also up on you tube shortly) I came home and packed up my stuff and moved out of a 24 year marriage and started witting like a FULL TIME SONGWRITER – More than 20 songs later I am feeling like I can really present something of real value to the world. I am writing now, in 2008, because I am "Back on the Block" as a great Jazz player would say, and excited to be able to share new insights as they come down the pipe..

GC - I quit writing completely in 1983. I had to support my family, so I put my head down and worked at a grown-up job for the next 17 years. Then in early 2000 a friend of mine asked me why I wasn't writing songs any more and I had to consider the question. It's funny, just thinking about the issue sort of woke up the process. It took me a couple of years to thaw out, and then real songs started showing up. In mid-2003, I was leaving one job and starting another, and I gave myself 100 days to do nothing but write. I had never done that before, and it changed everything because I didn't have to keep putting the brakes on when the weekend was over. Most of the songs on "Diana and James" came out of that 100-day period. They showed up in a rush of fragments and it took a while for me to see what had happened. I was working with a real primitive 4-track, so every time I finished a song I took my scratchy little tape over to Noonan's house. He had a nice home studio, so he was able to fashion them it into something listenable. And those tracks became the demos for "Diana and James". Jackson heard some of the early ones and introduced me to Greg Leisz while I was still in writing mode, and he was the real godfather of the record. He was able to hear through my mistakes and see what the songs were about. As a producer, Leisz is right there with T-Bone Burnett and Joe Henry in terms of finding the real essence of a song. He simply can't abide anything in a track that doesn't need to be there. So we gathered up an incredible bunch of musicians and recorded the songs for real when people were available. We'd go in for a couple of days, wait another few months, and then go back in for another couple of days. It took forever, but all the songs turned out just the way we heard them in our heads.

Where do the new songs come from?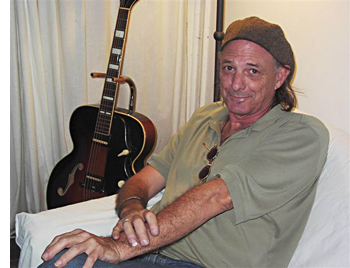 SN - I started listening to the powers around me - and to my inner voices. They told me to be OPEN to new opportunities and situations, and to WRITE about them. When things happened with my relationships – both Good and Bad – I tried to define them, and explain them to myself in song. Quite frankly, had I not been able to "voice" these issues - put them in songs that could help "explain" the issues to me - I would not be in as solid a place as I am now.

GC - "Diana and James" is not really a concept album – all of the songs are free-standing stories – but the songs have a lot of interconnections. For example, as I think you know, the guy in "I Am The One" is the guy who is responsible for the death of the woman in "Muddy Water", but it's not clear what he did to cause her death. Murder? Suicide? You tell me. Both Diana and James are fictional characters but they come directly out of my own domestic life. The time keeps jumping backwards and forwards – it's not a linear narrative. Have you ever seen Bob Dylan's indie movie "Renaldo and Clara"? In that movie the actor playing the character of Renaldo changes from scene to scene, but you gradually notice that someone in every scene is wearing a hat – and THAT is Renaldo in his various forms. It's kind of the same with the characters in "Diana & James".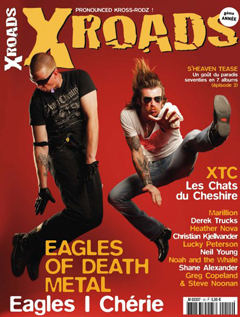 Do you perform live?

GC - Other than literally one song that I wrote and sang for my girlfriend in a club in 1966, I have never performed live. I'm actually starting to think about it now, but that's another story alltogether. But Noonan does that pretty well. I'm writing the next record right now, and that's taking every brain cell I have. Trying to play live at this point would make my head explode.

SN - I play in as many "quiet" listening venues as I can find. I have Long since given up playing in bars, restaurants, or other places where people congregate to party or do something besides LISTEN to the music. There are places where people come primarily to HEAR the music, because it has importance to them – that's where am. I take the path of least resistance. I am not going out and trying to 'sell' my live performance in a venue where my very personal - somewhat quieter style - would not be well received - or not even Heard over the noise - too much work for me and a lower likely-hood of success.

I hope we won't have to wait for as long to hear your new record!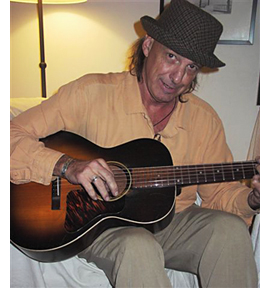 GC - I'm almost finished writing the next record now, and it is really intended as the second act. "Diana & James" is Act I; the next record is Act II and it has the same kind of cubist logic to the narrative. In any event, I'm going to leave it to the listener to discover the interconnections. But there are a lot of them. I'm still discovering them myself.

SN - Right now "Lightening Strikes Twice "is conceived as a more arranged, more produced version of "Bringin' It Back Home". It will contain some of the same tunes - with some songs omitted, and some newer ones added, with instrumentation. Kenny Edwards, a multi-instrumentalist who has worked with Linda Ronstadt, Warren Zevon and J D Souther could be a possible producer the album. Funding will be an essential part of that process, and we are seeking that now, and are open to suggestions.

- Sincere thanks for the interview to Jacques-Eric Legarde and Xroads Magazine -


Stormin' Norman & The E Street Band.....
On August 30, Bruce Springsteen came to Harley Davidson's 105 year celebration in Milwaukee to finish off his latest tour, which many believe was his last with The E Street Band. 24 hours earlier, in another place, it was all about going back in time. The audience at The Stone Pony in Asbury Park, New Jersey, did not meet Bruce Springsteen himself, but many of his friends were there to play and talk about an era when there was an unlimited amount of rock clubs to play along the Jersey Shore.

S.O.A.P. is a combination of letters, short for the Sounds of Asbury Park. That was where it all began, in the late 1960s, and what happened during those important early years was to be celebrated when E Street bass player Garry Tallent, original drummer Vini "Mad Dog" Lopez and others reunited at The Stone Pony.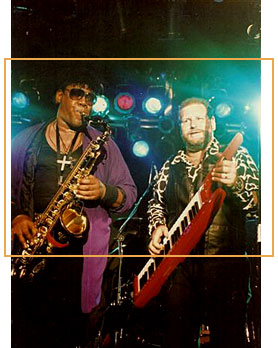 The organizers could present the original Moment of Truth line-up, a band where both Tallent and Lopez were members. The night also became a release event introducing two heavy new CD documents: Vini Lopez' Steel Mill debuted their second album with new versions of previously unreleased Springsteen songs, and Norman Seldin launched a nostalgic double-disc with many of the bands from the past, plus a range of his own recordings – including eight songs where Seldin surrounded himself with virtually the entire E Street Band.

In his early teens, Stormin' Norman Seldin was one of the first music entrepreneurs that worked the Jersey Shore. He started out as concert promoter, record label owner and manager of black R'n'B bands and vocal groups, but when the Beatles conquered America Seldin realized that the future belonged to rock'n'roll. Seldin managed The Motifs, a local act that outplayed Bruce Springsteen's Castiles, and later he became bandleader for The Soul Set as well as The Joyful Noyze, the latter with famed saxophonist Clarence Clemons in the line-up.

"I took piano lessons playing classical at a real early age and my family was not pleased when I discovered rock'n'roll. But I wanted to learn about everything that was new, and I wanted live close to music around the clock, not only playing my own songs", says Seldin, who in a segregated 1960's America took a lot of abuse for working with black musicians.

"When Clarence started out with The Joyful Noyze there were club owners who refused to book us. I told them: 'No Clarence, no Joyful Noyze'. And there were those who really had to regret what they told me. Clarence and I had some very good years together."

Clemons recorded one album with The Joyful Noyze and big things were bound to happen. But Norman Seldin remembers how everything changed when Bruce Springsteen offered the saxophone player a steady job in what would become The E Street Band:

"We had a lot of shows booked and Clarence said he couldn't stay with me for more than two weeks. I'd lie, if I say that we parted as friends".

Years went by, hard feelings were no more and in the late 70's and early 80's, Clemons was not the only E Streeter who went into the studio with Norman Seldin: Garry Tallent, Max Weinberg, Danny Federici and Roy Bittan were all part of Seldin's backing band.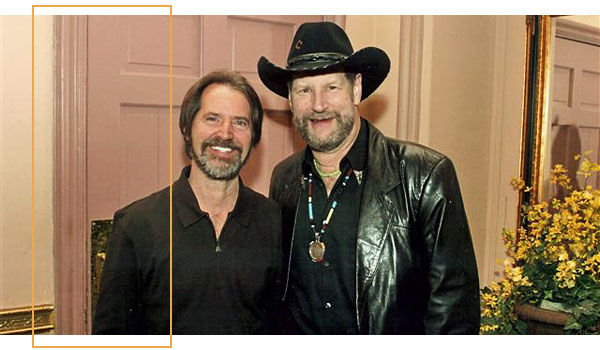 "We knew each other well and had often played together at a club in Fair Haven, New Jersey, during a period when Bruce had various problems with his former manager and the record label", says Norman Seldin.

A few years back, one of the songs from these sessions, "Misery Loves Company", could be heard on a collection with various artists from Asbury Park. The remaining seven are now finally available on Seldin's double disc "Asbury Park Then & Now".

More release info on Norman Seldin: www.normanseldin.com

- Sincere thanks to Anders Mårtensson and the kind people at Rootsy for the interview -

Kimmie Rhodes Tours With Emmylou Harris.....

Kimmie Rhodes, Texas recording artist and multi-platinum selling songwriter, tours Europe with Emmylou Harris in September in support of her new CD release, "Walls Fall Down". Swedish DJ Henrik Svedlund loaded up some questions just in time for the visit.

Will there be the same band that we hear on "Walls Fall Down" that will follow you to Europe?

I won't be able to have the entire band with me on the tour but the basics will be there. On the album I play acoustic and sing. Gabriel Rhodes who produced the CD and played many of the instruments will be with me playing lead guitar and some vocals. Joe Gracey who recorded, mixed mastered and played some on the CD will be with us on bass. So I have the heart of the band in an acoustic trio.

Will there be any difference in repertoire when it´s just you and the band and no Emmylou following?

There is definitely a difference when we play our own shows and when we open the show for someone in that we only play for a very short period of time so there is not as much talking and introduction of songs, why I wrote them, stories etc… And we will play just a few songs that best present just a quick over view of who I am as an artist and writer.

Are there any collaborations planned with Emmylou on stage?

I am reluctant to talk too much about what will happen at a show because each show is different and I love the element of surprise, but Emmy and I have written some songs we love together so it could happen! Saying any more than that would be like opening Christmas presents too early, wouldn't it? I will say this; There is a lot of work going on behind the scenes right now to get the show on the road on Emmy's and my end of things and people are working really hard doing their pre production jobs to make sure people who come will get a great show. Emmy's new CD, "All I Intended To Be" is just fantastic. I have been listening to it and can't wait to see her show myself! She is well known as a master at knowing a great song when she finds it and, produced by Brian Ahern, the musicality and vocals are truly wonderful and classic and all that us long time Emmylou fans would have hoped for and expected and more. Her own new songs are really cool.
Your new album has been very well received in Europe. Are you planning any activities with European artists?

We are so happy that the new release, "Walls Fall Down", has been well received and we are looking forward to do some shows, which are being booked now for a tour of Scandinavia next May. We're really excited about it because we will finally have the opportunity to, "break new ground" as they say in Texas. The opportunity to appear as a guest on the Emmylou tour just couldn't have come along at a better time to help us with that and give us the audience we need to make our shows a success in the spring. Everyone from the band to the publicists is really happy about it. The timing was perfect.

We have worked with Europeans for many years on lots of projects so there is always a possibility of new projects. Gabriel is currently producing a CD for some very dear friends of ours from France with a band called "The Lovers", in our studio here in Austin. We have worked quite a bit lately with a singer-songwriter from Ireland, Kieran Goss, helping write songs and produce a new CD for him in our studio here in Texas also. When you travel and play music you are constantly meeting new artists and collaborations occur naturally. I was delighted to hear that a friend, Colin Linden, who is a great player, songwriter and singer from Canada, is in Emmylou's band for the tour. Colin and I have written together and have mutual friends in Nashville, where he now lives.
There is a great in-flow to the station of good 'texas-music' from female artists right now. Do you meet people like Eliza Gilkyson and Christine
LeDoux?

I've met Eliza and I have been hearing some of her new CD played on the radio here in Austin lately, and it's really, really good. I love her music. Of course living in Austin has made it where I have made many lasting friendships with other musicians and I have had an amazing life filled with memories of magical nights that seemed endless playing music. I have been truly blessed with the privilege of being able to spend time not with necessarily famous people, but truly dedicated and talented musicians and writers who do their best. It's the best thing about being a musician and at the end of the day, the real reward and the real fun of it all. I have a song I wrote on my new CD called, "All In All" that is about that.

On "Walls Fall Down" you have co-written four songs with other musicians. How is your working process when you write songs. Does it happen that you write songs with other artists in mind, and do you think that they sometimes write with you in mind?

I have been a writer for a lot of years and just about every possible senario for writing songs either with other people or by myself has happened, including writing songs in my sleep! So for me that is a broad question with a potentially long and involved answer! I have probably written of my better known songs and ones I have recorded on my own but sometimes the were co-writes. The songs just have a way of picking their own time. I have written lots of songs while with publishers in New York and Nashville and Hollywood and all over the world who were looking for specific things for artists and movies, but my best work has always been done with something real to say and a feeling that went with it whether alone or in collaboration with another writer and consequently the most successful songs I have written where when someone came along, heard a real song written for a true reason and it fit their project and said what they had to say in a real way.

How important are charts like the EuroAmericana chart and The Freeform American Roots chart to an artist of your status?

These charts are very important, but more specifically the stations and individual DJs who play the music and who report to these charts are the at the real heart of this question. These radio presenters tend to be people who are more willing to approach music in a dedicated and enthusiastic way as fans and entrepreneurs and really get down into the new music coming out and really listen to the songs and "do their homework" to get the best songs and music heard - In short, they care! They then report to the charts, which helps commercially, because people who watch these charts are made aware of the music and it helps sales, which helps artists to be able to keep producing and releasing music. This "machinery" keeps the real process alive and keeps music from sinking into a homogenized commercial product world that is mostly used to sell advertising and not much concerned with the organics of the art of writing and playing music. So, that's not to say that there isn't some really great and viable commercial music in the mainstream, because clearly there is, but it keeps the music made at street level, which is where the songs and new musicalities begin to then progress to mainstream as influence. So in that way helping the music at the base level where the real creative roots are born "trickles up" and means better music for everyone in the end. Townes Van Zandt, one of America's best known and honored songwriters, once said, "There are really only two kinds of songs, 'the blues' and 'zippity-doo-dah', and I agree with that. That's how you get from Robert Johnson to Bonnie Raitt and from Cole Porter to The Beatles!

- Sincere thanks to Henrik Svedlund and the kind people at K103 Gothenburg Student Radio -


First time in Scandinavia.....
ABC News' Anders Mårtensson has met US musician Robbin Thompson, who will come to Scandinavia for the very first time this fall.

A few months in the same band as Bruce Springsteen. A whole life in music. In September, Robbin Thompson will come to Europe – and Scandinavia – for the first time.

Bruce Springsteen has finished off his spring tour in the U.S. Charlottesville, Virginia, was the second to last stop on the 30th of April, and a few days earlier, when ABC News is calling, Robbin Thompson is talking about how much he's longing to meet up with old friends.

But he knows that things aren't what they used be. The E Street Band is mourning and missing "Phantom Dan" Federici.

- The years are passing by, and it would be wrong to call me and Danny close. But we were once playing in the same band and we've met at several occasions since. His death is a tragedy and a reminder of how we are all growing older.

- The beginning of the end for The E Street Band?

- Everyone is affected of what has happened and Danny will be missed, but Bruce has been playing with a different line-up since November last year (Charles Giordano, keyboards). There's only one person who knows what is going to happen after this tour, and that's Bruce.

Robbin Thompson mentions that he'll take his daughter with him to the concert in Charlottesville "Could be fun for her to meet Bruce". And then we get to hear an interesting story from 2003 when Springsteen came to Thompson's hometown Richmond with "The Rising"-tour.
- Terry McGovern always called me to ask if I would like to come to concerts that were close to me. Terry passed away recently as well and I miss him very much. he was a great guy. I had a nice visit with Bruce as usual, but he never mentioned anything about coming up to sing. In the middle of the concert someone that works for him came up to me and said that when I heard 'Thunder Road' to go behind the stage. This is when I knew something was up. He also dedicated a song to me which I thought very nice.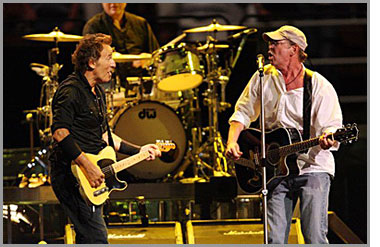 - The funny thing is Bruce forgot to play 'Thunder Road' so they ran up to get me backstage. He called out this tune that I never heard before. 'Lets Go, Lets Go' by Hank Ballard. We got on stage and I noticed that Bruce Hornsby was also there with an acordian on. The song started and Bruce walked over to me and said 'I'll sing a verse, then Hornsby, then you'. So... when it came to my turn, I just made up some lyrics that had 'Richmond' in them and the crowd loved it. Later I found out from Hornsby that there was a teleprompter with the lyrics but i never saw it.

Robbin Thompson is a part owner of a studio where the main income comes from comissioned work: jingles, music for film or television.

- You can't get by from just recording your own albums. I'm not 'Rich & Famous', but I've always been able to provide for myself and my family with music. I'm proud of it. Proud and grateful. To wish for any more would seem wrong.

The connection with Springsteen? We'll start in 1969 when Robbin Thompson moved from Florida to Virginia. He had already had a couple of decently successful bands, (The Tasmanians, Transcontinental Mercy Flight), and it didn't take long before he had built something new in Richmond. Mercy Flight was soon the talk of the town.

- We were different. More rock'n'roll, less pop. A band based on guitars that was listening to and sounded a bit like Creedence. But we did write a great deal of our own material as well.

Already when Thompson was still new in Richmond he heard about another band. A wilder, bit more heavy combo from New Jersey calling themselves Steel Mill. Wilder than all the others was the guy behind the drums, 'Mad Dog' Lopez, but it was the guitar player and singer, with his long hair, who made the difference.

- Steel Mill, (Springsteen, Lopez, Danny Federici, Steven Van Zandt) was an impressive band and we became good friends. We would play concerts together and stay at each others apartments. Them with us in Richmond and Us with them in New Jersey.

Exactly how many shows Mercy Flight and Steel Mill did together, Thompson doesn't seems to remember. But some of them became legendary.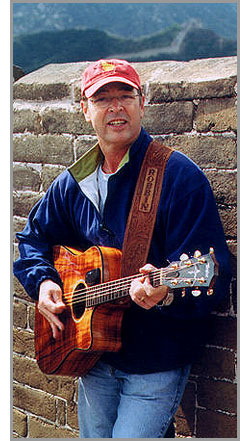 - I guess you're thinking of The Parking Deck? Yeah, the manager of Mercy Flight was a bit of an entrepreneur and he set up a gig on the top deck of a parking garage in the center of Richmond. That meant no one could sneak in without paying, and plenty of people showed up. Lots, actually. The music could be heard all over town, and since the permissions were in order there was nothing the police could do. After all this time, when thinking of it, one is probably most grateful that nobody went nuts and jumped from the roof. People do weird things sometimes.

The next day, the 15th of August, 1970, Springsteen had a serious talk with Robbin Thompson.

- Bruce asked me if I wanted to go with them to Asbury Park and do an audition for the band. He never said why, just that he wanted me to come along. I guess he needed to focus more on his guitar playing than he could do as a sole lead singer.

Thompson stood the test. For a short period he and Springsteen were living in a factory were the manager of Steel Mill, Carl "Tinker" West, was manufacturing surf-boards.

- I was always getting along well with "Tinker", but I think that both he and the other members of the band wondered why Bruce had invited me. But Steel Mill was still Bruce's band. I was singing lead in some of the songs, Bruce in others. And I think he liked the sound of how our voices blended.

Steel Mill became the hottest band in the clubs along the Jersey coast, and were cult-declared in Thompson's old quarters. But before the year was over, Springsteen had grown tired of it and in20January 1971 Steel Mill did their last performance at The Upstage Club in Asbury Park.

- We were really going somewhere. Then, suddenly, Bruce wanted to move on. Do something else, with another band. I wasn't the only one who was disappointed, that's all I can say. But who could blame the guy? Things worked out pretty decent for him, right?

Thompson drove home to Richmond. Graduated from college, made some extra cash working with jingles and continued to write songs. In the beginning of the 70's he won The American Song Festival with "Boy From Boston", that indirectly got him a contract with Atlantic Records. He got the chance to work with Timothy B Schmit , Steve Cropper, Waddy Wachtel and Melissa Manchester.

There was never a career any close to Bruce Springsteen's, but a whole life in music. Thompson (and Steve Bassett) wrote "Sweet Virginia Breeze", unofficially called the signature of Virginia. He's got his studio and was as recently as 2007 recording "Just A Blur In The Rearview". Sounding more west than east coast. More Jackson Browne than Bruce Springsteen.

Robbin Thompson says that's the kind of things he loves: Family, obviously, but also surfing and sailing, is inspiring him.

- I'm thinking a lot about it now, how much I enjoy spending time with my family, how happy I am sailing in the Chesapeake Bay. When you're lucky enough to spend your time doing things that make you happy, it's easy to write new music.

This fall he's finally making his first trip to Europe. Twelve stops in Denmark and one in Norway (Sarpsborg, the 26th of September) has been booked, and the calender is still open for new suggestions.

- I'm hoping to get in a few more gigs in Norway, and maybe something in Sweden. We'll see what my agent can do. Anyway, I'm very excited about coming to Scandinavia.

- Are you travelling alone or with a band?
- I'm playing solo, but travelling together with Jimmy James from Tommy Tutone. They've had a couple of hits so I guess he's more well-known than I am.

- We'll see what the crowd's reaction will be like. But I've understood from all the downloads on the Internet that there are quite a lot of people that's sort of up-to-date with my music, and not only "Sweet Virginia Breeze". That track has probably been in every single one of my shows since it was written, and why would I stop playing it? You are allowed to be proud of a song that's been living it's own life for about 30 years.....
- Interview by Anders Mårtensson -
Sincere thanks to Anders and the kind people at ABC Nyheter, Norway

Delaney Bramlett Talks.....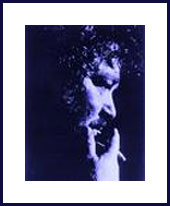 Interview by Darren Howells from Blues Matters Magazine

Q. How do you look back on getting to with/support/influence so many great acts?
A. I went with friendships which turned into great opportunities for all of us. Initially, we all became close through the music, which then lead to hanging out and having fun, which led to forming real bonds with each other, like my close relationship to Duane Allman & George Harrison, Albert King, Leon Russell, Eric Clapton, my God, the list is unending.
Q. You've written so many great tracks in your career...you must look back feeling satisfied with how everything panned out?
A. Yes, I think I'm totally satisfied so far and looking forward to even greater things in the future. It's always a thrill to be sitting in a theatre watching a movie and one of my compositions just starts playing, like the recent release 'JUNO' which had a version of "Superstar" recorded by Sonic Youth. The 'JUNO' CD is still on the Billboard chart. 'RV' featured "Never Ending Song Of Love", as did 'A GOOD YEAR', in 2006 with Russell Crowe.

It's always satisfying when you hear your music recorded and sung by artists like Ray Charles, Luther Vandross, Mel Torme, The Carpenters, Usher, there's no way to list them all.
Q. Tell us about your own new album...what's behind it, your feelings on it now, and what are your favorite tracks?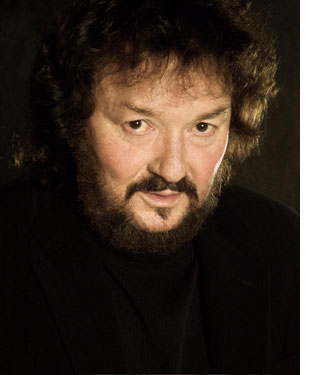 A. It says just what it is and it is just what it seems to be. I think probably "Cold & Hard Times" and "Change Gonna Come" are my personal favorites. Fans seem to be buying "What Do You Do About The Blues" as the single, and I love that one too. I also love the musicians I've worked with not just on this CD, but throughout the years...guys like Hank Barrio, Chad Watson, David Morgan with whom I co-wrote "What Do You Do About The Blues", Mark Karan, John Molo, just to name a few...and I can't forget to mention my daughter, Bekka, who often contributes her amazing touch to my recordings, too.

My wife, Susan, and I released this CD at the end of November, 2007. This is our 1st album to be released under our new label, Magnolia Gold Records. It's been a real learning process, a lot of hard work, tons of blood, sweat & tears, and a true labor of love. We decided to release the blues album first. Our thinking on that was that "blues" is pretty ageless and timeless and if we were going to make any mistakes, it wouldn't be the end of the world.

I did a show at Morgan Freeman's "Ground Zero Blues" club in Clarksdale, MS at the end of 2005. Being home in Mississippi really moved me. I love the blues; it's where I started as a young boy. We had all these blues songs sitting around and decided it would be fun to get them out there. See what happens. So far, it's been well received, even though we've had some personal tragedies that have distracted us from being able to give it 100%. As soon as I recover from a recent botched operation, we'll have more energy to put into getting it out there. I've been so happy with the reviews, and I'm really happy to be able to talk about it.
Q. What's success for you with a new release nowadays?
A. You know the qualifying definition of "success" can be so relative from person to person. Yesterday, I was sent a message through my 'myspace.com/delaneybramlett' from China, written in Chinese. Man, that's success to me, when I know that someone over in China is listening to my art, my words, my feelings. Success to me is not needing a record executive somewhere judging whether or not your music is going to be heard because your too old, or too forgotten. You know, music will always speak for itself. It's something people feel, not just hear. So, if it's out there, people will find it. I love that we can just put it out there ourselves.

Q. Plans to record more albums in the future?
A. We have at least 5 new albums to release that are already in the can which are mostly rock & soul oriented. I love all kinds of music, rock, gospel, country, and I love to write all kinds of music.
Our next release is called, "Rise Up", named for one of the singles on the album. I think this CD is going to really get some attention. Even though I wrote "Superstar" with Leon Russell a million years ago, everyone in the world has recorded it except me. So, I thought maybe my fans would enjoy hearing my own personal version of the song. The remainder of the songs were mostly written within the last year or two. That will be followed by a country album which I've never done before. I've written country songs recorded by many different country artists, but never released anything for myself. I got a call the other day to submit some stuff for Jerry Lee Lewis' new country album.

You know music is my life. I'm never without a pad & pencil around. It gives me my ultimate joy, and I hope I've been able to give a little bit of that joy back to the world.

- Sincere thanks to Darren Howells and the kind people at Blues Matters -

Emmylou Harris on Jude Johnstone.....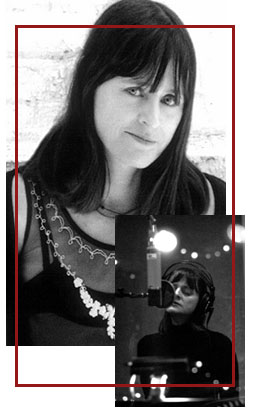 "A few years ago a friend gave me an Ipod and it turned out to be filled with music she wanted me to hear. I love to just turn on 'shuffle' and let myself be surprised by new, often unfamiliar, songs. That's how I came to found 'Hold On', that I recorded on my new album ('All I Intended To Be'). It turned up just before I fell asleep, with my earphones plugged in!"

"It's written by a woman named Jude Johnstone, who has been writing songs for at least twenty years. They have been recorded by among others Bette Midler, Bonnie Raitt and Johnny Cash, but I didn't know that when 'Hold On' came to me in the night. I suddenly became wide-awake when her words about the family, and how it matters in hard times, were pouring through me."

'Once you where a little boy
workin' on a great big plan
You threw away simple joys
and now you've got to be a man

A battle's raging in your head
you wish you didn't have to fight
Just hold on to my hand instead
another day goes by tonight'

Emmylou instantly connected to the words and the feeling of them with her own life.

"A good friend of mine had just lost her child. A boy I had known since he was little, a wonderful boy, but he had made a real mess of things and tragically decided to take his life. I immediately associated Jude's lyrics with the sad event."

But Emmylou has also discovered other dimensions of the song.

"When I listened to it more, I felt that the questions and the advises can be turned to yourself as well, in times when your 'perfect life' in one way or another is suddenly and dramatically changed. How important it is to have parents and friends that support us, when we make mistakes or when troubles occur in our lives. And that they can help us back."

- Emmylou Harris interviewed in London by Lennart Persson -

- With sincere thanks to Lennart and the kind people at Sonic Magazine -

Storyteller With A Great Sense For Melodies....

- The Melanie Dekker Interview by Magnus Eriksson, March 2008 -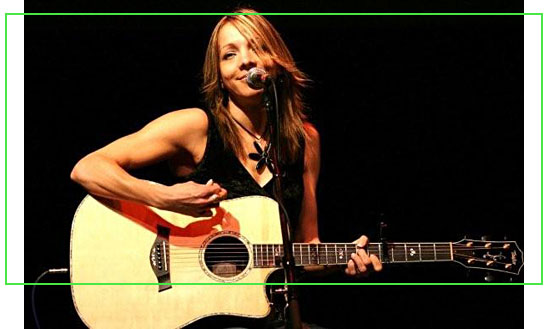 Melanie Dekker is a Canadian singer-songwriter with Dutch parents. Her grandmother used to sing lullabies to her - Songs that she still remembers. When her brother Erik started to play the guitar she got jealous. She wanted to do everything her brother did. 'Anything you can do I can do better, whether playing socces, baseball, or the guitar'. Call it sisterly love, Melanie Dekker says concluding a distinct summary of her early years. In that she has also talked about the importance of her parents' Elvis records, as well as about ABBA and Patsy Cline. 'It all ended with me wanting to be them', she says with a smile, slightly haunted.
I meet Melanie Dekker together with her guitarist Jason Nett before their concert at Dunkers Kulturhus in Helsingborg. Melanie Dekker has toured Europe on several occasions. Mostly Holland and Germany, but this is the first time she performs in Sweden. She enjoys the audience on our latitudes. That she shows many times during the concert to follow, where the almost sold out theatre hall at Dunkers' applauds her enthusiastically. Although it is the first time many of them hear Melanie Dekker's songs.
In her native country, she is not that well-kept a secret, however. Melanie Dekker has had quite a few hit songs. Some of her songs have also been used for soundtracks of recent films. Canada has an overwhelming singer-songwriter tradition: Leonard Cohen, Ian Tyson, Joni Mitchell, Neil Young. The Canadian novel has played a significant role in the nation building and for shaping a Canadina national identity. The great singers have hardly played a similar role, thank heavens, one might add, but I still wonder if such a strong tradition could have a restrictive influence on younger songwriters.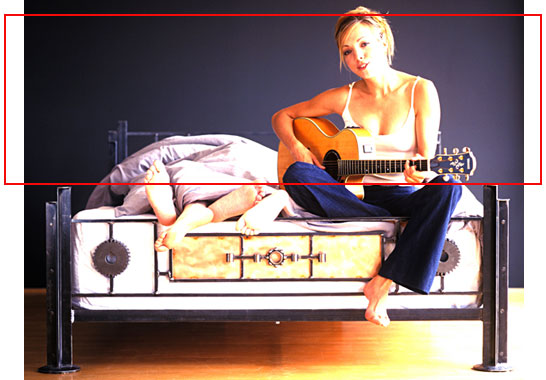 - No, Melanie Dekker answers. We are influenced by the ones we are influenced by. It's not much you could do about that. We are both criticized and applauded for being the ones we are. I'm just proud of the Canadian artists. I'm a lucky Canadian.
- Which songwriters have been important to you?
- Gordon Lightfoot, Melanie Dekker says, without hesitating. He might be more or less forgotten, but he wrote fantastic songs, also pop songs. And Tom Petty, Dolly Parton, and the Beatles.
The assembly might give a disparate impression, but they are all united by their unfailing melodic sensibility and their ability to tell a story or to create a situation laden by semantic possibilities. That borderland of folk music and country on one hand and pop and rock on the other is of central importance to Melanie Dekker's artistic profile. Also when she performs acoustically, as on her new album 'Acoustic Ride' or on stage, she unites the story-telling and the beautiful melodies of the folk tradition with a more intense pop pulse. The covers she chooses to sing during the concert are significant. 'Bette Davis' Eyes' and 'Norwegian Wood': They more than give a hint Melanie Dekker's position between the different traditions.
Also her lyrics merit from her being in the crossfire between the traditions. They often focus on love, but love gone wrong or going wrong, or being on the verge to disaster. Melanie Dekker claims that it is easier to write about troubled love than happy love.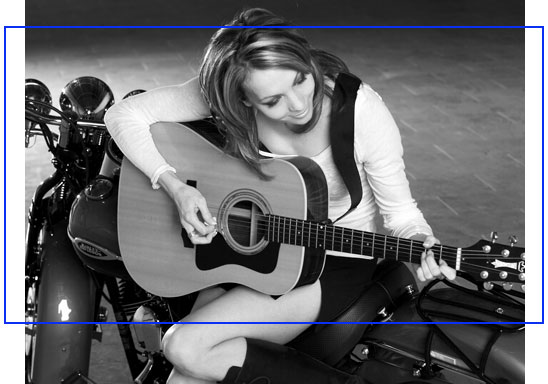 - In such lyrics I can explore my own feelings. But that doesn't mean that they are auto-biographical. If they hade benne that I would have exploded in a million pieces, she says with a laugh.
When one meets Melanie Dekker it is unavoidable to ask her about the song 'Fall In (Wounded Soldier)' from her previous album. Is it written with a purpose, or did Melanie Dekker just start with interpretating a traumatized love union after which the the significance generated itsels, so to speak?
- I wrote it with a definite purpose, Melanie says. I was invited to sing at a concert for wounded soldiers in New York. My manager had told the arrangers that I could write a song for the event. So I just had to start writing it. I finished the song just before the plane landed.
During the concert Melanie Dekker emphasizes the wide aims of the song. There are wounded soldiers everywhere. Their experience unites them independently of national borders, she scrupulously points out. After the song she is greeted with the biggest cheer of the evening.
- With sincere thanks to the kind people at Lira Musikmagasin -

FOR EVEN OLDER INTERVIEWS GO TO.....