STEPHEN DAVID AUSTIN – LAUREL CANYON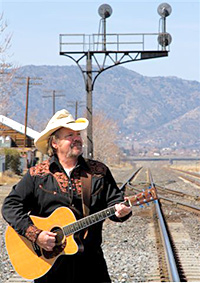 Stephen David Austin: lead vocals, acoustic guitars, tambourine;
Paul Marshall: bass, autoharp, backing vocals;
Marty Rifkin: 12-string & lap steel guitars, backing vocals;
Shawn Nourse: drums; Teresa James: backing vocals
Produced by Stephen David Austin
Recorded by Stephen David Austin, Paul Marshall & Marty Rifkin in Palmdale,
Tujunga & Santa Monica, CA and mixed by Marty Rifkin in Santa Monica, CA
(P) & (C) Stephen David Austin 2012
www.StephenDavidAustin.com

"Located just above the Sunset Strip, Laurel Canyon was a hotbed of musical activity in the 60's, fostering such acts as the Byrds, the Buffalo Springfield, Crosby Stills & Nash, Joni Mitchel, and so many others. Although I was too young to get involved in that music scene, it left an indelible mark on my musical sensibilities. To this day, the harmonies, jingle-jangle and laid-back feel of early Los Angeles folk-rock has a special place in my heart. Through talent, hard work, and great timing, many of these artists went on to become wealthy beyond their wildest dreams.
This song goes out to anyone who's ever been driven to an Occupy-rally in a limousine,
gotten out to sing a few Woody Guthrie songs, then hopped back in the limo to return
to their gated mansions in the hills...Up in Laurel Canyon.

IT WAS GREAT TO BE ALIVE BACK IN 1965
BEING YOUNG AND BEING HIP, HANGIN' OUT DOWN ON THE STRIP
AND NOBODY OVER THIRTY COULD BE TRUSTED OR BELIEVED
'CAUSE IN DEALING WITH THE DEVIL YOU WERE DOOMED TO BE DECEIVED
BUT THAT WINDING STRETCH OF ASPHALT
HELD A FELLOWSHIP THAT YOU COULD START A BAND IN
UP IN LAUREL CANYON

ALL THE BAREFOOT BOYS AND GIRLS CAME OUT WEST TO CHANGE THE WORLD
WITH THEIR MUSIC AND GUITARS AND THEIR DREAMS OF BEING STARS
THEY BUILT COMMUNES IN THE CANYONS, THEY WERE FOLLOWING A DREAM
IN THOSE RUSTIC RENTED HOUSES WAS A PSYCHEDELIC SCENE
IT WAS ONE FOR ALL AND ALL FOR ONE, AND ONE AND ALL WERE GLAD TO PUT A HAND IN
UP IN LAUREL CANYON

PEACE AND HARMONY – THEY SOUGHT IT
WAR IN VIETNAM – THEY FOUGHT IT
THEY CAME TO CHANGE THE WORLD
THEY MADE A PLAN AND BROUGHT IT
UP IN LAUREL CANYON

EVERYBODY WAS INCLINED TO ILLUMINATE THEIR MINDS
THERE WAS MAGIC IN THE AIR, A FEELING EVERYBODY SHARED
BUT THE STAR MAKING MACHINE WAS JUST A STONE'S THROW DOWN THE HILL
AND NO ONE COULD DENY THE MUSIC'S MARKETING APPEAL
THE A&R MEN KNEW A FLOCK OF GEESE WAS LAYING GOLDEN EGGS FOR BRANDIN'
UP IN LAUREL CANYON

PEACE AND HARMONY – THEY SOUGHT IT
WAR IN VIETNAM – THEY FOUGHT IT
CHANGE WAS COMING SOON
AND EVERYBODY GOT IT
UP IN LAUREL CANYON

BLOWING ON THE WINDS OF CHANGE CAME THE LEAR JETS AND COCAINE
BUT WHEN LIFE BECOMES A DREAM THINGS AIN'T ALWAYS AS THEY SEEM
THEY'RE STILL OUT THERE SINGING SONGS ABOUT EQUALITY AND HOPE
BUT THEY KEEP THE PROLETARIAT BEHIND THE VELVET ROPE
AND THE DREAMS OF AN AQUARIAN UTOPIA HAVE ALL BUT BEEN ABANDONED
UP IN LAUREL CANYON

PEACE AND HARMONY – THEY SOUGHT IT
WAR IN VIETNAM – THEY FOUGHT IT
THEY LIKED THE WORLD THEY CHANGED
SO MUCH THEY UP AND BOUGHT IT
UP IN LAUREL CANYON

(Stephen David Austin, BMI)