THE GOLDEN DEMON - NEW SONGS ABOUT CHAOS & TRANSITION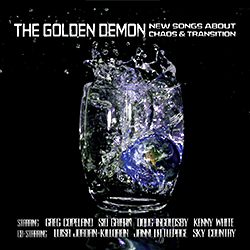 "How often haven't you heard somebody say, 'It's a small world'? One may refer to a case of coincidence where two friends run into each other in an unlikely place. One may also refer to the way we communicate these days. Words, pictures and music run back and forth between continents in no time at all. Distance is not an obstacle anymore. It may even function as a creative juice of sorts. The album you are about to hear is a good example of just that. It is a compilation, but surprisingly often, the contributions sound like extracts from a discussion between people gathered around one big dining table.
The subject of the evening is the current sense of chaos and transition, experienced in places where stability was supposed to last until the very end.
'Isn't that too heavy a topic for such an occasion?' you might say. Don't worry. It's actually the other way around. Even the title, 'The Golden Demon', could easily be a suitable name of a story that one of the guests might tell after a good meal and a couple of drinks, just after twilight. It's entertainment with a twist.
So now, dear listeners, I invite you to enter a universal living room, big enough to stretch over at least two continents, small enough for the atmosphere and intimacy to stay fully intact. Be our guest. Sit yourself down and make yourself 'at home'. The show has just begun....." ~ Citizen K


01. GREG COPELAND – GOLDEN DEMON
02. JULIE CHRISTENSEN – TEN PEOPLE
03. STEVE NOONAN – ANOTHER GOOD MAN DOWN
04. LUISA JORDAN-KILLORAN – THE ROOM OF THE DEMON
05. SID GRIFFIN – RIGHT 'ROUND THE BEND
06. JENAI HUFF – JUST LIKE ME
07. DOUG INGOLDSBY & EUGENE RUFFALO – US & THEM
08. HAT CHECK GIRL – JESSE & FRANK
09. KENNY WHITE – LETTER FROM X-RAY
10. STEPHEN DAVID AUSTIN – LAUREL CANYON
11. JEFF LARSON – SATELLITE SKY
12. INGRID SERBAN & FOREST SUN – SOMEDAY
13. THE GOOD INTENTIONS – WOODY GUTHRIE'S RULIN'S
14. LUISA JORDAN-KILLORAN – DEMON REVISITED
15. DOUG INGOLDSBY – BROTHERS
16. ALLAN THOMAS – HOW LONG CAN THIS GO ON?
17. MICHAEL WESTON KING – I DIDN'T RAISE MY BOY TO BE A SOLDIER
18. KEITH MILES – UNTIL IT ALL MAKE SENSE AGAIN
19. BOB CHEEVERS – OCCUPYING WALL STREET
20. MICHAEL WARD W/DOGS & FISHES – DONKEY ISLAND
21. MIETEK W/WENDY WALDMAN – SIGNS
22. KENNY WHITE – OUT OF MY ELEMENT
23. JANNI LITTLEPAGE – WINDS OF CHANGE
24. MIKAEL PERSSON – WHAT A WONDERFUL WORLD
25. SKY COUNTRY – ROGERSON NOBLE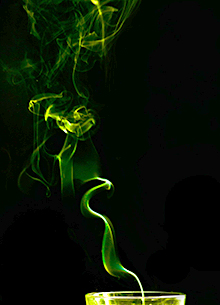 Music, credits and other trivia available now - Watch This Space!